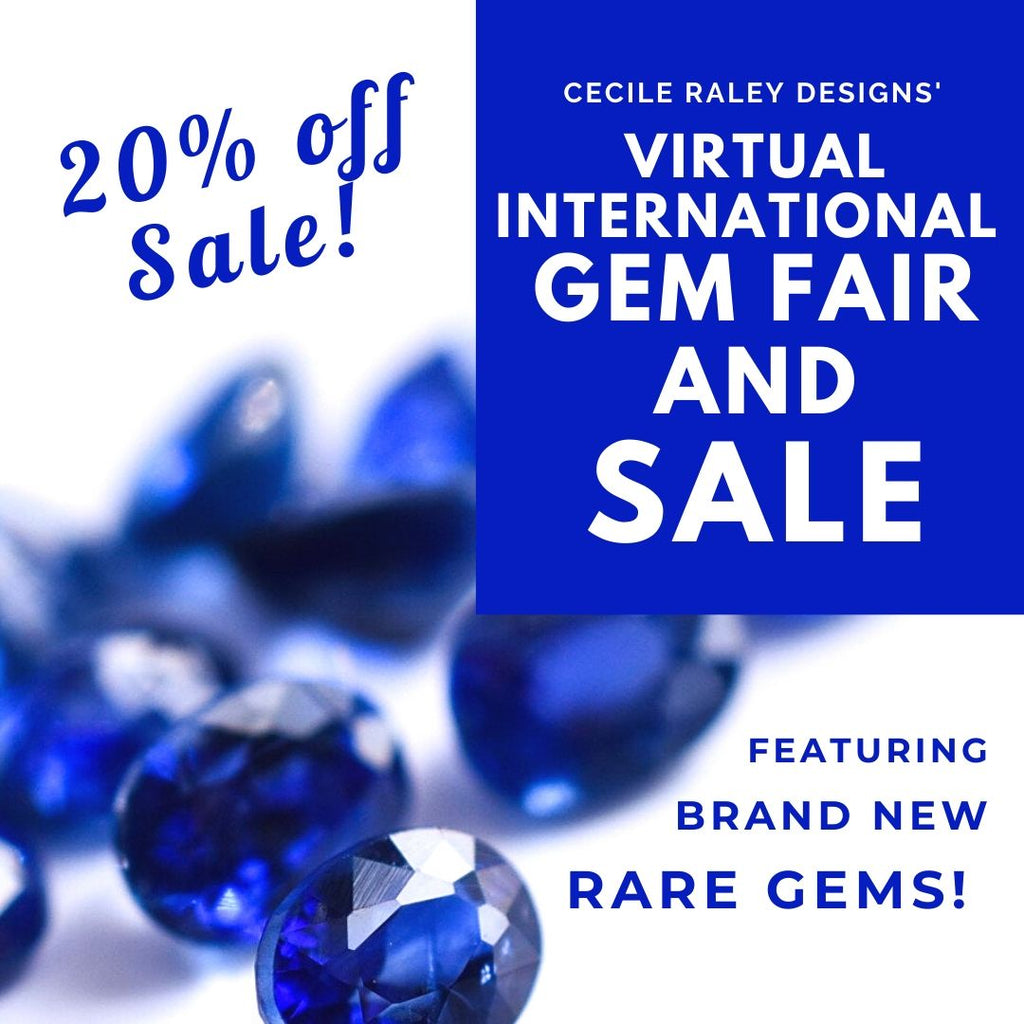 As advertised in our previous newsletter, we have decided that even though the Las Vegas show is cancelled, we will source some fun new product for you and have our annual Vegas sale anyway!  To be honest, we are all starting to get antsy here in the epicenter.  New York vendors are slowly going back to their offices a couple of days a week, though they do not take personal appointments.  Many of the buildings are open so that those who have rented space to operate small workshops can go in, access their safes, their machinery, and to receive/make shipments.  They have to make rent, if nothing else!  And while I very much miss physical gem shopping, I confess I am seriously "over" Vegas.  Gambling is boring to me, the food is overpriced, and its waaaay too hot! 
So, instead of Vegas shopping, I am doing it virtually, like most of you.  Overseas packages are trickling in, and my vendors are sending me emails, texts, or WhatsApp video for me to peruse.  They all know my taste, and I know their product, so I've arranged with a handful of them to get some brand sparkling new inventory!  Some of it will be on short term memo, some long term memo, and some of it I will purchase outright. 
As you read this blog, I have a favor to ask: if there's anything you would like to see, tell me asap, as some of these packages are coming to me in the next few days.  As I am getting shipments for "selection" (meaning not yet memo and I pick what I want to buy), I can show you items without you needing to commit right away!  But please act fast.  Additionally, if you are getting private photos from me of gems that may get returned to the vendor, I ask for your discretion in sharing them so that if the material goes to another seller at a later point, that person does not feel undercut.  Because yes, rare goods don't necessarily get pitched by one person so all of us sellers have to be respectful of that.  Whatever is on my website, on the other hand, is exclusive to our shop and public.
And what, you may ask, am I getting?...  Here's an overview for you:
Paraibas: despite previous indications to the contrary, a small parcel made it from Hong Kong to NY and a subset of that parcel is arriving here shortly.  I get to make a very quick pick and then I have to turn around the parcel and ship it back so others can pick as well.  I'm getting faceted gems only as the cabochons don't seem to be moving in my shop.  And Brazilian only, none of that overpriced Mozambique material...
Ceylon Sapphire: I hit a home run a few of weeks go with three nice bright blue rounds flying out of the shop at record speed!  So I'm getting a few more, as well as some matched pairs.  I'm keeping sizes a bit smaller so that these don't become big ticket items for you in this ever-changing world.  I've asked for purples and lavenders as well, but there aren't pairs coming, just single slightly larger gems. 
Other sapphire: I've asked for some Montanas and some smaller Madagascan 4x3 pear shapes.  I will see what turns up, as that package is being prepared for me now.
Tanzanite: one of my vendors has old stock of unheated material as well as some nicer rich colored blues, I'm getting a little of that and I am getting more purple garnet.
Spinel: As always, this category has to be broken up into locations, as each is unique.
Mahenge: I've asked for some but I do not know what's coming. It will be a surprise to you and me both.
Mozambique: that's the silky looking pink stuff, there will be some singles available.
Burmese: there's some melee coming my way, and I have asked for one or two bigger stones but that is still being negotiated.  I will have a few red round pairs available in the 3.5-4mm range, and some more singles in 2-3mm.
Vietnamese, my new favorite: yes coming, possibly more single pieces.  Lilacs, lavenders, and I think down the line (later in June) a little surprise in a reasonable price category.  (Nope, I'm not giving it away!)
Cobalt: possibly, there's some material being recut and I am waiting to hear if and how it will make its way to the US from Bangkok (it's in with a larger parcel of color change garnet I had bought in Madagascar that needed recutting).  Same on hauyne (the other cobalt spinel, lol).  I get approached about that stuff through various channels, so if someone has it I usually find out.  But that too is a "still in the works" thing and may not happen right now.
Emerald: my New York connection for Colombian material just sent me photos of some nice matched pairs, and a single round is waiting to be listed.  Since I can't go to Colombia right now and probably won't until next spring, I will stick with my previous source.  He's always had excellent material and prices anyway.  Some Russian material is making it to me as well.  
In further news, I am still hoarding some Tucson gems that you may see online or you can request private photos: there's a little bit of Benitoite and some more Demantoid Garnet.  I have not listed either because I will not get more until next year, most likely. 
Ok that's all for now, folks.  To be continued!  Stay well, stay safe.
Continue reading