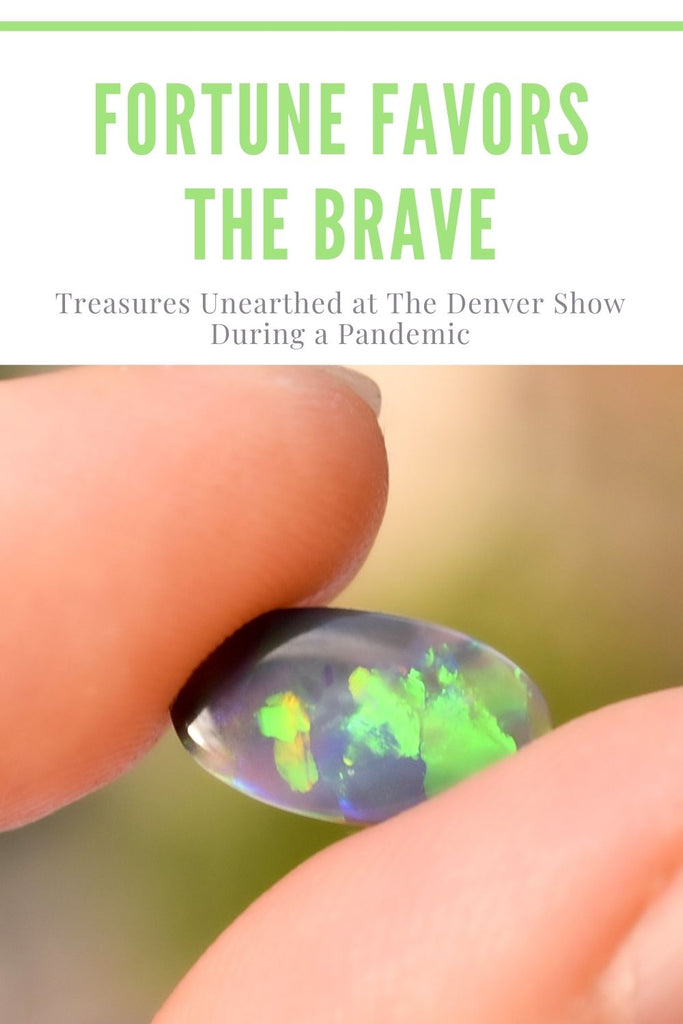 Somewhat belatedly, here's my review from the Denver gem shows:
I arrived two days before the shows started because I was given a "Vendor Pass" so that I could get into the show at the Crowne Plaza during setup day.  This was so that I could pick gems in peace without crowding and so that I could get the best picks.  Dudley had reserved some parcels of demantoid garnet for me from his secret stash, so I was able to secure some unheated pairs and a few carats of the deep vibrant greens in 2mm rounds.  He also recut some spinel that I had gotten in Madagascar but didn't know quite what to do with. Finally, Dudley had set aside some recut cobalt spinel but those are already sold out. Apparently, those were acquired some time ago but were very poorly cut so he had to have them reprocessed (and ended up tossing a bunch that was useless), and was able to make new parcels. 
In addition to those buys, I got more Russian emeralds along with lavender, purple and blue sapphires (the blues are mainly heated just because there've been requests for the popping colors). I bought a few spinels as well, some white sapphire kites (so cute — especially for earrings), and a few other odds and ends. 
I went to pay a visit to New Era Gems as well but there was not much new material. Apparently, Steve, the owner, had traveled to Thailand in February and has since been stuck there, so there are no new goods, or not very much. 
I saw one of my opal dealers and got several black opals, all cut in Australia. This, too, was the result of someone getting stuck somewhere due to COVID-19. This is my US opal guy from upstate NY, not the Aussie guy whom I have not seen since February (but who is doing well, I hear).  My US opal guy got stuck in Australia for 4 months. He essentially traveled around illegally because they were on shutdown and there were considerably high fines for traveling during the shutdown (starting at $1000 for the first offense). Along with many others, he mined illegally in small groups in the outback.  He cut his gems there as well, which he doesn't normally do, but I gathered from his enthusiasm about getting stuck, that it was overall a very positive experience. Now his mom and dad have him back and I think they are pleased. Younger people are always up for the experience of course, and in the outback with so few others around, I guess the risk of getting caught was reasonably low.
Finally, I went to my benitoite vendor and got some newly processed material. He explained that after Tucson, when everything shut down, his rough ended up stuck in China for some time but he finally got some shipments again. He had bought his benitoite rough several years ago when the mines were still active. He works up several carats each show and parcels them out in small batches, so he doesn't run out (since the mines are all closed now). I think that's a smart move. Prices for those melees stay fairly constant as does supply, as very few buyers only get a few boxes every few months. The same vendor also has Rhodochrosite and he explained that the Sweet Home mines are producing a bit again after a new pocket was found. Those gems are super soft though, so I am always reluctant to buy them, but as long as I don't have to set them for you I am happy to get more. The best way to set them is with yellow gold or platinum and then two prongs pushed down before sliding them in sideways, then bending the other two prongs gently. They are definitely not good for rings.
I have attached a video for you that I took with Dudley on my last day there.  He talks quite a bit about the state of the industry.  In Dudley's view, there will be long term consequences for the gem industry, and many of the gem dealers and jewelers who were just hanging on might not make it.  Dudley talked about his future travel plans, his views about Tucson 2021, and at the end there is a very interesting bit about how he met his "family" in Ratnapura Sri Lanka, how he groomed them to become his suppliers, and where things stand nowadays.  Dudley talks very quickly so there are a lot of little bits in between, for instance about how he got started buying unheated gems and more.  Enjoy watching.
Continue reading