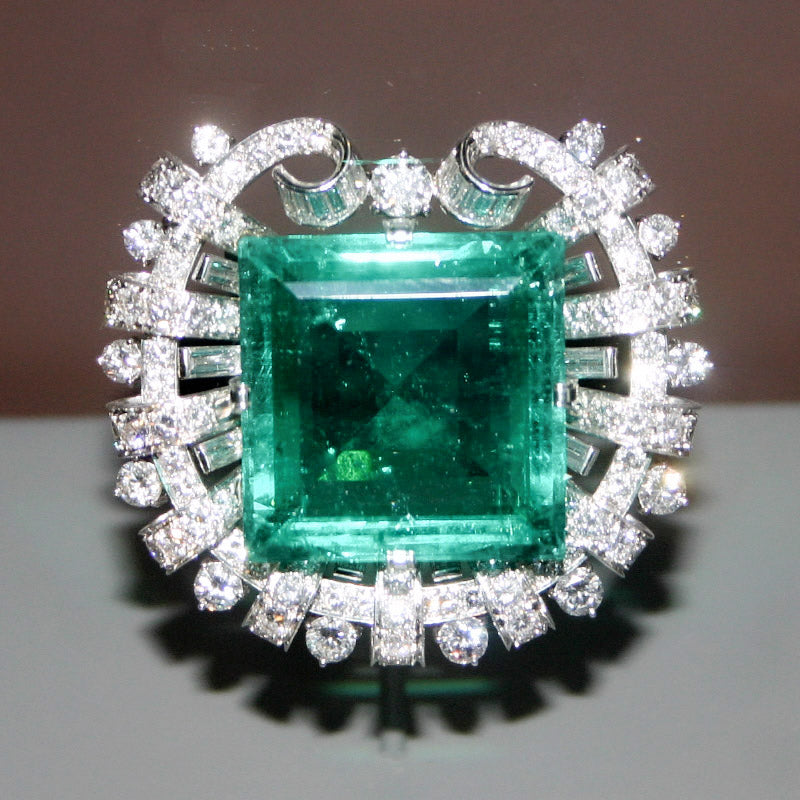 I can't believe how quickly the Tucson Gem & Mineral Show is coming around this year: I got back from Germany last Thursday night, where I spent a lot of quality time with my mom, and then I realized: I leave in THREE WEEKS!  I changed my Tucson travel dates this year because several shows start before my big ones (i.e. AGTA and GJX shows.) The AGTA gives booths only to their own vendors, and the GJX has a long waiting list to get a spot, so gem dealers like my opal vendors and some of my spinel vendors attend some of these other shows instead.
Here then is the big question: is there really anything new this year?  How's this even possible?  Well it actually is possible thanks to new finds, such as a spinel find in Vietnam last summer; with lucky buys from my vendors, and with lucky buys from yours truly, those will arrive from overseas in February.
Let's start with, well, ME.  As my friend Jochen from Jentsch Minerals was just in Madagascar, I bought some high quality grandidierite through him.  This time the gems are a bit larger, but not so big that they will break the bank.  On my WhatsApp the colors looked juicy and the gems sparkly, but my friend Gael is still learning to take adequate video (and admittedly he doesn't have a state-of-the-art cell phone).  
In other ways, too, my "Tucson buying" has already started, as several of my vendors have given me the opportunity to make pre-show selections.  I have several boxes of Burma spinel melees on my desk already.  You will see these roll out in the next three weeks.  If these move well, I may stock up!
I have also negotiated to buy up an old production of Vietnamese lavender and lilac spinel pear shapes, small sizes, good for earrings, stacking rings, and I will come up with some other designs for them as well.  I will be able to price those fairly reasonably.  I was hoping for more lilacs and neon pinks in other sizes but right now that market is wiped clean.  But, some larger purples and lavenders are an option for me.  I've seen most of what will be presented via WhatsApp, it's just a question of what I want to put aside...These pieces would be more expensive though, figure on several thousand for one piece since they also weigh a couple of carats, so it multiplies out in two ways (price and carat weight).
Related to this, I of course, keep getting asked about paraiba.  Having scoured this market for years, this is what I know: there are about 6 decent paraiba vendors in all of Tucson.  One or two are Brazilian with outrageous prices and they don't allow you to memo gems.  I don't buy there.  I wouldn't be able to offer a return and the price would be high for that.  There's another vendor, not Brazilian, who has top (top top top) quality pieces but those are in the 30K and up range, so I haven't ever bought those.  But, they are amazing!  Another vendor from the US used to have stuff but he's fairly sold down and I've passed on the rest.  The final two with anything but crumbly overpriced stuff are here in NY and I see their selection before it goes to Tucson.  I have three pieces that I am holding back on for now, available only upon request, and for the moment at least, I have no plans to buy in Tucson directly.  For me personally, and therefore for you, there's no advantage in doing so.  If you have requests, please let me know and I will source if I can.  For the rest, as you know there will be a sale coming up, so you can buy the stock I still have.
Regarding the melee paraiba, there is a little bit left with my melee vendor, and I source it as needed.  I would buy it up but it would tie up all my cash flow, so that's not an option for me, but production of these ended years ago.
In other news, I am negotiating for a small production of benitoite before it hits Tucson (it sells out on the first day)!  I was also shown some Vietnamese ruby and sapphire melees that I am interested in, but I haven't made a decision yet...
I am going to stock up more on the high quality moonstone this time.  The main cost there is from cutting, not lack of availability.  If there are any requests, please let me know as I will be a very busy bee this year!  
The other thing I will stock up on are ruby and sapphire melees in all colors and sizes.  This is pretty much an all day thing, or a several day thing, as I have to match down suites.  The vendor has pre sorted parcels, i.e. 5 shades of lavender rounds in the 2-2.5mm size.  He will then sift out, say, 2.2mm from the shade I like best, but then I still have to match them.  Sometimes I think there are as many lavender and purple shades of sapphire as there are stars (or maybe I'm seeing stars as time passes).  Matching these is a job only for the obsessed.  So it's fine for me…
Let me list here what I can get, and if you want to help me, in a manner of speaking, let me know what you might like, i.e. size, shape, amount.  Otherwise, I will just pick what I think is best.  
Blue sapphire: shades of blue, vibrant to light to dark, 1-3mm rounds mainly but other shapes also.
Ruby and pink sapphire: same idea, from light pink to deep pink to ruby color, all pre-sorted.
Lavender sapphire: light to medium, not super dark, but nothing in 1mm.  1.8 is the smallest I've seen.
I can also get teal, tealish-green sapphire, and I can get other shapes: 4x3 ovals, marquis, small pears.
Anything aside from lavender is heated or a mix between heat and no heat.  Lavender is usually from Madagascar and is not heated, just because at the moment, that's the main supply line for this shade.
I'm sure I'm forgetting something, but for now this is all I can think of.
One final note.  Photos: I will of course keep you posted on Instagram and Facebook, and I will put out as many listings as I can manage.  What I will not do, however, is publicly post photos of gems that I haven't bought yet or of selections at booths.  I don't usually do that anyway, but as this has become a widespread practice, here's my two cents. Vendors don't like it, especially for finer goods.  Once a gem is "out there and been seen", possibly with exact specs, those gems are kind of "spoiled".  And if several people show the same gems, it gives a false sense of availability.  
There are also small sellers that pre-sell goods based on vendor photos at a low markup.  But they can't offer a good return policy and they run the risk of selling you something that is no longer available once you pay.    
On Instagram, I've also even seen photos from wholesale websites (taken without permission,) sometimes shown by several different vendors, but when you ask, the gem isn't available.  I've witnessed a small retail jeweler doing so on his website, and I've even had my own photos taken and reused both on Etsy and on Instagram.  I've even seen sellers photograph gems in vendors' boxes with the price on the front, thereby signaling that they were selling without a markup, when in reality, wholesale vendors provide (sometimes steep) discounts on that product.  
As much as I love the internet as a selling platform, I find that it provides a lot of confusing information, and I don't want to add to the confusion.  Whatever I have for sale is either (a) mine, or (b) given to me on legitimate memo and just for me to sell for the duration, and (c) to the best of my ability, has not been in the hands of other vendors.  Caveat on that: sometimes I decide to show a gem that I co-own, or that I know is on a friend's website, or that I was told has been shown around.  That's ok, as long as I can make that decision.  But increasingly, I have decided to forego some selling opportunities because the gem has "been around the block already," possibly at a multitude of prices.  So if vendors show me their rare goods, I usually ask them directly.  That way I can give full disclosure to my own clients so that they can make the best decision for themselves.
Continue reading