Are you Getting Ready for the Holidays? We Are!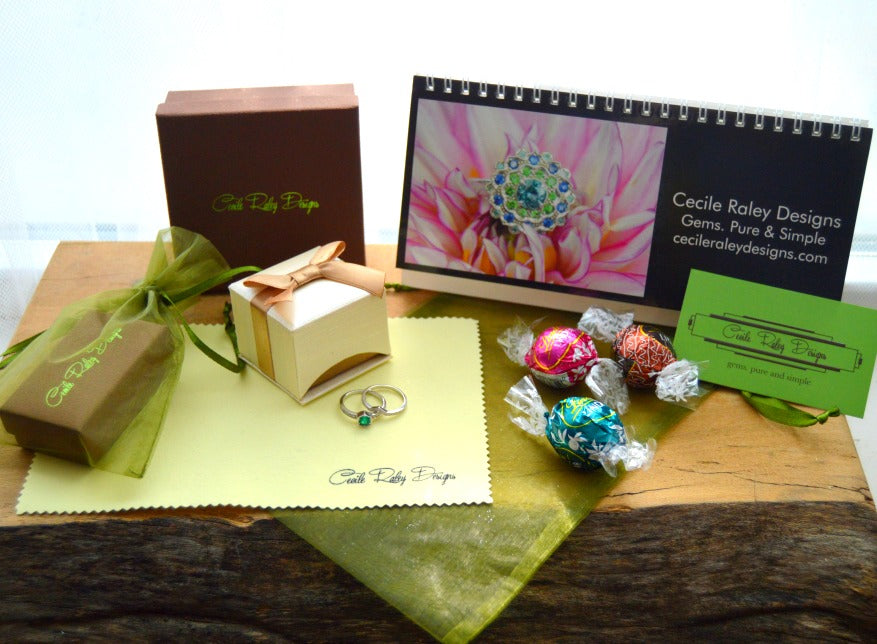 Yes, it is almost here.  As I am publishing this blog, it is a mere six weeks till Christmas.  I have ordered the Thanksgiving Turkey, planned my space for the holiday tree - it's going into the rec-room slash office space in the new place so that all of Cecile Raley Designs can enjoy it – and we have ordered gift packaging, calendars, for VIP client and vendor gifts.

 

Time, therefore, to share with you what is new – and old – for the upcoming season. 

 

Gift wrapping: for an additional $2, we now offer gift wrap.  You'll get an organza bag, a polishing pad for tarnish removal and a sunshine polishing cloth for shine.

 

Calendars: our 2018 calendars are ready as well. They will come to you upon request, or with any purchase over $200.  All of our VIP's will receive one, as well as a little thank you gift from us.

Gift Wrapping Package

 

Gift Certificate: these can be purchased again in my Etsy shop this year.

 

 

And here are some budget-conscious gift ideas from our shop:

 

Gold chains:  We stock those for the holidays and offer them in 16, 18 and 20 inches whenever possible.  Our green gold chains go with yellow gold, and I especially recommend any of our two toned chains. 

 

 

Beaded necklaces: They have been selling very fast lately but we have been restocking.  Prices are $90-$170. 

 

Moonstone, Labradorite, Burma Spinel Necklace available HERE

 

Earring jackets: Our flower petal jackets are only $45 and now come in a larger size for $50.

 

White Diamonds Jacket for stud earrings available HERE

 

 

Stud earrings: Our star studs make a cute holiday gift.

 

Sapphire Hexagon Stud Earrings available HERE

 

Gems: Give the special gift of a gem (maybe a birthstone) that the recipient can set to suit their own style.

 

Sapphire pair September Birthstone available HERE

  

And don't forget to check our Specials section for anything that's 20% off.

Shipping: We've actually upgraded our shipping policy, we are now shipping all orders over $400 Priority, and starting on the 15th of December until Christmas, all packages will go out priority.  The last day to safely order for priority shipping is Wednesday December 20th.  But we are happy to do overnight shipping until Friday the 22nd upon request.  If you are ordering an item that needs sizing or any other modification, we can ship it first and you can have sizing or modifications done after the holidays.  Other than that, anything in the shop is ready to ship on the same or next day.

Returns: just a reminder that our return period is two weeks.  Thankfully, we have very few returns, but we do understand that the holidays can be an exception.  So if you are not sure about a gift, make sure you let the recipient know that a return or exchange is not a problem.

And when do we have our holiday sales?  Our "Thanksgiving Sale" event starts Sunday November 19th with 10% off the shop until Sunday December 3rd.  Expect a larger flash sale of select pieces on Cyber Monday and a 3-day sale some time closer to the holidays.  For our 15% off semi-annual sale, you'll have to wait until after the holidays. 

Happy Shopping!