Forgotten Beauties: Some Jewelry Highlights from my Shop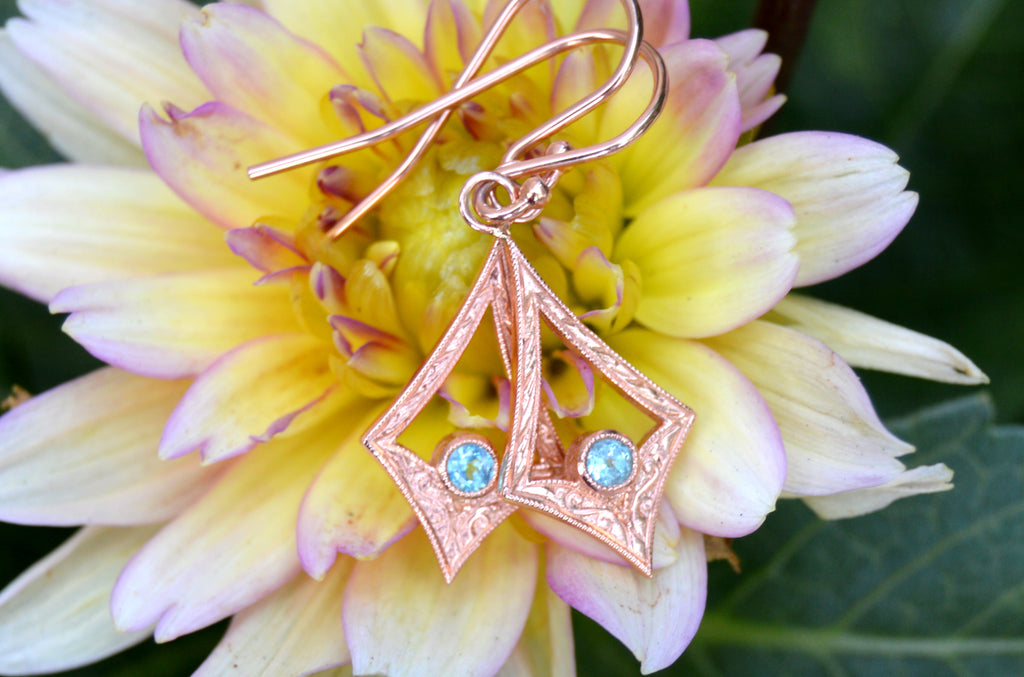 In this blog entry, I want to focus your attention on a few pieces of finished jewelry from the shop that have remained behind in previous sales.  All of these feature gemstones that already are extremely rare or will be in the foreseeable future.  So these are my recommendation for the upcoming Christmas in July sale in the shop.  I've taken some new photos of the pieces in my newly planted garden (now that I have a garden), so that you can admire the flowers and jewelry alike. 
Rose Gold Medieval Tudor Pendant: this pendant reminds me of the Elizabethan period, I would wear it on a bigger gold chain high on the neck (if I could afford a bigger gold chain, that is). The piece contains not just one, but three unusual gemstones: 12 pieces of 2mm hauyne - I can't believe I had so many at one time that I figured it didn't matter to use them in a single piece of jewelry - four mahenge spinel pears, and a 6mm Mozambique purple garnet. The latter gem is still available on the market, but it has gotten expensive.  Same with Mahenge spinel, though it is now very difficult to get good pieces.  Hauyne is pretty much out right now.  The color combo of all three together is stunning, if I may say so myself.  Check out the piece here: https://www.etsy.com/listing/292214107/rose-gold-gemstone-pendant-medieval?ref=shop_home_active_2
Rose Gold Flower Pendant: this is another piece that has been in my shop for some time. It is daintier but has a very pretty pink and yellow combo, great for spring and summer.  The spinels are Burmese and quite eye popping.  While Burmese spinel is still available, prices are basically astronomical at this point, and I buy only old stock if I can find it.  This piece was priced out before it got so expensive, so you are getting a nice bargain on the sidestones. Check out the piece here: https://www.etsy.com/listing/270180146/rose-gold-flower-pendant-sapphire?ref=shop_home_active_5
Marquis Ring with Emerald, Hauyne and Paraiba: this ring is one of my personal favorites. It was originally a custom design, but I liked it so much I decided to carry it in the shop. The color combo is one of my favorites also, I love wearing anything blue and green.  Yes, the ring is expensive, but if you look at the gems, you'll know why: paraiba tourmaline melee - I am on my last round with those - hauyne melee - totally out - and a very bright emerald marquis which is much nicer in real life.  Photos don't do it justice! Check out the piece here: https://www.etsy.com/listing/478858802/white-gold-marquis-ring-oval-gemstone?ref=shop_home_active_51
Juliette Ring: this is another statement piece featuring blue and green stones, and it too was originally a custom order. I like that it combines my scalloped and my petal designs. The main focus is on the gems, and the ring is made to take a lot of melee.  The center stone is an Afghani tourmaline, sister to the paraiba.  Slightly less bright but has a beautiful teal color.  It is complemented by more (Brazilian) paraiba, sapphire and merelani mint garnet (which is becoming exceedingly rare as well). Check out the piece here: https://www.etsy.com/listing/474477002/white-gold-gemstone-ring-blue-gem-ring?ga_search_query=juliette&ref=shop_items_search_1
Kite Shaped rose gold earrings with Paraiba: I've actually specifically designed this kite for those of you who like rare gems but have a smaller purse. The design takes a 2mm gemstone, and it can also be pave set around the bottom. It is my suggestion for custom orders if you have a 2mm gem that pops and that that you would like set in a larger earring.  Again this piece is set with Paraiba which is the big obsession in the gemstone market right now.  The earrings are set with 1.6mm gems but 2mm would have worked also - it would just have increased the price. Check out the piece here: https://www.etsy.com/listing/287408553/antique-dangly-earrings-kite-shaped-rose?ref=listings_manager_table
For custom orders I can dangle something else from the bottom (I can add on to this piece as well), and I can remove the 2mm bezel and add a larger one for a bigger stone.
Sale starts Sunday July 16 and ends on July 30. Take 15% off any item in my shop.
A friendly garden patron :)