Newest Items: More hexagons and Lily Designs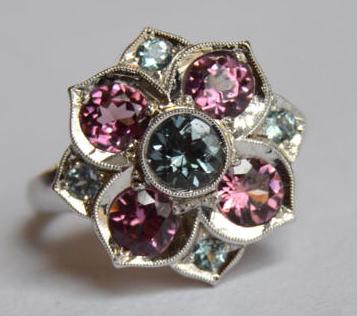 It seems that it's time for a somewhat overdue blog entry on some of my new items that have come out and are coming out soon.  It's always tough to stay on top of making new items, pricing them out carefully, adding in options, photos, and publishing them on the blog or here on my custom pages.  It takes months, really so it's high time I'm giving you at least an overview.
ALL PRICES QUOTED ARE FOR 14 KT GOLD
1. Hexagons: this line has been expanded with a number of bar settings, each using five stones.  They come in three styles.  A straight bar, which we have in a 2mm, 3mm and 4mm size, all the same size stones.  
Then we have a bar which is graduated from larger to smaller stones but otherwise straight. That one comes in a bar with 3mm, 2.5mm and 2mm.  And we have a V shaped one in the same size.  More sizes are coming up.  A 2.5mm, 2mm and 1.5mm graduated one is available too.
The V-shaped piece can be used to dangle something from, and the bar styles can be worn vertically and horizontally.  They would also work for bracelets, and I could make matching ones for earrings.
For the 5 stone bar pieces we've standardized prices to $350 for each necklace, assuming 16 or 18 inches in length with our standard necklace.  The bracelets are $300.
Also coming out are two more hexagon trilliums for earings or necklaces, these will be 3mm and 2mm respectively.  
Finally we are coming out with two hexagon smaller bars for 3 stones each, those will be straight bars for 3 stones, also 2mm and 3mm.  None of these are priced yet but they can be used for earrings, pendants, necklaces and bracelets, as well as components in larger designs.
2. Lilies: let a thousand flowers bloom!  Lily now comes in a small, medium and large.  All versions can be ordered as a ring or a pendant, and the smallest could be earring components too.  All have an engraved version and a non engraved version and the larger ones allow for some variety in designs.
Here are the breakdowns for prices and stone sizes:
a) Small Lily: 3.5mm, 3mm, 1.5mm
Ring: $570 engraved, $720 with sidestones
Pendant: $340 engraved, $500 with sidestones
This Lily can accommodate smaller stones (2mm, 1mm) in the petals
b) Medium Lily: 4mm, 3.5mm, 2mm
Ring: $620 engraved, $770 with sidestones
Pendant: $480 engraved, $590 with sidestones
This engraved Lily can accommodate smaller stones in the petals, and I can use ovals and pears as long as the longest dimension does not exceed the dimensions of the round (that means it cannot be more than 4mm).  Other arrangements of gems are possible.  The outer leaves can be left just engraved.
c) Large Lily: 4.5mm-5mm, 4mm (works up to 4.3 or 4.4mm), 2mm
Ring:$660 engraved, $700 with sidestones
Pendant: $520 engraved, $630 engraved
This engraved Lily can also handle smaller stones in the petals, as long as they don't exceed 4.4 and 2mm respectively.  I can leave the outer petals just engraved, and I can accommodate different stone shapes, i.e. 4x3 oval or 4x3 pear shape.  I do not recommend 4x2 sizes because they might look too long.
3. Rosette: Rosette now comes in two pendant sizes:
a) Round Rosette: 6mm center, 4x3mm and 1.5-1.7mm outer stones.  I can use slightly smaller ovals, the center can be a tad smaller or larger by up to .2mm or so. $800.
b) Oval Rosette: 7x5mm center, 4x3mm and 1.5-1.7mm outer stones. $780. The photo here just has the layout on top, it's not set yet.
Happy Designing