Earring News: More Ear Wire Options for Exiting New Designs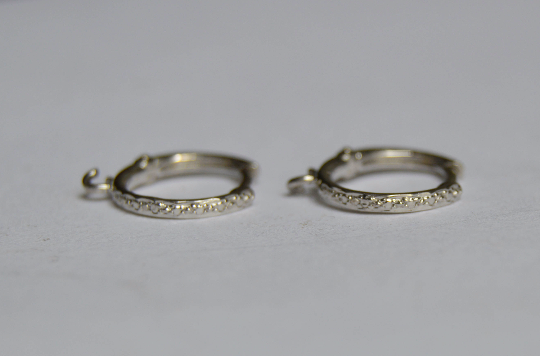 You might have seen some of the new leverbacks that I offer in my shop - either as stand alone or to be added to another earring design.  So it's time to go over all the options I have, metal colors, and some prices to keep things organized.  (Note that a lot of these prices are new, and therefore higher.) This will help you create more custom pieces, or add to and "edit" some of your existing Cecile Raley Designs.
As you've probably noticed - in frustration - not all earwires come in all metals.  I wish they did.  The choices in rose gold are especially poor and it is expensive to make leverbacks from scratch.  So there's just one style of leverback and one style of French Hook (also called shepherd's hook).  On the other hand, you can always make a design in mixed metals and then wear it with different pieces of jewelry.
So let's go over some styles and options:
Shepherd's Hook or French Hook.  This is the kind that has the little ball in the front, or sometimes it's just a hook with a loop in the front.  I carry two styles, but I recommend the one that is longer in the back because it is less likely to fall out.  On the other hand, the shorter one costs a lot less.
Left: Larger French Hook (comes in 14 yellow, pink, white): $120
Right: Smaller French Hook (comes in 14 yellow, pink, white): $50
Leverback. My favorite style of leverback and the one I use the most is the Oval Leverback style.  That style is a little heavier, and the dangle hangs below the ear instead of in front.  I think that's a very elegant style.  Sadly it doesn't come in rose gold, so I have to use a regular leverback instead.  I also like the interchangeable leverback because it saves money, but that doesn't come in rose or white gold for some reason.  For an interchangeable wire in those metals, I would have to either buy kidney wire (white gold) or bend my own kidney wire (rose gold).  In white or yellow gold I can also offer a more lightweight oval-ish leverback that is a little cheaper.  And while I don't feature these in my store, I can easily source leverbacks with an incorporated basket setting (in yellow or white gold only), or I can make one and incorporate any part of mine that works, i.e. the kite, petal, or fan.
Oval Leverback (comes in 14 Yellow, White): $100
Smaller Leverback (comes in 14 White, Yellow): $75 
Interchangeable Leverback (comes in silver, 14 Yellow): $90 in 14 yellow
Rose Gold Leverback (the only one we can offer): $120
Hoops. For now, I can only offer hoops in white and yellow gold.  I have two styles in the shop, but I can easily get the very simple ones, which could also be used as an interchangeable ear wires.  For anything but the simple hoops, however, I need to attach larger jump rings on the top of the earring so they slide through.  Alternatively I can dangle regular earrings from the little jump ring below.  One worry with the simple endless hoops is that they can open and then the earring falls out (it's happened).
The hoop styles I have right now are engraved (not by me), simple hoop (in white gold only), and one with 1.3mm gems set in them.  Those are the most expensive. They don't allow millgrain (the walls are too thin to apply it) but you wouldn't really see it anyway so it can easily be combined with another design that has millgrain on it. 
 Hoop with Gems (comes in 14 yellow and white gold): $420 with diamonds, $350 without gems but with setting cost included.
Engraved Hoop (comes in 14 white and yellow): $140
Note. I've experimented with plating silver and white gold with rose gold, but the result oxidizes over time and that looks quite ugly.  So for now I do not recommend it. Black rhodium I can do however, if anyone's interested.
Happy Designing!
Note that starting in Mid-May, our earring prices will increase.  We've observed an increase in some of our findings and our casting costs, so we have to overhaul what we charge.