Custom Inspirations - Earrings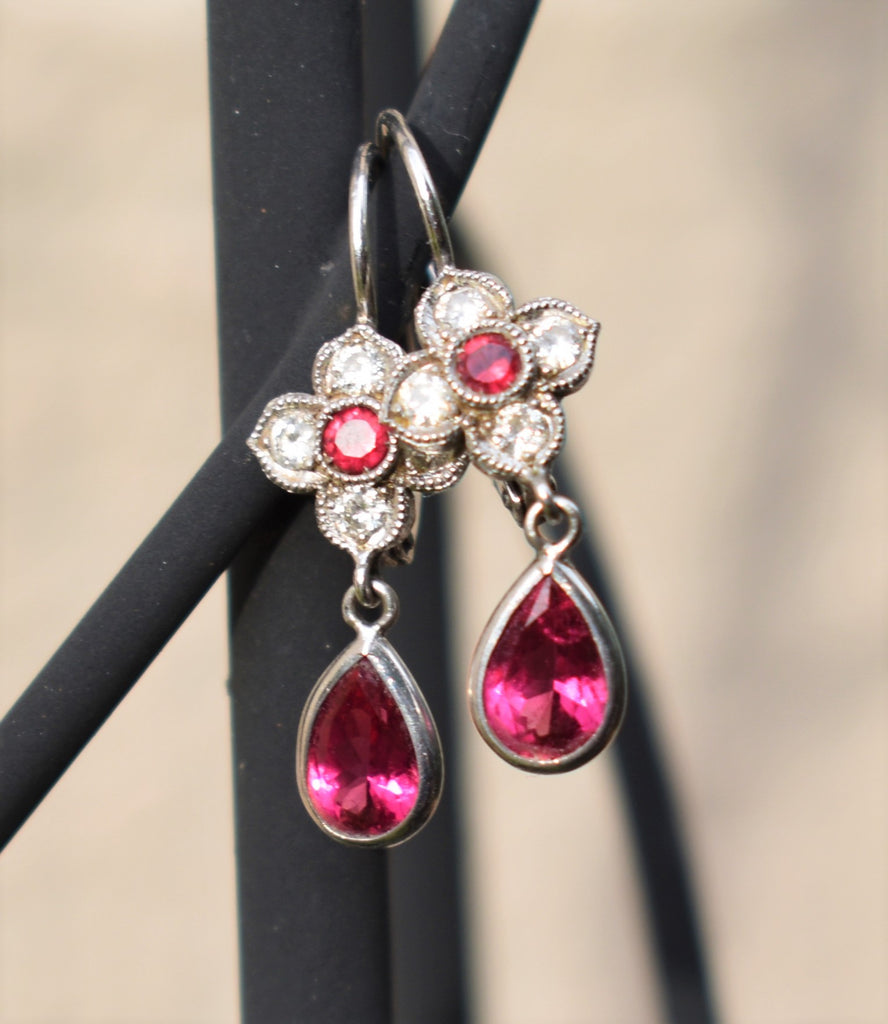 Do you realize that, as a retail business, I am already getting holiday advice emails from our industry?  Etsy, Manta, and even FedEx are sending around fact sheets on how to prepare for holiday business, or how to boost it.  For my own part I've never had a ton of it, probably because most of you are shopping for yourselves.  So maybe then I need to think differently – i.e. propose some ways in which you can get others to find you the perfect gift from my shop, either with a gift card or with starting early by planning a custom project to wear on Christmas or New Year's.
When I think of treating myself with jewelry, my own first thought is not a ring or a pendant but earrings.  I have more earrings than anything else in my personal collection.  I wear a Diamond pendant all the time, and rotate between 4 or 5 rings, the rest are earrings.  Dangly earrings mostly, though I occasionally wear a kite with a Diamond in my second hole.  I should probably branch out to a single Hauyne or a small square Burma Spinel!
Custom earrings can be an expensive item in my shop since you are making two of everything.  On the other hand, there are some fun ways of reducing cost:
Use interchangeable leverbacks, which come in silver, white gold and yellow gold.
Use Diamond huggies or plain gold hoops instead of leverbacks.
Dangle a gem from a short chain behind a post.
Make one component at a time, i.e. a pear gemstone dangle first, then have another component lazered on top at a different point. In fact I often change my earrings around by adding another part or switching from leverbacks to posts.
Here are some ways in which I have made my own earring collection more varied:
In these Red Mahenge Spinel, Burma Spinel and Diamond Earrings I used the leverback itself as part of the design and added the Victorian flower component as part of the mechanism.
In these Purple Garnet, Color Change Garnet and Zircon earrings I used my favorite oval leverbacks, my trillium connector part but no channel wire.  Rather, I used a five prong pear setting which provides a lot of light for the center gem.The basket is really low set on these and it's strongly tapered so there's no interference in the back.  These come in oval also and in emerald cut.
These 6mm Tanzanite cushions are set with tips up and down as danglies, and I soldered a tiny round Diamond on the bottom for extra interest.  These are among my every day favorites.  My four prong floral settings are perfect for this design.
In These Vietnamese Spinel and Paraiba Drops I used Purple Tanzanites in Pearl Cups as the top post instead of leverbacks.
I rarely use yellow gold but these colors called for it.  Peachy Mahenge Spinel and Chrysoberyl in channel wire - for the Mahenge Spinel I used an 8 prong pearl setting which is fairly low set.  It comes in round only, 14 kt yellow and white gold.
Here's another variation on the dangly - Seafoam Green Tourmaline baguettes with handmade prong settings that run almost no interference with the gem.  Directly soldered on top are Purple Garnets in low set bezels, and dangling above my prize: two 4x3mm oval Paraiba Tourmalines.  I made a matching necklace for this.
And finally, my most prized set, Red Mahenge Spinel, Pink Burmese Spinel, and oodles of Diamonds set in my Penelope style.  With Diamond leverbacks (available upon request).  Who could resist?
And here, finally, are some inspirations for custom creations for some of you:
Red Garnet, Mahenge Spinel and Mandarin Garnet:
Burma Spinel and Paraiba with a Chain Component
Aquamarine and Yellow Sapphire, the Aqua setting is hand fabricated
Mahenge Spinel and Diamond
Tanzanite Cabochons, Tanzanite Faceted, Paraiba, Diamond