Africa Revisited - A New Trip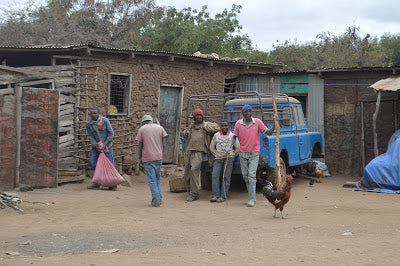 I can't believe it came upon me so fast.  This coming Monday I am leaving on my second trip to Africa.  I will be revisiting some of the places of last time and adding a couple new ones.  And of course, I will be looking for gems!
My trip starts in Newark Airport via United, with a one-day layover in Amsterdam on the 10th.  My Kenya Airways flight to Nairobi doesn't leave until 8 p.m., so I get to spend the day in the international terminal.  Luckily Schiphol airport has a funky "hourly hotel" called Yotel, where you can sleep in a little 20 square foot cabin for a few hours.  
My travel companion, as last time, will be Jochen Hintze from Jentsch Mineralien.  Jochen is a well connected Africa veteran - his first trip to Africa was about 50 years ago when he hitchhiked to Morocco as a teenager.  Jochen has traveled almost the entire African continent and has crossed the Sahara desert six times so I feel safe in his hands.
Jochen is flying in from Germany so we are going to meet on the flight to Nairobi - assuming his flight from Hannover is on time!  After another five hour layover in Nairobi on the 11th, we get on another plane to Antananarivo Madagascar.  And after YET another layover of about a day, which we will be spending at the same hotel as last time, a well protected simple little complex just outside of town, we will attempt to take Air Madagascar to the island of Nosy Be.  
Attempt?  Yes.  Go to google and search for Air Madagascar reviews.  You'll see what I'm talking about. Air Madagascar is the only airline in Madagascar and sometimes it flies, sometimes not.  When there's no fuel, that is.  Or some other issue that you will never find out about. 
Read some reviews below:
"WORST AIRLINE! BUT one does not have a choice to use Air Madagascar when travelling around Madagascar. Among the locals, the airline company has been nicknamed Air Maybe..." 2 star review "

The thing is, if you want to fly from Tana to Nosy Comba, there are not so much other options than flying with air Madagascar. The short flights are very expensive because they have the (corrupt) alone right to fly on some routes. They just do what they want and take their time...." 2 star review
The flight to the island Nosy Be is only an hour, but if you go by car and take the ferry you need two days. Nosy Be has a number of "luxury" hotels as well as standard hotels starting at $10 an hour, going up to about $200.  We are going the "luxury" route which is still way less money than a good hotel in the Carribean.  The Vanila Spa hotel costs about $150 a night.  The website looks stunning to my somewhat simpler tastes so I can't wait to see what I will really think when I get to this nearly "off the grid" location.  (Try booking a flight to Nosy be through a site like Travelocity - Air Madagascar doesn't even exist on there).  
Assuming we will make it to Nosy Be, we will stay there about four days and then get picked up by our friends, Irene (Andou) and her relative Gael with his father's vehicle, on Sunday, take the ferry back to Madagascar proper, and continue on a 2 day drive down to the Green park hotel in Antsirabe.  We will spend a few days there looking at gems and if it goes as it did last time, sellers will line up for us early in the morning and stay until sundown, or sleep in the street or a very cheap hotel (our hotel is on the expensive side for the area, about $15 a night - but very safe and very pretty).  
Here's a video from our previous stay in Antsirabe, 2 years ago.
On Sunday the 23rd we head to back to Antanarivo and from there to Nairobi where I get to see Doreen Kawira and her little baby son who will be one year old this summer.  I sponsored Doreen's college education and I met her for the first time 2 years ago.  Now I help her raise her son (she's a single mom, a state of affairs not very unusual in Africa, sadly).  Doreen also works full time at the University of Nairobi and with the help of Cecile Raley Designs and the money we have raised, it will stay that way and she can afford the nanny every month, who costs about $100 (25% of her salary).  Donations for Doreen, by the way, are very welcome. GoFundMe Campaign gf.me/u/jmg7u7
I will stay with Doreen in her apartment for one day and then we are off to Arusha, Tanzania via Precision Air (don't trust the name lol).  We stay in Arusha another 9 days or so, this time at the Mount Meru Hotel, and we plan a 5 day trip to an area called Kongwa, to look for some rare crystals that I know nothing about.  We will be joined there by a German friend of Jochens.  
If all goes safely, I will be back on a plane to Amsterdam on August 1st, and arrive in Newark on the 2nd after another 1 day stay in Amsterdam.  I plan to do some gem shopping in Arusha as well, mostly with Jaimeen's (Prima Gems) uncle as well as our Greek friend Reno who owns a shop there.  Perhaps I will also buy from the locals, this part is always the big adventure and you never know what you're gonna get.  
I will try to keep you posted throughout the trip, but mostly through small tidbits of information - the internet in most places in Africa is very slow so uploading anything but text is very difficult.  But I will try, and I will most certainly try to return home in one piece!
Please read some of my previous blog entries about Africa here: 
https://www.cecileraleydesigns.com/blogs/cecile-raley-designs/tanzania-part-iii-my-trip-to-mines
https://www.cecileraleydesigns.com/blogs/cecile-raley-designs/my-trip-to-tanzania-safari-in-africa
https://www.cecileraleydesigns.com/blogs/cecile-raley-designs/my-trip-to-tanzania-part-ii_52
https://www.cecileraleydesigns.com/blogs/cecile-raley-designs/my-trip-to-tanzania
https://www.cecileraleydesigns.com/blogs/cecile-raley-designs/madagascar-part-3-more-gem-buying-and
https://www.cecileraleydesigns.com/blogs/cecile-raley-designs/my-trip-to-madagascar-famadihana
https://www.cecileraleydesigns.com/blogs/cecile-raley-designs/my-trip-to-madagascar-part-one
https://www.cecileraleydesigns.com/blogs/cecile-raley-designs/yvonne-goes-to-africa