Ho Ho Holiday Sales Alert: Ready, Set, GO!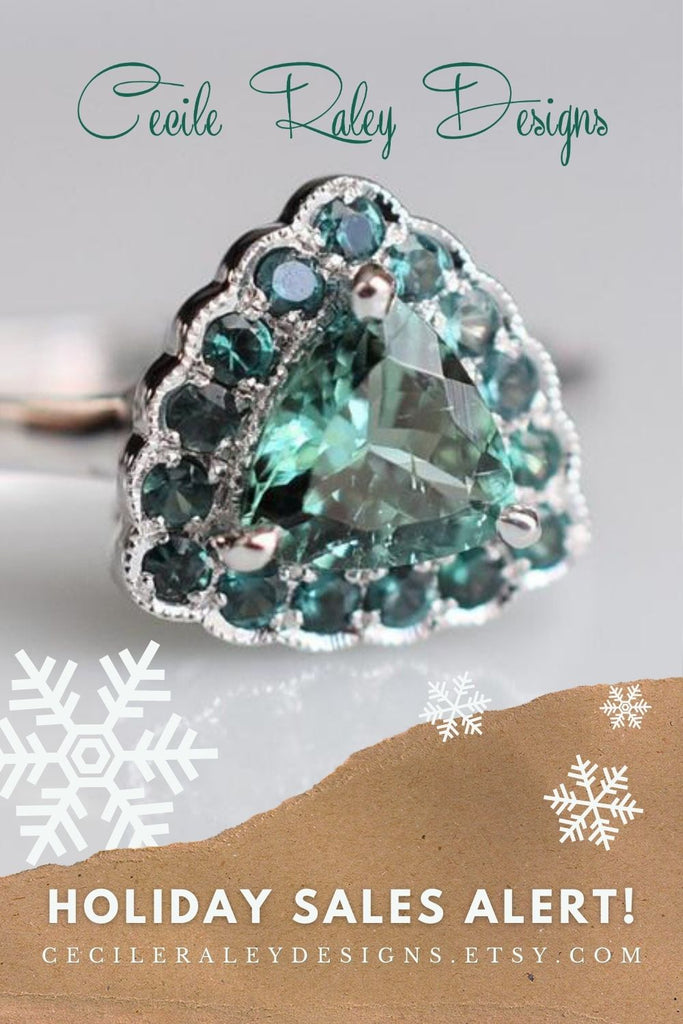 Yes, seriously. In mid-November, not in early December. And here's the math behind it:
[Covid 19 = (Increased Online Shopping + Slower Shipping)] = DIN (Do It Now)
And we are gearing up for you as we speak: Our annual calendar has been prepped and ordered and goes out with every $200 order as soon as it is in our hands. We also have a calendar mailing list for those of you who have shopped a lot in the past and aren't shopping, or maybe can't afford to shop this year. We've got you covered anyway. And if you would just like to have a calendar, let us know and we will mail one out. And if you'd like extra polishing cloths and organza bags, mark your holiday order as a gift or add it in the note to the seller, and we will include our "kit" even if it goes to your home address and you've gotten one before. 
Our Holiday Kit
Are you a new 2020 regular? Yes, you will get a calendar too, and a small token of our appreciation, later in November or as we get to it! (Our 2019 clients already know this, and they get something, too!).
Sales: this year we start on November 13th - a cheery, lucky, totally not Black Friday, with a 30% two-day sale on items of our choosing, mostly items that we feel should be re-homed as they have lived with us for too long (suggestions are welcome). Then on Sunday 15th November, it's a whopping 20% off the entire shop, custom orders excluded as always. The sale ends Cyber Monday, November 30th. During this time we will make as many new listings as we can manage (we usually manage 4 a day during sales, our normal tempo is 2, 1 when taking time off, and 3 when gearing up for a sale).
From December 1st all domestic orders will ship out Priority Mail. But be reminded that your mailman can sign for your packages to allow for a contact-free delivery. If you are expecting a package that you don't want to miss, you may need to leave a note so it gets stashed securely by your mailman or not delivered on that day. Our items mail out fully insured but as they are valuable, please keep an eye on the tracking provided in Etsy. Insurance reimbursements depend on (a) an arrival scan (our job) and the package not being claimed as delivered by USPS (that's a tricky one, but in principle, your post office can tell you who signed for it – you just have to go there and ask and if they signed for it and it's gone we can get reimbursed).
We will probably have another Flash Sale around December 10th but that's still TBA, as we are putting our heads together to plan the unplannable now. That's why we are stocking up now so that in case there are more restrictions again we are ready to go for you.
Don't know what to give, or what to ask for as a present? Worried about the holiday rush and stuff getting lost? Consider a gift certificate instead. We have them, and so do many other Etsy shops. This is a way to give or receive but have it shipped after the holidays if you prefer. 
Our Jewelry Cleaner
Want to buy from the sale but avoid the holiday shipping rush? Let us know in the note to the seller to hold your item, or when to ship, and we will do as you ask. If we are to ship on a specific date, we would appreciate a reminder though, as we may be keeping track of a lot of stuff. And keep in mind that ring sizing takes an additional week!
For smaller gifts, don't forget that we can send out a jewelry cleaning kit to a loved one for you, and we now have a section for gifts under $100 and another for gifts under $200. We are also continuing to add Stuller settings from our Stuller showcase. And we are adding lots of stud earrings, stacking rings, and small pendants, as well as a few more ready-made chains, ear wires, huggies, and dangle earrings for those of you who want to shine in your zoom meetings – there's nothing like wearing luxe CRD diamond hoops with pear or kite dangle earrings and pajama bottoms! I do it all the time, even when I'm not zooming. Our diamond hoop earring stock has already been increased and we can add more as needed. 
Earring Jackets in Rose Gold
You may have already noticed that we are listing new ready-to-ship jewelry every day now! I've interspersed pix of a few "still to come" items with this blog so you can get first dibs.
Grey Spinel Studs
Stacking Band
Tourmaline on Diamond Huggies
Of course, you should also be asking if there will be more gemstones listed. Yes, yes, and YES. I keep them coming as fast as I can. I've received some very nice stock for this season: more emeralds, 3mm-4mm demantoids, spinels, lavender and blue sapphires in various sizes, some more hauyne, smaller Paraiba, and I have even restocked kornerupine. Dudley Blauwet found – yep, found – a parcel in his basement that was long forgotten and I bid on it in its entirety, so those pretty blue-green gems are with yours truly only, and nowhere else. 
Kornerupine
Also, I've decided to add some natural yellow diamonds to my stock. I am also going to add a little peach, grey, and very light pink. I can offer other natural blues and more vibrant pinks as well but unless you are made of money, I would forego if I were you. That stuff can go all the way up to 40K a carat! Light pinks are cheaper but you need to pack them into rose gold and have a good halo to get the best effect. Among the colored diamonds, yellow is always the most affordable. 
Yellow Diamonds
And last but not least: you may recall that every year I devote a blog entry to other Etsy shops (mostly non-gem or jewelry -- or at least not overlapping with mine). But I am a boring shopper, I always buy from the same sellers. So I thought I'd turn the floor over to you and ask if you have any favorite shops that you'd like me to write about? If so, send us the link and include the following: what you bought from them, why you liked it, and why you like supporting that particular shop (e.g. customer service, efficient shipping, gift wrapping, etc.) Also, we are happy to give you credit but you should let us know as we will otherwise err on the side of your privacy. My blog has a few hundred readers and I want to share the love!