Paraiba Tourmaline: from Beads to Unicorns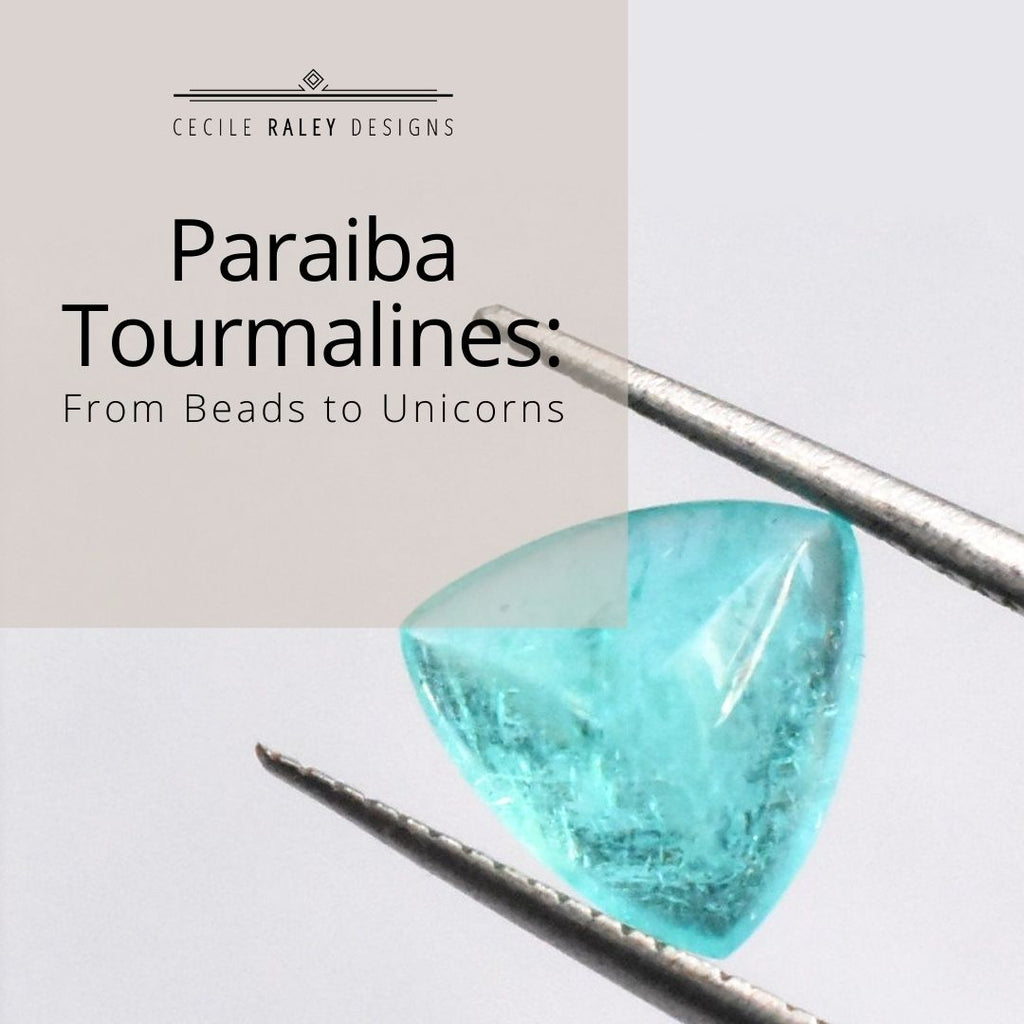 I got into Brazilian Paraiba tourmalines during my first Tucson show in 2015. I had heard all the lore about them and could immediately see why they were so special.  I financed my first Tucson trip by flipping them on Facebook and Etsy, buying 2-3 each day and selling them immediately.  Prices were less than half of what they are now, in some cases a quarter of the price.  (If any of you bought from me then, you are very lucky).  
However, when I got into Paraibas, the mines were already closed.  And Mozambique Paraibas have never held the same attraction to me.  While the material is cleaner, the color is, for the most part, significantly less vibrant.  And with color saturation being the most significant factor in paraiba pricing, I found that the Mozambique material just cost too much for what it is.  In 95% of the cases, when you see Mozambique and Brazilian material next to each other, you know the difference immediately.  It's truly not hard to see. 
Fast forward to the present situation. While I have said for years that Paraiba is running out, I think I can fairly say that at this point it's official.  What's left now is just morsels.  One problem is of course the pandemic.  Brazil is pretty much closed, with no mining activity and otherwise not much business activity.  My suppliers have negotiated for Paraiba via Hong Kong (actually for some time now) and the amounts they receive every few months have shrunk by about 80%, prices have consequently increased.  
So let me put out there exactly where we are at, so that you can make your choices accordingly.
Beads: I have approximately 40 beads left.  I put a lot of 5 on Etsy but for the next lot prices will be 25% higher.  I cannot offer selection of any kind, I just try to mix them up a bit so that each lot has more and less usable stuff.  A couple of years back there were 5 full strands of beads still on the market.  I bought one of them (they were expensive!) and the rest has since vanished into private hands.
Round Melee: I have been offering the same supply for about 5 years now, every few months I restock with the same supplier until he runs out.  The 1.8mm are now gone, there are some 1.7mm, and everything else left is smaller.  The prices have gone up by 20% already, and if I buy more I will have to pay another 20% more.  In April I was able to negotiate a payment plan for several carats of 1.3 and 1.6mm at the price that is now on Etsy.  I have approximately 7 carats total that I can sell for the $3500/ct listed on Etsy.  After that it will be $4000 per carat and I probably will not buy more unless there are specific requests.
Mixed Small Sizes: As you may have seen on YouTube and Etsy, I managed to buy two small lots of mixed but very bright colors privately.  I'm known in the Diamond District for wanting these pieces, so they come to me under the table sometimes for cash prices.  I also have other, more faint color material that I buy off and on, as those are still in better supply.  Some vendors turn those into bracelets with lots of diamonds in layouts, mixing varying qualities in batches, and they can really pop that way.  Remember that layouts are fairly easy to do; CADs as well as 3D prints have gone down a bit in price, so don't be shy to ask me for options to make little stuff look like more.  
Lighter Color Larger Pieces: Those I can still get, and I have bought a couple that would look good in layouts with more saturated melee so that you have a paraiba pendant or ring but with mixed shades.  The lighter colors can cost significantly less.  In my view mixing the blues with the greens, the lighter with darker, can have a really nice effect.  
Off Shapes: One of the best ways to still get a good Paraiba is to be willing to buy a marquise or longish pear shape.  I can still, for now at least, get pears and marquise (.5-.7 carats I'd say), some more blue and some more green, for about $2500 a carat. Supplies change rapidly though.  
Unicorns: On probably a weekly basis, I get requests for unicorns. I have a client who has been looking for a matched pair of 6mm rounds for three years.  Last year I sourced her a pair of 7x5mm ovals for 15K, but she didn't want those.  The vendor sold them to someone else, they laughed at me when I returned them because they are so rare.  Then I contacted a Japanese vendor I know who has hoarded some top quality pieces at prices that make your skin crawl.  They were willing to cut down some bigger ovals and pears but the price would have been quadruple.  Had she wanted a pair of pears or trillions at the time, I could have made it work.  Now I can't.  Top quality material, if available, starts at 20K a carat.  Last week I had a client who was thinking of upgrading from her 1.6mm piece (which upon receiving she found to be too small, not realizing what a 1.6mm stone actually looks like) to a whopping 4-5 carat piece (effectively wanting to go from $48 to half a million dollars).  When my vendors have something interesting, they show me first.  When they get new stock, they call me first.  Paraiba has been my niche for quite some time.  So I have a pretty good idea of when a unicorn request comes my way.  Needless to say we don't sell unicorns.  
For inspiration, here are some Paraiba pieces we've recently made :