Opal Options: What You Need to Know Before Buying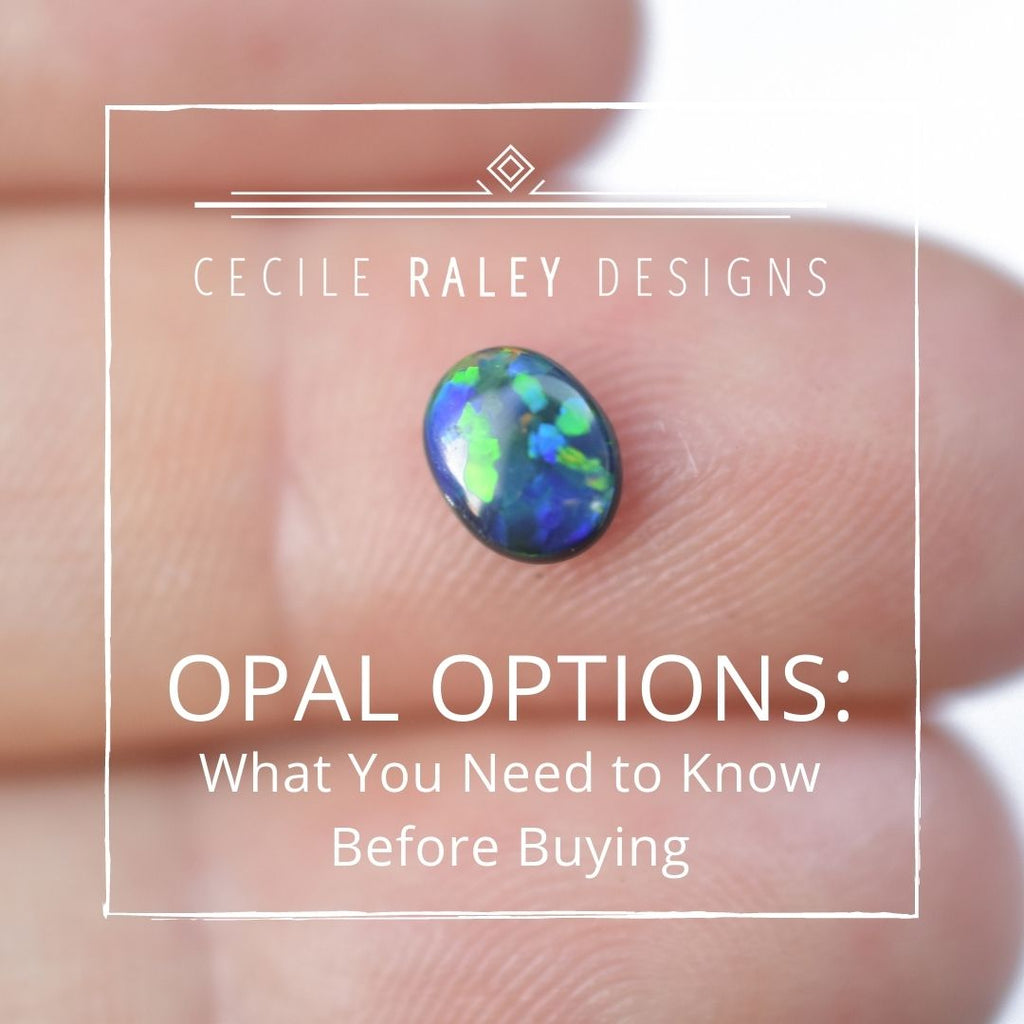 Though I rarely wear opal jewelry (because I like faceted stones), I find opal to be one of the most fascinating stones to look at and to buy.  Although it's a soft stone to work with in jewelry, the colors lend themselves to so many designs by adding halos and side stones that show off or complement its main colors.
Most of the world's opals come from Australia but they are also mined in Ethiopia and Mexico.  Mexican Opal tends to be milky white to yellow, orange and intense red, but it does not show any play of color.  Mexican Fire Opal is a bit difficult to set so I don't recommend it as a ring stone but it will look great as a set of stud earrings and they make for a reasonably priced center stone in a prong set pendant. 
Ethiopian, or Welo Opal is mostly crystal opal: it is milky white to clear in appearance (many are also yellowish or orangey), and they can have a nice play of color.  Welo Opal is usually more reasonably priced than Australian Opal, and you can find Ethiopian opal more often in the form of beads.  The two downsides of Welo opal are that (a) it is not very durable for jewelry and (b) it is often treated.  Ethiopian opal can absorb up to 15% water and will crack once it dries up.  I have heard that there are Ethiopian opals that are more durable but could not find a way to back this up.  Generally, it is not advisable to immerse Ethiopian opal in water for a longer period of time, though it's ok for cleaning. 
Ethiopian opal is often dyed because it absorbs liquids so easily.  The same porosities that can absorb water also make it easy to treat by smoking it or coating it with a sugar and acid solution to darken the body color of the opal.  This will enhance the play of color. 
Australian Opal, by contrast, is rarely if ever dyed or smoked, though some of them are sugar/acid treated, and of course, many Australian opals are doublets. 
Matched Pair, Also Seen From the Side, You Can See it Isn't a Doublet,
Less Brilliance But Good Rolling Flash and Several Colors
There are two prevalent and reasonably priced forms of opal from Australia. Boulder Opal is from Queensland and consists of a thin coating of opal with a natural backing of sandstone. Crystal Opal is mostly from Mintabe and Cooper Pedi and is milky white to almost clear. Boulder Opal comes in large sizes and makes for prominent jewelry, but smaller pieces can often be used in pendants.  Matched pairs for earrings are rare, as they must be cut from the same rough.  One downside in working with Boulder Opal is that most of it is free form and doesn't fit into any ready-made settings. But because of its natural sandstone backing, one often finds gorgeous and intense color combinations.
Crystal Opal, by contrast, often does not show its play of color very well due to the lack of the dark background color.  This is why it is often glued to a dark background made of plastic or industrial glass, among other things, to make an opal doublet.  In a white opal triplet, a third and clear layer is glued to the front of the opal.  When viewed from the side, doublets and triplets are easily identified; this is a little bit more difficult when they are already set, but one indicator is that doublets and triplets are usually very thin and flat. 
A more natural way to enhance the play of color in a crystal opal is to set it into a closed cabochon setting.  Gold and silver both lend themselves to this, but one can also oxidize the silver or rhodium plate the gold to get a black background.  I've even seen people just using a permanent black marker on the inside of the setting to enhance the color of the crystal opal. 
The rarest form of Australian Opal is Black Opal. With a fine quality Black Opal none of these enhancements are necessary.  The darker the body tone of the opal, the better.  In fact, opal experts rank the body color from N1 (darkest, almost black) to N9 (lightest, basically crystal opal).  The lower the ranking, the more valuable the gem.  Black Opals are primarily mined in Lightning Ridge, New South Wales.
Exceptionally Brilliant Opal with Super Bright Rolling Flash
that is not Directional, Medium Body Color
With Black Opal one can also best judge its play of color, which seems to be simultaneously on the surface and inside the stone (this is not a characteristic of Boulder opal).
Play of color is also the most important identifying characteristic of the rarity and value of an opal. It involves a number of factors:
Number of colors displayed in the gem: the more different colors, the higher the value. The rarest and most expensive of colors is red, and the least expensive is blue.  A solid red opal will also have high value even if it shows only red.
Intensity or brightness of color: The more intense, the better. In opal this characteristic is called brilliance. The opposite of brilliant is subdued.
Whether or not the flash is directional – that is – only seen from a direction, or whether it can be appreciated best from the front, and then all the sides.
The ratio of color versus the background (i.e., black).
The pattern type: there are actually a number of patterns mentioned in the literature, such as harlequin and flagstone, which are two of the most favored patterns, or pinfire (tiny bits of color). Generally, however, large patches of color are preferred over small dots. 
Here are a few opals we have currently for sale on Etsy:
For more detail on Australian Opals, watch my interview with Adam Sawiki of A & S Opals, from earlier this year at the Gem and Mineral Show in Tucson:
Don't miss our latest YouTube opal videos -- none of these have been listed yet, so if you see something you like, make sure to let us know!
And for even more information on opals, check out wikigempedia.com's entry here.