Fifty Shades of Green: Colombian Emerald Origins and Varieties Explained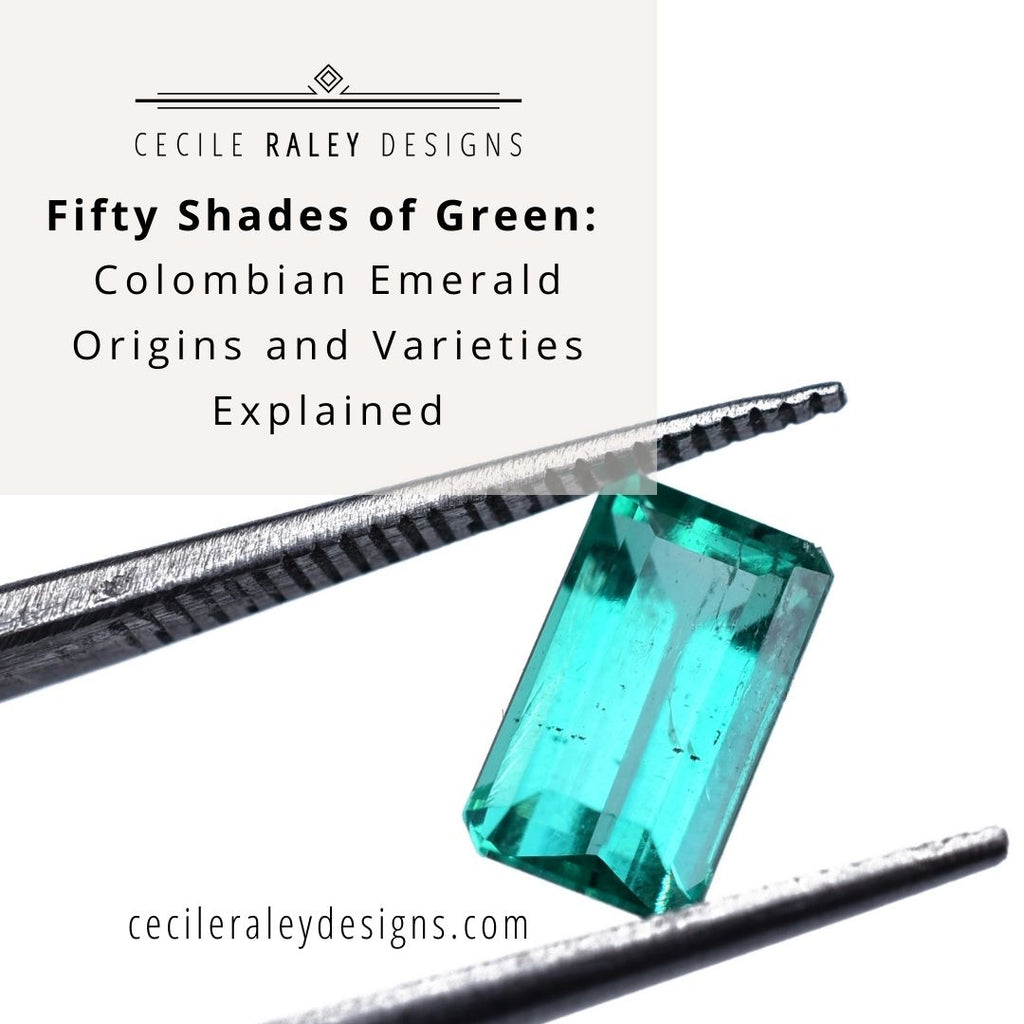 This Colombia trip was my first real adventure since COVID hit, but after a few days in Bogota and on dirt roads, visiting Muzo, Chivor and this time also Cosquez, I have returned safe and sound.  
On this trip, I dug a bit deeper into the characteristics of emeralds from these locations and learning how to differentiate them.  You'll find me listing our new acquisitions on Etsy over time, but feel free to inquire directly or check out the videos on our 
YouTube channel
as we are continually posting little teasers like the one below!  
Some of the new treasures are still awaiting batch testing at GIA for oil content, but we already have available some some trapiche emeralds and emerald cuts from the famous La Pita mine near Muzo: these gems are a rich deep green, they are very clean for emeralds and hence low in oil.  Unlike Chivor material, these gems have a rich velvety almost neon green tone, as you can see in the video below. These gems are for decorative use only and were given to me as a parting gift. They are actual remnant splinters from the cutting factory, but they show off the color beautifully!
Currently in the lab are also a 1.5 carat piece of rare Euclase, and two large Chivor emeralds awaiting full certification.  Below is a video of a sample piece (this one is sold already).
I also acquired some lighter colored Muzo pieces (locals call them "emerald crystal" because they might be closer to green beryl than to the traditional emerald colors), and an emerald oval from Cosquez.  Currently the Cosquez mines are producing a lot, but not that much has reached the market, and in the US, Cosquez pieces are actually quite rare. Known for a more yellowish tint, Cosquez gems have a bright open color.  Chivor emeralds, by contrast, are more blue, though also lighter than the La Pita Muzo gems.
Not sure you can see the differences in this photo, but the two gems on the left are Cosquez, the center two are La Pita, Muzo, and the two right pieces are Chivor.
From Chivor, I bought emerald cabochons of various sizes, including this lovely sugarloaf suite cut by Don Julio M. in Bogota: 
Don Julio owns a small shop in the Casa Esmeralda, and he was very helpful in explaining in more detail the color nuances from the various emerald locales, and he proudly showed us the dabs he uses to hold emeralds as he's cutting them:
Chivor emeralds gems are often cut into long baguette shapes because the crystal shape is long and thin.  I sourced a a
suite of three
available for a nice ring or Ava pendant, a small no oil emerald cut, a tiny cabochon and this sweet, little very clean briolette, cut by a fellow named Hermann, whom I sourced the briolette directly from:
And here are some of the newest Colombian emeralds, now available in the shop for purchase:
Stay tuned: In our next blog post, I'll tell you a bit more about the actual trip!