Show & Tell: 2022 Tucson Treasures Revealed!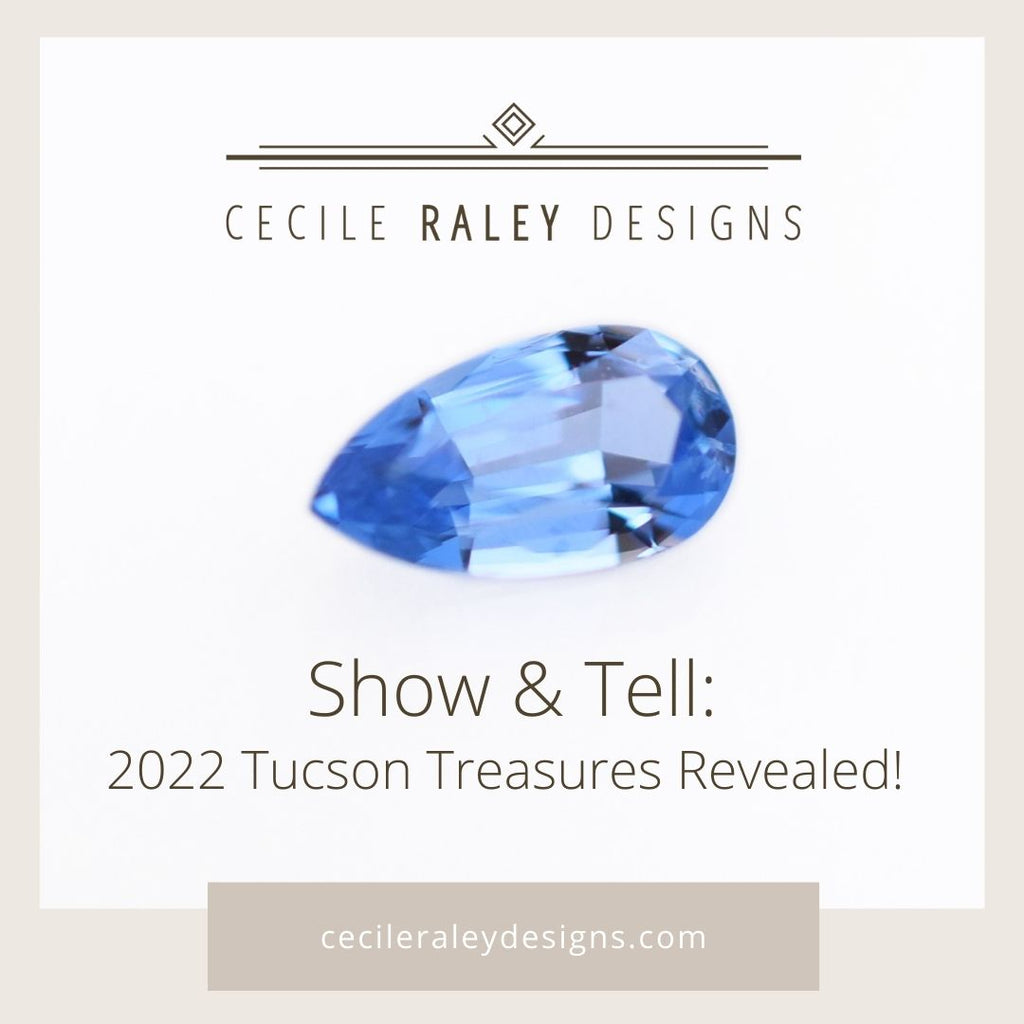 Everyone wants to know about what I saw, how it was, who was there, how busy it was, etc. in Tucson, so I will postpone my third blog about color and talk about Tucson instead.
In reverse order, then: it was busy. Not pre-pandemic busy, but busy. Most everyone reported that purchasing was up, that while the "just looking" crowd stayed away, serious buyers were there and mostly bullish. Not all traditional trans-Atlantic vendors came, though. Many planned very short notice. The most missed crowd at this point is Asian. China, HK, Bangkok, Japan, Singapore all have stricter entry requirements as of now, although they are loosening up slowly. The restricted participation of the Asian market is problematic because many gem businesses store their inventory in Hong Kong and/or Bangkok, both major production centers for gemstone cutting and jewelry. That means the vendor has to first fly to HK or BK, pick up their merchandise and then fly to their conventions, and the same in reverse. But with a quarantine added twice, that makes the trip weeks longer.
Overall the buying and selling mood was very positive, more so than I had seen in several years. The constant sun and comfortable temperatures were helpful in this regard! So is the excellent (but not as well known) cuisine of Tucson. I thought that overall pricing of inventory was good. Only my moonstone vendor had raised his prices. There is much concern over rising prices of gemstone rough, and I think that made some sellers insecure, lowering prices in the hope to turn them into enough cash to absorb the increases.
As you know from my prior blog posts, there's been much disruption to the supply chain, and the latest smuggling fiasco in Madagascar is only another addition to the problems that already exist. At this point some of the world's most important producing countries of gemstone rough are Madagascar, Tanzania, Mozambique, Namibia (in Africa), then Brazil and Colombia in South America, Sri Lanka, Burma and Vietnam in the Far East. There's also Russia, Pakistan, Afghanistan in Asia. They have all undergone lockdowns and had major Covid losses, but some also have unstable or corrupt governments, others are too poor to provide a vaccine, and therefore had longer border closures and stricter quarantines. Because of the economic and political instability of a lot of these places, messes are countless, but now some of the already difficult pathways have really gone to pot.
As a result, there wasn't that much new inventory but lots of older inventory at good prices. For me, that's a treasure. I don't have to convince my clients of the value of an untreated red beryl, a Paraiba tourmaline, cobalt spinel, Burmese Jedi spinel or even my beloved kornerupine. You guys know that stuff well! So if it comes my way at a good price, I will make sure to secure it. And I think I got some good stuff.
On the first weekend, I met with my Benitoite supplier and was offered my usual small parcel. I backstocked on a little bit of moonstone, and you will see more Madagascar lavender sapphire, mostly specialty shapes like kites, hexagons, triangles, marquises. I bought a few specialty cuts in blue zircon.
Paraiba tourmaline remains down to a trickle, and nobody expects a change. One of the (few) vendors I know had chosen to present a little bit more of his older stock, so I invested in small cabochons, small singles, and a matched pair, at slightly lower prices. He also had some other very vibrant pieces in the 1 ct range, among them a 6.5mm round, but it would set you back 12K/ct. I didn't buy those but they were worth it.
I did find a new kornerupine supplier but I was hesitant to buy because the lots were of more mixed quality (lower price too, though). However, I do have the seller's info, so if your opinion is different from mine, contact me. Also contact me if you think you'd like a small, expensive but untreated, vibrant red Beryl. I might be able to help.
But now for the grand finale of this quick Tucson overview. SPINEL.
First, the bad news. Mahenge spinel has gone poof. Most of what's left is not so pretty and is expensive. The same goes for Burma spinel - I found just some octahedrons, and another small lot at an older price that I have to separate out. Up until 2020, there were still quite a few vendors, who had the truly vibrant Jedi spinel. This time, nothing, except some of the small melee. So my advice to you: if you have it and it glows, keep it, it's worth it, and will be worth more later. The melees I buy is also from older lots, and it will eventually sell out.
The good news, I thought, was the sudden availability of some really old colors, like lilacs and peachy pinks, like the pink Vietnamese oval I listed. That's very old mine and rare. I have a pair of elongated pear shapes that I am trying to convince myself to list. And then I think I should keep them.
My best buy though was a small lot of cobalt spinel – blue spinel from Vietnam, in varying degrees of saturation. A vendor had opted for a slightly underhanded "cash sale" to loosen up funds. You didn't see it unless you turned the boxes over, and the sale tray was tucked slightly under the counter. I think I know why: it was gonna sell anyway. And it did, all in the first day, even one of the vendors I know who sells cobalt spinel, bought one, as did the vendor next to the vendor with the cobalt spinel. He showed me proudly, and said: tomorrow this will be in my booth at a higher price. I was really lucky I happened past the booth on the first day.
Here's what I think is the finest specimen of my little purchase: 
And here are two more Tucson Treasures:
And finally, some honorary mentions so you can look forward to future listings: more diamond pairs in specialty cuts, including white diamonds. Elongated pear shapes for earrings (tourmaline, spinel, zircon), and some more cat's eyes and stars. Two extremely rare tanzanites, and some other this's and that's.