Desert Treasures: Juicy Gems from Sin City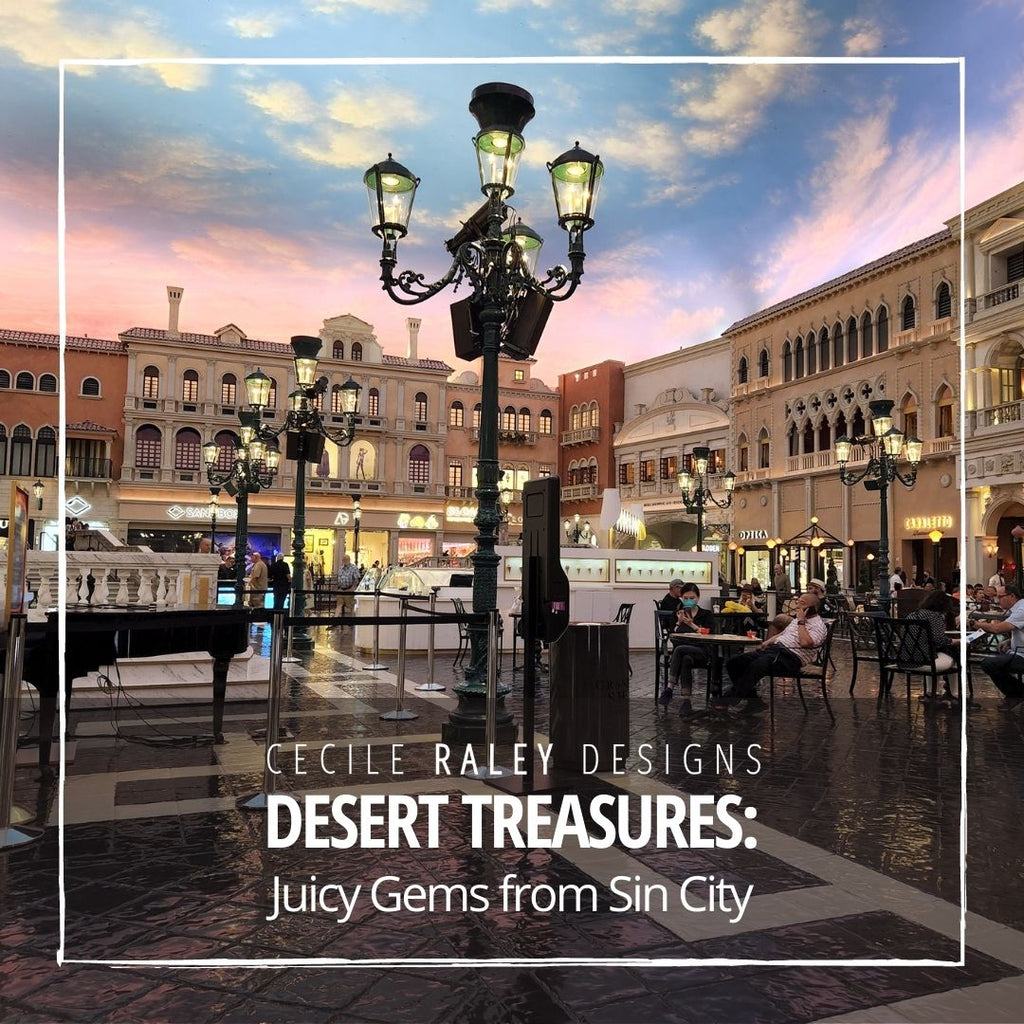 This was my first time back in Las Vegas since 2019. In 2020, the JCK and AGTA shows were cancelled, and in 2021 it was scheduled for late August, nearly overlapping with the September Denver shows, so I went to Denver instead. This year the show was back in the same fashion as 2019, except all under the roof of the Venetian and Palazzo Hotel – the largest hotel in the United States with 7118 rooms, over 40 restaurants, 2 spas, around 10 pools and any upscale shopping you can imagine.
My friend and assistant Karen and I went in style this time as the JCK offered discounted suites at the Palazzo (also it was my birthday weekend). Our suite was amazing, sunken living room and all, but our suitcases did not make it to our hotel until the next morning. United airlines forgot (!) to load about 50 suitcases on a cart next to the plane! Um…
We made up for that by buying matching Las Vegas t-shirts (and toothpaste) at Walgreens, and doing touristy things on our first day. A morning at the pool, then Freemont Street, the older Las Vegas strip where the Golden Nugget is located; then the Mob Museum (highly recommended), the Stratosphere, Las Vegas' largest observation tower. Attention tourists: just to get to the top floor bar now costs you $23 each, and there is no more table service. Thumbs down there, although the views are fantastic. In the evening we had a lovely dinner at a fake fish market in the fake Venetian Plaza next to the fake canal. Dinner rocked, though. Nothing fake about that!
But let me get to the important part - gems. I didn't make much by way of announcement that I was going to go to Vegas this year because I didn't have very high expectations about what I might find. I mainly came for one thing: vendors from Hong Kong and Thailand that had not yet come back to the US in 2022 (recall that back in February, much stricter quarantine laws were in place for both of those destinations). I was hoping to find a lot of different gemstone melees at good prices. In the United States, you can pay generally up to double for well sorted and pre sifted melees, sapphires and rubies in particular, but also others such as spessartite or demantoid or spinel. 
And in that regard, we lucked out. I found two new vendors from Hong Kong with extremely well sorted and priced sapphire melee and I have been filling the store very quickly with those. I found demantoid garnet from Russia as well. I was really pleased with these finds.
I also met with my benitoite vendor at their suite in the Venetian. They do private appointments only at this point, but I got some good nice smaller gems including an orange colored cushion and two color suites with orange pieces. At the show, I also bought some mid-priced rounds for designs, as I never seem to have enough of those: sapphire mostly, some spinel.
Speaking of sapphire, I met up with the vendor who had all the fun shapes like kites, triangles, trillions, hearts etc., and I grabbed a few of those as well.  I expect sapphire prices to rise over the next few months as supply is still very sketchy. Pinks and light purples are coming out of Madagascar and will do so again once export is back on track, but the bright blues are getting very difficult to come by.
A particularly interesting find occurred on my last day there (Saturday), pretty much in the last hour when I was just browsing. I found a company that sells Greenland ruby from Aappaluttoq. It looks very similar to Sri Lanka material to my eye, but all the Greenland rubies are heated with high heat. Prices were competitive for the quality, and I got just three boxes of melees. If you are interested in this, let us know. It is rare to find any kind of gemstone material that is 100% traceable from mine to market, and it is more or less impossible outside of what we refer to as the West: Australia, Canada, Europe, the United States. Labor laws and safety laws, even high pay, are very difficult to maintain unless you are a rich country in the first place.
Speaking of new finds, there's another one I want to mention at least briefly: blue cobalt bearing Mahenge spinel. I don't know if you read about it here. According to one of my sources, this was a single find (for now) with very very few truly cobalt looking spinel, and it hit the market at a very high price point, close to the medium colored (not as neon) cobalt spinel in Vietnam.
I had a chance to examine this find in Las Vegas. The best I can say here is that I really wanted to like them. I did. But the high price point did not convince me. At their best, they looked closer to Sri Lankan cobalt spinel than to even a mid-range Luc Yen. There were some exceptions, very few pieces, but those were priced the same as its competitors, so I didn't see the point in investing. Lighter cobalt spinel from Luc Yen, a kind of powder blue (like the one on my site) would still be a better value at a better price imho.
Of course my parting thought in this blog is going to be about Paraiba – Brazilian Paraiba. There was some possibly promising movement on that front. I met with two new players in the market, both young women entrepreneurs, Brazilian, and I was able to secure some melees lots at lower than previous market prices (some of them have been on Etsy already as I received a shipment about a month ago). I also bought a couple of better quality cabochons but they have to go to the lab first by way of my vetting these new sources.
That said, just about every person I have spoken with about Paraiba that either sells or buys it, or both, has told me the same thing. "Raise your prices by 30%" or "You are too cheap". This regards the single pieces, not the melee, as prices for those fluctuate but I seem to be lucking out here and there. I assume the reason continues to be the same as I mentioned in a previous blog: larger jewelry companies are buying up the better quality items. After all, for companies like the top jewelry designer brands (Tiffany's, Cartier, Harry Winston, Van Cleef, Bulgari etc.) who know very well how to evaluate the market, it's money better spent than on stocks these days.