Stay Tuned for Tucson: Gems and Pricing in Spring 2023...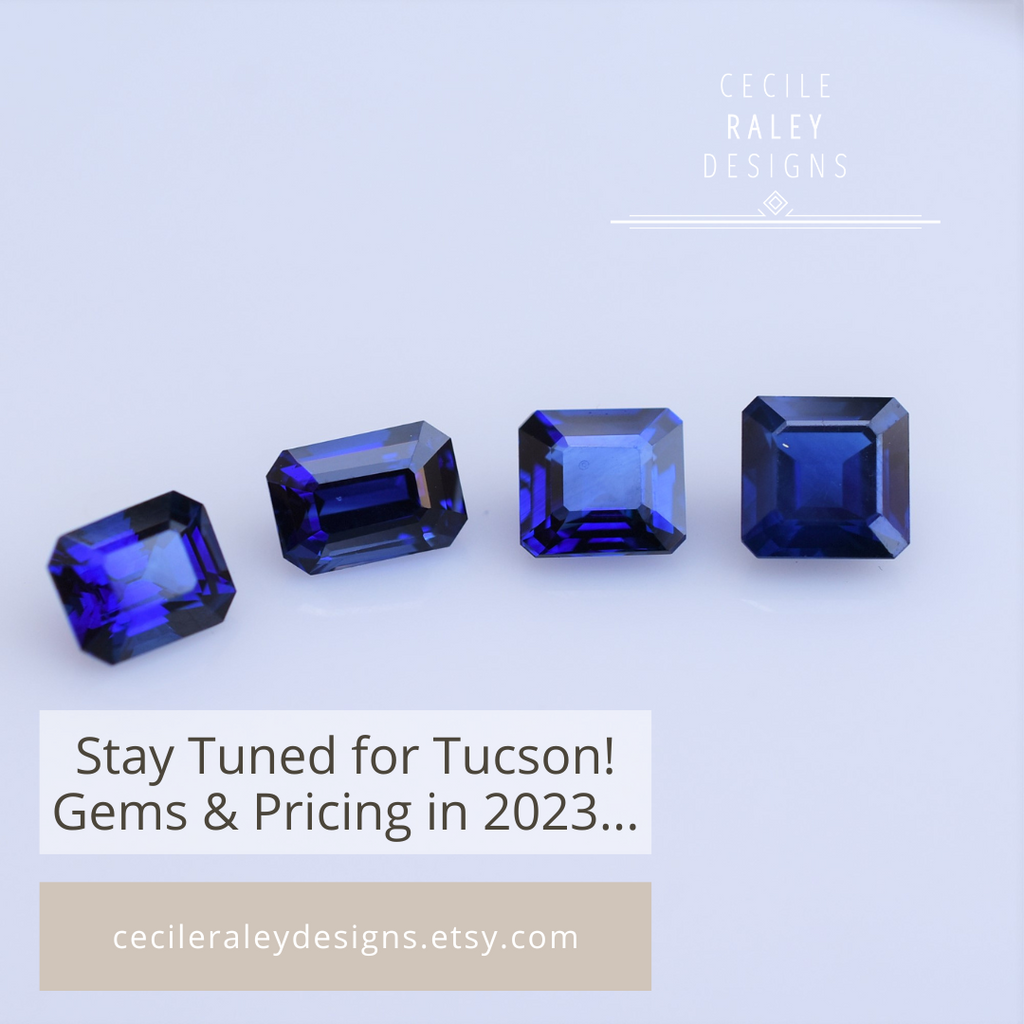 Do you have any gem related New Year's resolutions? Are you saving up for that special stone, planning to make some jewelry with the gems you own, or are you just catching up on travel and life in general? My New Year's resolution is simple: I want it all. New gems, new jewels, and new travel adventures.
While gem sales slowed down in 2022, jewelry sales and custom work have actually increased a little, despite it being a more or less sluggish year starting right after Tucson in February. Blame the war, the ensuing energy crisis, slow production of goods overseas and rising prices as a result, topsy turvy stock markets. One way or another, everyone has been affected, and uncertainty in general doesn't make anyone feel bullish, even those who are financially stable. We've had some internal turbulence as well: Johanna, our social media person, is leaving us because her shop, Metal Cloth and Wood, is doing very well (I'm happy for her!). So we are hiring, or trying to. We've also had an addition to our workforce: Doreen K., my long time friend from Nairobi, is doing online work for us after some initial difficulties in the form of getting the right computer and high speed internet. But it's all sorted now and Doreen is helping out with YouTube and sales analysis and soon she will take on additional duties.
I also have a summer trip planned: Sri Lanka. I've long wanted to see the mining on the ground there, especially Nivitigala (south of Ratnapura) where most of the sapphires I source come from. I also want to see the famous elephant rescue and the country in general – it is supposed to be beautiful. Plans are not firm yet and flights are not booked, but we have our dates and hotel reservations, so I am fairly firm about it.
But for now, there's Tucson.
I am leaving on the 27th of this month so I can catch the weekend at the Pueblo and 22nd Street show where many vendors start exhibiting before they go to GJX and AGTA. I expect business to be back to normal in many ways: all the Thai vendors are finally going to be back, which is exciting news for me as they sell a lot of the melees gems I always look for, as well as the cuts that are in style right now: kite, Asscher, radiant, triangles, etc. Russian vendors, on the other hand, are obviously not going to be there as they are either trapped in Russia and/or unable to export new goods. I feel particularly bad for my friend Sergei who lives near Moscow and hasn't had any gemstone income since Tucson 2020. "How are things?" I asked him in spring. "We are getting our news the same way you are - from the internet," he replied. The "official" news is, needless to say, somewhat incorrect.
As you ponder what you might like to see me bring back from Tucson, here are some preliminary remarks regarding supply, prices, and demand for the shows.
Russia (might as well start here): there will be no new imports of Russian emerald, alexandrite, and demantoid garnet this year, at least the way things are going. There are demantoids on the market still and I have found a new Russian vendor who resides in Hong Kong. He's going to bring goods to the show, but he won't have anything that I haven't seen. His melee collection is big however, so please let me know if any specific sizes and colors are needed (more apple green or emerald green?) My emeralds, however, have to go back to the vendor for Tucson so my offerings in Russian emeralds are going to be reduced for the foreseeable future. Demand for untreated emeralds has increased and Russian emeralds are among the finest in the world. The diamond market has been affected by the embargo as well, by the way, as about 30% of the world's diamonds are mined in Siberia (and the Argyle mines are no longer producing).


Afghanistan: Speaking of low to no oil emeralds, we cannot expect much by way of new goods coming from Afghanistan (this includes purple spinels, rubies, emeralds, and green tourmalines, among others), because of the lack of international presence and the rule of the Taliban. Some larger buyers, such as Tiffany's, will no longer buy Afghani goods for this reason.
Mogok: You know how much I love the famous Jedi spinel, and while the vendors who carry them will be in Tucson, there is no new export due to the government crisis, so there will be no new goods. That said, it isn't clear that there was more material available anyways. Jedi spinels were always expensive, and they are even more so now. The market, meanwhile, is wiped clean. Everything I have been buying, including the melees, is old goods, and the melees are drying up. There's nothing left over 3mm, and I cannot replace the 2mm either. There's some more in the 1.5mm range but that's as big as I can source and I don't expect that to change.
Sri Lanka: Export is indeed running again but pricing of sapphire (blue for sure, but purple now as well) has gone through the roof. The hot cuts for the year are emerald cuts, radiant cuts, Asscher and anything else square and rectangular. One of my sources tells me he has sold everything blue, green, or teal in those cuts (which means mostly Montana and Madagascar). Teal has been a hot color for years already (except with my clientele for reasons I don't quite understand!).
Madagascar produces teal but there's been a bottleneck and now demand has outstripped supply because specialty cuts, as well as teals, appear to have gained recognition in the mass market, and that's always a bad thing because with quickly loading apps like instagram and whatsapp people in source countries can access market information and change pricing instantly.
Keep in mind that if demand for bicycles increases, prices initially go up, but after a year or two, more bikes get produced and prices ease up. Gemstones, on the other hand, are not man made. Supply is what it is. And very few colored gems could meet demand if the commercial jewelry market tried to incorporate them.
As it stands right now, colored gems are still a specialty market. However, in the last decade or so this has begun to shift for some of the stones, and sapphire is among the forerunners with emerald a close second at this point. Blue sapphires in particular are rising again in price after being stable for a few years between 2014 and 2019, but ruby is rising in price as well, especially unheated rubies. Two of my friends in the trade buy old mine materials from auction houses, essentially competing with retail buyers, and they are getting outbid (not sure if this is public knowledge but auction houses are a good source for older collectors' gems such as Burma ruby and sapphire and Kashmir sapphires).

This ruby in my shop is really well priced at this point.



Madagascar: Finally, we get to some good news because export has started up again. I've written about this extensively so I'm not going to repeat myself here, but Madagascar is now a major exporter of sapphire, as well as many other gems: spinel, sphene, color change garnet, chrysoberyl, aquamarine and tourmaline (lots of light pinks) are just some of the examples. I think that except for sapphire and aquamarine – both of which are in commercial demand – prices here should stay stable.
Vietnam: The news here is mixed. The good news is that one can travel to Vietnam again, and one of my sources just came back from a trip. The bad news is that there was not much to buy. Cobalt spinel is now even more expensive and there have not been any new finds since 2019 as far as I know. Mining is limited, however, and the government is doing nothing to strengthen the market.
Tanzania, East Africa: Export in Tanzania is stable, but production is behind a bit like in so many countries right now. Mahenge spinel is only mined in miniscule quantities now and the find of blues appears to have been a single pocket. Because of covid, and now because of the cost of gas, mining is slow. Tsavorite and mandarin garnet are not produced in large quantities – indeed, mandarin garnet is hardly produced at all. Tanzanite is going strong however – please do not believe the hype that this stuff is running out, it is not!
In general, it is difficult to say much of certainty about many Sub-Saharan African countries. Droughts and internal unrest affect many of these countries on an ongoing basis, and that is a constant cause for bottlenecks. Alas, none of that is anything new.
Brazil: You've heard this for a long time: Paraiba tourmaline is being mined out. Well, it isn't entirely, that's not true, although production is quite limited and price increases are basically an everyday thing. I have not seen much new aquamarine or tourmaline from there, and do not actually know why that is but I am aware that some areas are pretty mined out. Back when I started buying more seriously, around 2010, you would get gorgeous Brazilian indicolite, and quite a lot of emerald, but those sources have dried up for me. I will try and find out more.
Colombia: Not sure I should put this country on the list as it brings only one mineral to the world market: emerald. I have also written about it before, more than once. In short, production is ongoing, but hit or miss (right now Cosquez has material, Chivor does not). Muzo, which is a region of many different mines, is producing on a somewhat limited basis right now, but due to fuel and labor costs, prices have gone up just like everywhere else. 
North America: I generally don't report much on North American gems because the information is easily accessible to any of you, but I can make a few remarks. Montana sapphire has become very popular, I think mainly because of its teal colors, but I also heard that mining of Montanas has become very serious business with a lot of resources being poured into it. I also heard that the red beryl mines are supposed to be producing again but the yield is very low and that will keep prices up in the future. Most other gems produced in the US, such as tourmaline, is very limited. And don't forget that labor costs in the US are higher than in any country mentioned above. Far higher in fact. Machinery is the most modern, but also the most expensive. You cannot bring a stone to market that costs $1 a piece, no matter how miniscule. Cutting costs, even if done overseas, are higher than that now, and production costs are waaaay higher. You just can't expect that to happen. Even the Canadian rubies I have been getting cost at least several dollars a piece for the smaller low-grade material. Canada ruby deserves a blog entry on its own but that has to wait until after I get back and after I have interviewed the company.
I think this sums up most of what I know right now. I still plan to buy in Tucson, but I am as always on the lookout for older material at older prices. Any feedback by way of gems you continue to have an interest in is valuable to me because I hope to buy what I can sell.
Also note that I still have a lot of goods still and I have not yet raised prices of many of the gems online that are now too cheap. I am reviewing my pricing as we speak and you will see some necessary changes in the coming weeks, especially in ruby and sapphire. Some of the very old listings (2020 and before) have to be revised as the prices are now lower than what I pay in the wholesale market to restock.
And don't forget the Russian emeralds because they WILL go away. I can negotiate payment plans that are more long term for serious buyers – like 6 months or so, but if I don't have a sale to report to my vendor, I have to return them. I also have a few collectors' gems available upon request: cobalt spinel, paraiba, sapphire, emerald, spinel. Not everything is on Etsy because the cost of selling there is 15% above what it costs me to sell direct (yes, yes, the website is coming. Hopefully product will show up there in spring).
One last question I should address. Will prices come down in the future? Well I have asked about half a dozen people in the trade now and nobody, not a single person, expects that to happen. Vendors continue to buy, even in this market, so that they can keep up with the demand they expect to increase in the next 2-3 years, when the retail market has recovered and caught on to the changes in pricing. 
Ok and that is all folks. This has been a long one. And more to come, stay tuned for Tucson.