Sparkling Treasures from Denver: Pinks, Purples, Blues... and Color Changers!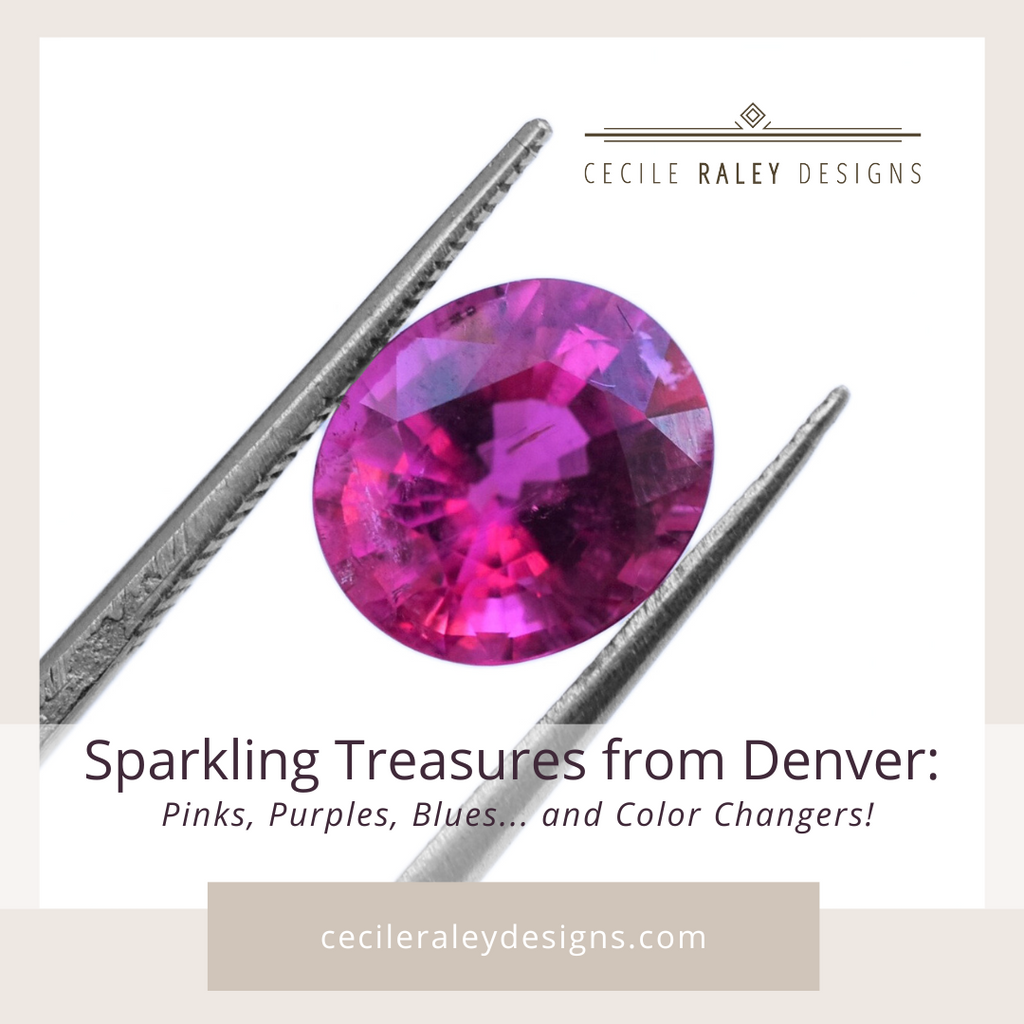 You might think that Denver's all about the Rocky Mountains and hiking, right? Not about going to gem shows. However, Denver is also an old gold rush town - the School of Mining is still located in Golden near Denver, and the name Colorado was even inspired by its colorful terrain, so of course one should go to Colorado for colorful rocks!
That said, trade is down, not just trade for bicycles or butter, but the gem trade has slowed down a bit as well. Rising inflation and fuel pricing, plus lingering Covid effects continue to be problematic for mining and thus production. Export can be difficult as well. Correspondingly, prices of gems are going up.
While I think that inflation will go back down, I do not believe gem prices will, at least not those of the major gems like sapphire and tourmaline. In the 15 years that I have been in this trade, the popularity of colored gems as well as knowledge about them, has increased dramatically, while supply has remained pretty much constant. In the long run, I am therefore bullish about the place of colored gems in jewelry, and that makes me bullish about where prices will be.
But I digress. Let's get back to gems. Rising prices didn't stop me from buying, though it did make me more selective and cautious. Nonetheless, I found some nice color change gems: a Garnet from Lindi, Tanzania, some color change Pyrope from Morogoro, Tanzania, and some smaller Alexandrite from Orissa. I did concentrate on smaller gems here because it makes them more affordable.
I also branched out with sapphires a little, getting more hexagons, Asscher's, and a few teals and yellows from Diego, Madagascar, in addition to more purples and pinks – one can never have enough purple and pink. Sadly, the vendor that has the triangles and kites was not exhibiting so I will have to wait until Tucson for more - for now, what you see on Etsy is what I have. On the other hand, I managed to get quite a few (heated) blue sapphires in the 3-3.5mm range which is difficult these days. But I found a box from an older production and I snatched the whole thing.
Speaking of old production, I also got more lavender Spinel from Vietnam, mostly melee sizes ranging from 2-3mm, some smaller singles and pairs. Production in Vietnam is down as the government is not keen on supporting it, and travel there is difficult so old production is all there is. As one vendor who specializes in Spinel told me: I have money but there's nothing in the Bangkok market for me to buy with it. However, Dudley Blauwet dug more deeply into his basement and unearthed several sizes of well- matched rounds.
In Spinels, we will also show more orange and imperial colors again as we head into fall color season. Additional Colorado Rhodochrosite will round out those tones, as well as some Spessartite and brown and orange Zircon.
On the green spectrum we will have some light Grossular, Tsavorite, and a couple more Russian Emeralds. My vendor for these has bought out the rest of the production that left Russia pre Covid so what I saw in Denver is what there is. There's no further export at present and I don't know when that is going to change. For now, therefore, I won't be able to offer more. (As you may know, Russia is also one of the world's largest producers of diamonds, which is why diamond prices have fluctuated upwards.)
Last but not least, I rekindled my relationship with a gem that I had neglected for most of my gem buying life: Rubellite Tourmaline. I think that because Tourmaline is usually heated and otherwise usually a paler pink, it never peaked my interest for very long. But I was unfair, lol. I found a supplier with beautiful material, so you will see two more (affordable) ovals and a large round hitting the shop. The large showstopper is already here on Etsy!
In the Paraiba department, I got smaller material only, ranging from 2mm-4mm, and some 5x3mm pears and oval. But the colors are exceptionally vibrant and the material is clean, thanks to my new supplier directly at the source.
While these are available just upon request for now (or check out the YouTube channel), you will see more and more jewelry with Paraiba gems as I feel that I know how to make these babies shine without breaking the bank!