From Start to Finish: Fine Jewelry Production in the Diamond District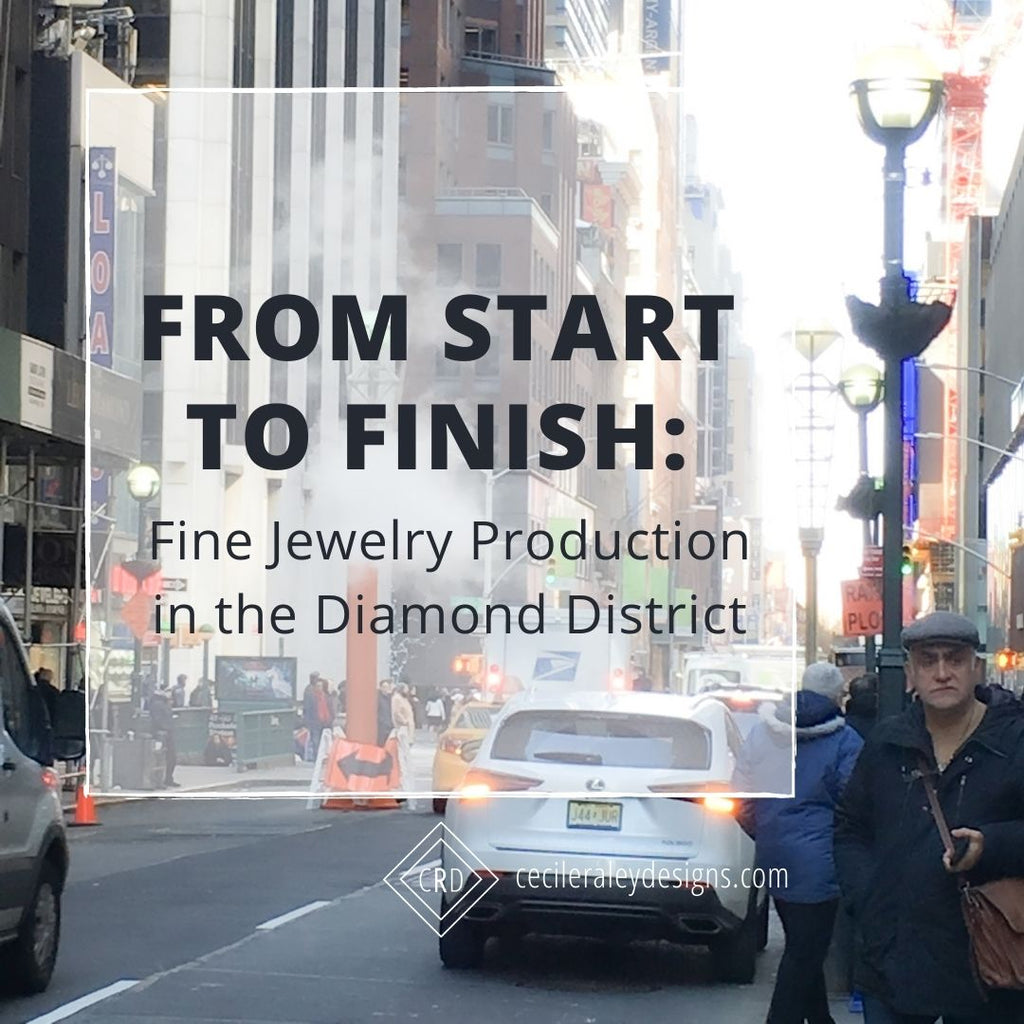 So yes, I operate out of the basement of my house.  I'm the creator, designer, inventor, and owner of Cecile Raley Designs, I choose every stone for purchase, I make all the layouts and designs, I'm in charge of manufacture, I do most customer relations, I take almost all the photos and videos, make all the shop listings.  I have three part time staff members that do social media, shipping, pricing and record keeping, ordering supplies, bookkeeping, graphics, additional communicating with clients, quality control, pickups and drops, processing gems, and many other small tasks.  And I have a cat - Lucy, but frankly, she's utterly useless when it comes to helping with Cecile Raley Designs or with anything else for that matter!
Yet, somehow, this little company manages to work on up to 10 custom orders at the same time (more during the holidays), make another 10-20 unique pieces a month, as well as source and curate unusual gems.  How do we do it?
The answer, for us as well as any and every small shop, is "outsourcing."  You cannot get around that unless you make just a teensy amount of stuff and it's based on a very small skill set.  Otherwise, there is no way you can have the equipment (and resulting permits needed for machinery and waste), the practice needed for acquiring a difficult skill (and possibly expensive tools), the money, and most importantly, the time to make this all work, or even to oversee it.  Even being a good CAD designer requires the purchase of expensive programs and a significant investment of time developing soundly constructed and aesthetically pleasing 3D designs (ask any engineer!).  
To see how outsourcing works, and where it is the most efficient for a startup or small jewelry business, let's look at our process, start to finish.
We don't do CAD designs ourselves but use 2-3 different designers that have the expertise, depending on the particular design needed, to work off of a drawing with added dimensions, and come up with some options for execution.  (This requires a CAD program like Rhino and Rhino viewer, and possibly also a rendering software to make the designs look closer to a finished product that can be presented to a client for approval.)

 

(above) A recent design of ours, executed in CAD and (below) a CAD work-in-progress

Once the CAD design is completed, the file is printed in wax or another compound that melts, then molded if required for reuse, and cast. Our casting house, Taba jewelry services, does all that including most CADs.  While a reasonably good 3D printer is not too expensive, a more experienced casting house will employ a variety of printers, printing materials and molding options for more fine grained results.  Casting equipment also requires special permits and resulting inspections.  I don't personally know any jeweler who casts in their shop.  It's far too expensive and risky!  Casting houses will combine many orders so that they can make three 14k yellow gold pieces for one company, two 18k peach pieces and fifteen brass pieces for another in just a day or two. 
Once the casting comes out, it has to be cleaned and polished. Some casting houses do that for you (Taba does) but there's a bit of difference between levels of cleaning, so we use a polisher for this.  On the simplest level, you can "cut the sprue and tumble" with no polishing wheels at all.  In NYC you can get this done for $3 each in the most basic level.  A pre-polish using polishing equipment is twice that if you want a quick and dirty job for say brass and a multiplier of this if you want a good job for fine jewelry.  For an all-out job you can pay a couple of hundred bucks if a jeweler has to get in there and not just pre polish but "clean" the piece, inside out, every crevice, with very fine tools. Being good at polishing and cleaning is often an overlooked skill. Also, a good pre-polisher will make you aware if a ring size you ordered is off, or stop the process if porosities are found in the casting once they polish down the outermost layers, and ask you if you want to request a recast, or lazer fill, or try to polish it out.
After casting, a jewelry piece, if simple, might be finished. But if it's an earring, it has to be assembled (a jump ring or post added for instance) by a jeweler.  If it's a pendant, a jump ring and bail needs to be added.  A ring might need to be sized if that wasn't done beforehand in the wax.  Jewelry parts might be assembled, soldered together, chain soldered on.    As we mainly design in CAD, we don't require much more extensive jewelry work, but for the occasional very high end piece it can pay to have a jeweler make the piece from scratch, or a wax carver for an organic piece like our seahorse ring.  A jeweler can often achieve more fine grained results than a casting house but it can also be more expensive.  For instance, the fine wire work you find in a 1920s brooch cannot be replicated in casting, it takes a lot of expertise to make and could take up to 40 hrs, so it can cost you as much in labor as getting your kitchen redone. 

Details from our hand carved seahorse ring

As most of our pieces are set with our lovely and rare gems, the piece then goes to the setter. Setters (like jewelers) can vary in level of skill.  Some have just a few years of experience, they work mainly with hard gems like diamonds, or cheap stuff that can break, and they work just with a jeweler's lens.  They don't do pave setting because they don't have the tools or a microscope, they haven't mastered the skill of using varying degrees of force, they don't shape prongs into claws, they don't hand apply millgrain or cut down scoops (for scoop pave in an eternity band).  They can bezel and prong set with less breakage than most because they do this all the time, and they are fast and cheap.  Then there are the fine jewelry setters that operate with a 5K microscope, millgrain tools and gravers, hate it when beads and millgrain are in the setting, prefer not to work with any commercial settings, make an art out of a prong, and who charge up to 5x the price of the prong pusher or more.  Our setters are all prima donnas who blame us for their mistakes (the gem is too thick around the girdle, the shape is inexact, they have a fat belly).  But we want prima donnas because we want our product to have the look of hand fabrication that cannot be achieved by having all this detail put into the CAD design.  And we don't use prong pushers! 

 

Closeup of a handcut pavé setting

 

So when the prima donnas are done, there's one last step, which is final polish. Most jewelers, us included, prefer to send the pieces back to the pre polisher for finals.  They will give the whole thing another look, a light polish over engraving and pave work (a kiss, they say), and deeper polish around areas where the setter marred the metal from setting.  They will check the stamp, or stamp the ring if not done before, and they will rhodium plate white gold.  And in our case, they know that when "weird" gems like hauynes are set, they can use steam only gently or quickly, and might skip over ultrasonic if at all possible.  Lots of gems get harmed in this final step, so again, it's important to know who to choose.
Most small businesses will find it difficult to keep track of all these steps, especially with custom pieces and special orders. 
So do we.  To remedy this we not only use contractors who have the skill to keep an eye on this and to know when to halt a "job" and ask us (i.e. a gem is missing, the size is wrong, there are questions about layout etc), and who are trustworthy.  We also use industry standard "job envelopes" that contain all the parts needed and will travel all the steps in the production process starting with casting.  So when I pick up the casting, I check it and put it into the job envelope which has the client's name, job number, date, and then all the details about the piece itself.  That job envelope, together with everything that was in it (i.e. the bags with all the left over gems, any gem jars, the correct casting baggie, labeled) is returned to us and we can check the piece in each step of the process so a mistake can be corrected, before we ship it.
So it's still a lot of work of course, but this process allows cooperation between many small businesses helping one another; it's the sharing of resources and expertise.  It takes time to establish all these relationships and find the right people but it is incredibly helpful when you want your shop to grow, and I see such collaborative efforts always as a way to improve my jewelry!  The learning never ends…