Adventures in Emerald City: Gem Hunting in Bogota, Part I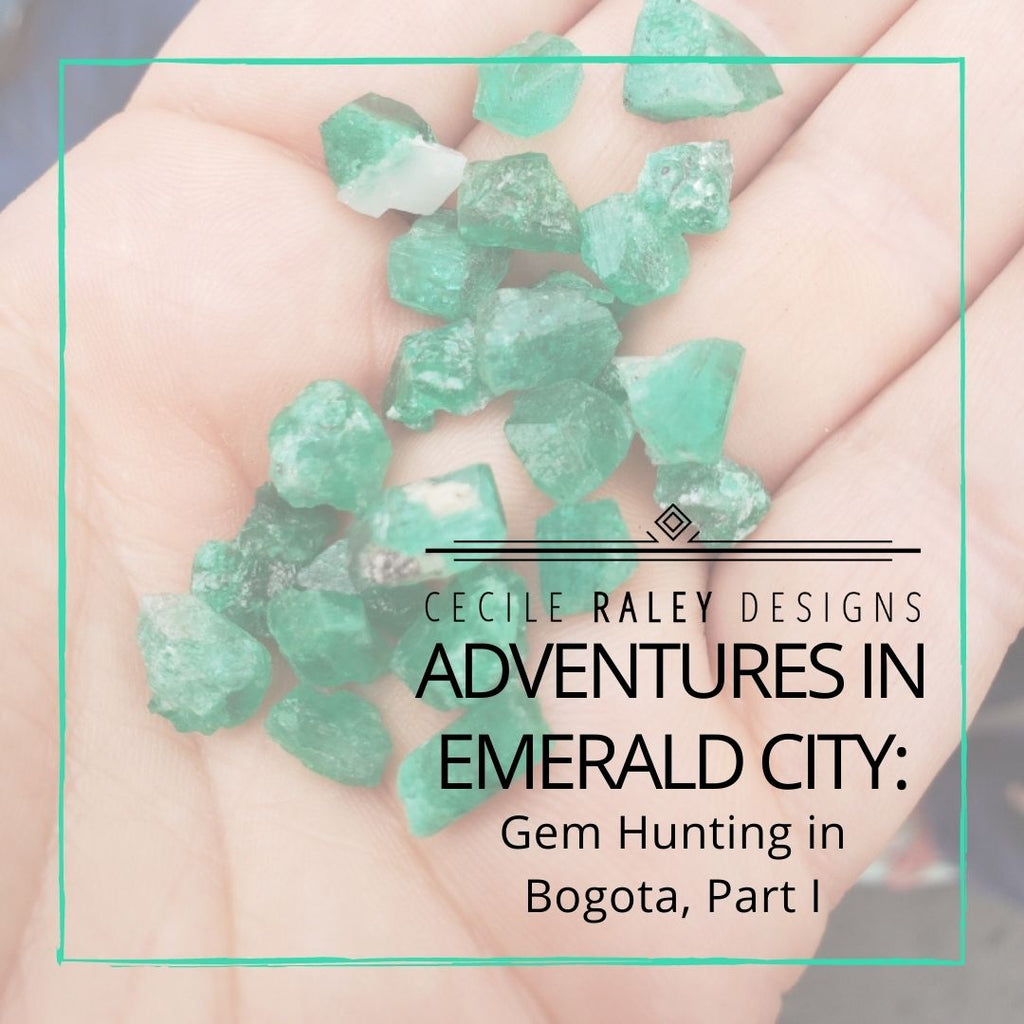 TWO years! That's how long I had to wait to go to Colombia again. But I did it, and with even more emerald success than the previous time.  After my planned trip for April 2020 went poof, like you, I hunkered down with some of those closest to me and watched the world change on TV.  But this summer has marked a new dawn, with fully immunized and less restricted world travel.  So finally, late last month, I set off to Bogota, armed with loupe, tweezers and money (and yes, other stuff).  I took along my friend Diana to help me, she knows my business well and she speaks Spanish.  I have more of a 100 word lexicon from which I can produce words in no particular order as needed.  I do find myself understanding more than I expect because I speak French, sadly however, my active language skill barely rivals that of a 1 year old.
Once we arrived at our Bogota hotel – the Hotel de la Opera in Candelaria, we were warmly welcomed by my long time travel buddy Jochen from Jentsch Mineralien. Jochen hasn't been able to come to the US since March 2020 and I had only seen him for one precious day in Germany some time in the fall of 2020.
The Hotel de la Opera, a Colonial style building with tranquil inner courtyards and a spa, rooftop dining and bright spacious rooms, is conveniently located in the historic district and just a 7 minute walk to the Casa Esmeralda where much of the trading for emeralds takes place.  On the way, you walk past dozens of small Joyerias where you can buy emerald jewelry and loose gems until you arrive at the plaza where a couple of hundred men show each other parcel papers with gems and negotiate over them.  Turn right and one block up you'll find the emerald mall, Casa Esmeralda!
We had decided that on our first day, we would slowly peruse the Joyerias and possibly make smaller purchases, as well as look for some of Jochen's favorites: "gangas," emerald crystal in host rock. And of course we also went to my favorite ice cream store nearby: Waffles and Crepes. 
Bogota is very safe to walk around during the day, in the evening you should watch for pickpockets but the touristy areas are well populated. Still we were grateful for the hotel safe where we could store our purchases and passports when not needed.  As a rule, we never leave anything at a hotel in a less familiar country that prevents us from leaving that country, unless there's a safe. 
On our first afternoon in Bogota, I also had an appointment with a small shop near the gold museum where I had bought some of my best pieces in 2019.  The owner's assistant, named Diana just like my Diana – is fluent in English, which makes my life a lot easier!  Diana told us that the shop had been closed for over a year due to COVID-19.  During the closure, Diana had gone back to her small family farm where living was cheap, and the owner stayed back in Bogota trying to make ends meet.  Times were very rough, and our arrival was greeted with tears of relief that business would finally pick up. (And we did our very best to meet those hopes.)
(Side note: I did notice that about one third of the souvenir shops near the Gold Museum had closed down since the last time I was there, and on our final day, my Diana and I did our best to spend a few dollars at each and every shop in the little neighborhood so that everyone had a small benefit.  This is something I always do when I am in less wealthy countries, especially when I am the only one shopping.)
But let's get back to the main thread.  After making more introductory purchases and discussing mining business here and there (such as which regions are currently producing interesting stuff), we headed back for dinner as we had to get ready for an early morning departure to grab our rent-a-car and get going.  Living out of a suitcase isn't everyone's cup of tea and even I had forgotten how stressful it can be.  But we were focused on travelling and on buying, and we had three stops to make in five days: Muzo, Cosquez and Chivor.
Jochen is an expert at actually using the four wheel drive of a four wheel drive, and that is what's needed when you cover the last 20 miles of dirt road and hairpin curves down into the valley of the Rio Minero that Muzo is next to.  So we took an early cab to the car rental place at the airport, inspected our Renault Duster for dings (so that we would only get billed for the dings we would add, if necessary), and headed off.  I did most of the city driving as New York and Jersey City are my homes, so that kind of traffic stresses me much less than it does Jochen, who prefers off-road driving with cows and landslides as the main obstacles.
The drive to Muzo is about 5 ½ hours and GPS instructions and estimates are quite reliable.  Nonetheless you have to consider that not all roads in Colombia are highways and you can easily get stuck behind a truck for 10 minutes until you find a way to pass without risking your life. Or, if there's construction and the crew is on their lunch break, then you may wait at a construction site for up to an hour. Yes, been there, done that! The final bit of the drive involves climbing nearly 6000 feet over a mountaintop; and then descending back down, on small, very partly paved slalom roads.
Because there's some tectonic plate movement in the region, and because the dirt in the region is full of flaky shale, there are landslides every time it rains, some very large ones and countless very small ones.  And as it rains often in the tropics, there are landslides every day.  The local towns fix their roads constantly because many of them only have one road in and one road out. 
We had left a bit late that morning, the paperwork at the car rental took a long time, by then we all had to use the loo (and to enter the airport you need to go through passport control which is a long line), so we didn't get really going until 11 a.m. With some traffic and road closures, we finally descended into the town of Muzo by 5:20 pm.  The 6 pm sundown is abrupt so we didn't have much time to show our faces to signal our arrival. 
After dropping our luggage at Kolina Kampestre, a camping style hotel that only had cold running water but a big pool and a stunning view; we immediately drove down to the center of town and sat down in the square, where you can order basic food and drink.  A few yards over, we saw several men trading emeralds, so Jochen went up to them and said hello.  Someone recognized Jochen from last time, and within a minute or two a few people came up to him.  Jochen bought a couple of pieces of cheap rock, then explained that we'd be back in the morning.  (This type of news then spreads like wildfire and on the next day you can expect sellers to have populated the plaza or café where you said you'd be when you said you'd be there.  Some of these sellers might have travelled part of the night to meet you.)
As we were heading off to find a place to eat, we were stopped by a man and a woman who suggested that we come to their shop to look at stuff.  My friend Diana whispered to me: "really, is this safe?" and I said "sure."  And it is.  People come to Muzo for one thing and one thing only, and that's emeralds.  People who live in Muzo do one thing and one thing only and that's emeralds.  The gem trade is based on trust.  Trust in people.  While it wouldn't be wise to stray from the main part of town at night with a purse full of cash, if you go with locals in the gem trade, their primary interest is not to rob you but to sell you something (or try to rob you by getting you to overpay, lol).
Was Diana right?  Was I?  Stay tuned…