Colombia Part I. Bogota and Muzo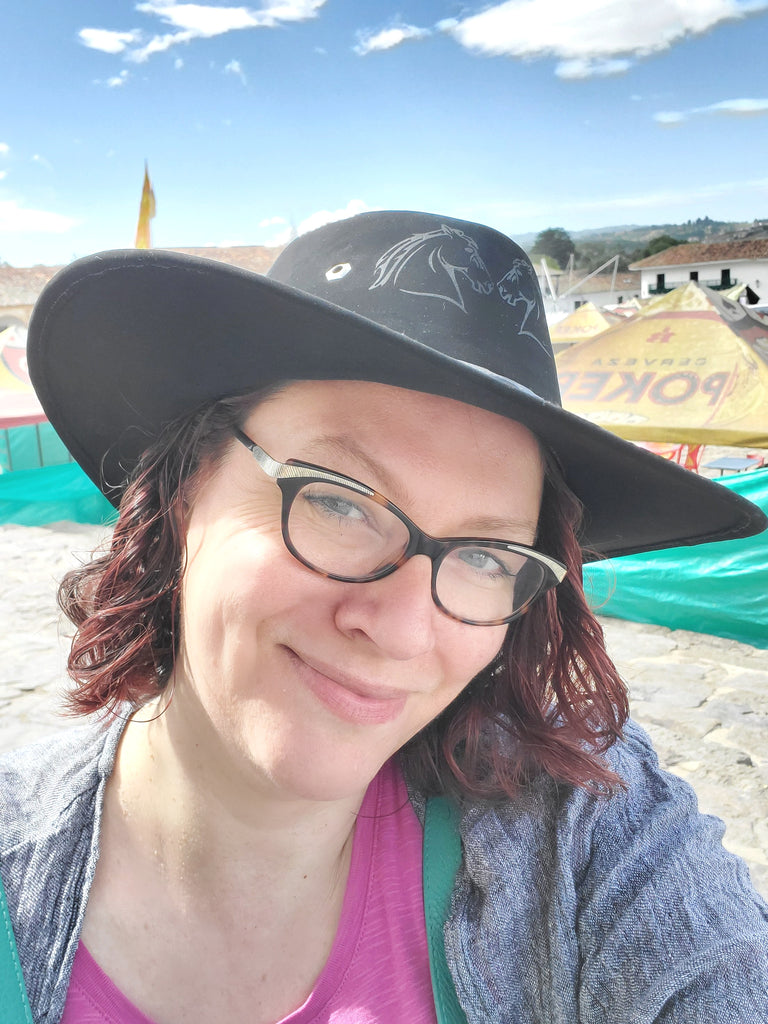 A lush countryside, a rich history of gold and conquest, delicate indiginous art, well-preserved ancient Spanish towns, and the lure of going treasure hunting for emeralds in Muzo and Chivor: who wouldn't want to go to Colombia for all that? 
Boyaca Region Colombia
Looking for emeralds in Colombia had been a dream of mine for some years. But it didn't become a reality until my travel buddy, Jochen Hintze from Jentsch Minerals did a scouting trip in November 2018, pronouncing it safe and accessible, all the way to the mining towns themselves. The guerrilla movement of the FARC (Revolutionary Armed Forces of Colombia) which was responsible for the kidnappings, drug trading, as well as illegal mining for decades, had made a peace deal with the Colombian government in 2017, and had surrendered its weapons. Only a very small group is still active today. Pick pocketing is still a concern, as well as poor road conditions on the way to the mining locations, but I'm used to those things from elsewhere. 98% of roads in Africa are not paved, and in large cities like Nairobi you have to protect your belongings constantly.
So, on Saturday July 13th (yep), I took a direct flight with United Airlines to Bogota, where I was picked up by Jochen at the airport, together with his friend Klaus K., a burly 50 something private collector and seller, as well as a seasoned traveler of mining regions all over the world.  Between those two, I knew I would be safe and have fun on top of it.
Our hotel in Bogota, hotel Santa Marta, looked unassuming from the outside, but turned out to be a beautiful and recently renovated Hacienda style building, all rooms facing an inviting courtyard with comfortable tables and chairs, and lots of decorative plants. The rooms were small – so were all rooms in the hotels we stayed at, and there was little storage, but it was clean and safe, had nice bathrooms, comfortable beds and offered a solid breakfast (eggs, sausage, bread, pancakes, and local style breakfasts upon request). The cost: less than $50 a night for a room.
Hotel Santa Lucia
On our first day, Sunday, we decided to get acclimated with a visit to the museum Del Oro, the Gold museum of Bogota.  The museum is filled with thousands of indigenous gold artifacts collected since 1934. It was started by the bank of the Republic with the intent to preserve the gold art of Pre-Colombian times, dating back more than two thousand years. To the indigenous cultures, gold was a sacred metal, though it wasn't perceived to have trade value until the Spanish conquest, during which much of it was melted down to make Spanish coin and fund Spanish wars. As we browsed through the floors filled with art ranging from the opulent to the extremely delicate, we got a glimpse of how rich the region's history was before the Europeans arrived and wreaked havoc.
The gold museum is located just a block away from the Emerald Trading Center, a 3 story mall like building lined with shops and offices only selling emeralds in any form you can imagine: faceted and rough, trapiche, cabochons, crystals and specimens, emerald jewelry, and there are two gemstone laboratories as well. Of course we went to check it out right after the museum tour, but found it was only open on weekdays. We postponed for first thing Monday morning.
Treasures of the Gold Museum
We did, however, locate a smaller shop gallery across the street from the museum, filled with booths selling emeralds, jewelry, pottery and coffee, scarves, shoes bags and anything else a tourist could want. 
While Jochen and Klaus concentrated on the shops selling rough and crystals, I wandered through all the places that sold faceted gems. Most of the prices, it seemed to me, were too high, certainly for a wholesale buyer like me (though from the retail perspective, in my opinion, prices were quite good). As I found out later, the shops there mostly had items on commission, which accounted for the higher markups. One of the shops, however, seemed to have rather reasonable prices (as it turned out, their gems were mostly proprietary).
One of the sales people spoke a little English, so I started to peruse the gems while chatting with her about my trip. I pulled out my loupe and tweezer to signal some knowledge and they let me browse peacefully. The selection was small but well sorted and priced, so I bought a cabochon and a small but phenomenally clean pear shape to signal interest for further business. Meanwhile a family from Norway came in that didn't know anything about emeralds, and I helped them select a piece that I felt was what they were looking for and made sure the price was good for them. Everyone was happy of course, including the shop owners. Another positive step toward trade, which was to become very useful in time.
.39 Carat super Clean Pear shape from Chivor
In the late afternoon we sat down to have a big steak, arepas (corn pancakes), salad and maduros (sweet plantanes, my favorite).  Bogota, as well as the rest of Colombia as far as I got to see, has amazingly tasty meat.  It tasted fresh and slightly gamey as it should when cows are raised outdoors as opposed to giant feed lots providing a diet with corn, hormones and antibiotics. Our plates were so large that we skipped dinner and spent the evening sipping beer in our hotel, making plans for the week.
Emerald Trading Center
Early Monday morning, and off to a fresh start, we went directly to the emerald trading center. The doors were protected by armored guards, and I was told not to take photos or video (I did anyway but very carefully). I perused the first floor but found it to be too expensive again. Instead, I went back to the same shop I had found the day before and bought two more emeralds there instead, chatting with the salesperson and absorbing knowledge. I told them we were going to visit Muzo and Chivor and asked their opinion.
Around lunchtime, we took the teleferico - the cable car - up to the local mountain called Montserrat, taking us from 2700 meters to an altitude of 3200 metres (9000 feet) and a beautiful view over all of Bogota.  We had lunch at an upscale restaurant, more steak of course, enjoyed the view and a home brewed beer. Before we knew it, it was past 3 p.m. and high time we got back to the hotel and check out.  We had reserved a 4 wheel drive at Europcar and needed to get to the airport before 4. Our intent was to make our way to Vila de Leiva to arrive there by around 7, have a nice dinner and enjoy a walk in the one of the most ancient Spanish towns in South America.
Teleferico going up to Montserrat
Views of Bogota
Needless to say, that didn't happen, not exactly anyway.  We organized a cab driver to drive us to the hotel and then airport, but with three suitcases, a carry on and two backpacks, we didn't fit until driver had to remove his mega size amplifier from the trunk (intended, we assume, to entertain several blocks with the music in his cab).  He left it in a parking lot across the hotel to pick it up later for a small tip.  It's a curious thing, I think in the US that would not have worked, people fear it gets stolen or damaged, and parking garage attendants aren't likely to want to store or take responsibility for large stereo equipment.
At Europcar we were given ample instructions on what not to do with the four wheel drive, instructions we mostly ignored, like not going off road and being careful and whatnot. Far too late in the day, we left for what we expected to be a three-hour drive according to my GPS.
And it might have been a three-hour drive, had my GPS not decided to stop collecting data at a crucial intersection, so we drove 30 miles too far north. With the help of an actual paper map that Jochen's generation always has on hand, we located a different route. Located on the map, that is, we then had to locate same said route in the town of Tunja, which was another matter entirely. We discovered a few dead ends instead, and eventually stopped to ask at a gas station. A few wrong turns and several heated discussions later ("he said to turn here", "no, that's the wrong landmark," "we are definitely not heading east", "we should turn around") we ended up on an unlit gravel road in the dark, which, in Europe or the US, would have led absolutely nowhere. But after several miles and a few very well hidden signs we did end up at our destination. It was 9:30 p.m..
Vila de Leyva
Vila de Leyva is absolutely worth the visit if you so happen to be in the neighborhood, it was built by the Spanish in 1580 but in contrast to European towns built around the same time, it is set up grid style, does not really have a fortifying wall except for a small moat, and has very wide streets.  As a European, I found the juxtaposition between a modern grid and wide roads with such ancient buildings quite extraordinary. The pavement and most of the buildings are original, only windows, doors and roofing being modernized. And of course, now that we are in the 21st century where there's little of beauty left to be discovered, there were gift shops everywhere.
Piazza at Vila de Leyva
Unfortunately – at least for my taste in quiet and romantic old style towns – we arrived smack in the middle of a big festival. The central piazza was covered in booths offering anything from BBQ to hats and ponchos, and there was a stage with a band playing South American music. Fireworks began at 5 a.m. and woke us up, but when we finally got to have our only short daylight stroll at about 8 a.m. the town was fast asleep.  In another local hotel, I had a local milk soup with cheese and eggs and soaked bread. Jochen and Klaus were more adventurous.  They tasted horse steak in tomato sauce. It was pretty good actually, once I had sufficiently repressed my memory of one of my favorite childhood books: Black Beauty.
Caballo and Changua, Typical Breakfast Foods in This Region
Strengthened and ready for the next leg of our journey, we left for the bumpy ride to Muzo at 10 in the morning. Spurred on by a working GPS, we figured it wouldn't be too difficult to get to Muzo. Thankfully the GPS decided to process data for the entire day or we would have never found it! 
Drive to Muzo
We drove down many single lane roads, the GPS would announce left, right, straight at nearly non-existent intersections of gravel roads suddenly turning paved then gravel again. For about four hours we were pretty much on dirt roads, ascending serpentines up to 3000 meters to highlands that vaguely reminded me of Bavaria, then descending again on more winding roads with sharp curves down to 800 metres with a view to of the river Rio Minero, the river in which the population of Muzo finds its emeralds. Meanwhile the vegetation changed slowly from lush and foggy meadows to thick and tropical. Colombia is the fifth highest country in biodiversity in the world, and we covered a good bit of that on our trip. 
Muzo, Colombia
Eventually, we saw the town of Muzo nestled between the mountains from afar. The GPS guided us straight to our hotel, Kalina Kampestre, named after a local vacation style that reminds of camping but without tents, in a very simple hotel with a pool instead. There was even a basic bar selling beer and water (the water in Colombia, for the most part, is not for human consumption); there was a grilling station where chicken and beef was roasting during the day, and the typical music blaring near the pool (we eventually asked politely to have it turned off as we appeared to be the only guests that night). The rooms were beyond simple. A bed, chair, no TV but a ventilator that we could put into the window, and a bathroom/shower, no showerhead, just a pipe sticking out of the wall with cold water only. Thankfully it was 90 degrees which was good for the shower, not so good for sleeping.
Hotel Kolina Kampestre
We had no time to waste and Jochen was eager to see green (rocks, not paper), so pretty much immediately after checking in, we drove downhill to the town square and sat at a lunch place that was a big open space, hoping for people to show up with gems.