Visiting Kenya and Tanzania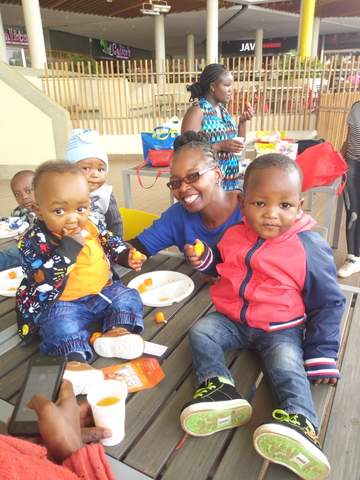 Kenya
Our next destination after Madagascar was Nairobi, Kenya, where I planned a long overdue reunion with my friend Doreen.  Doreen Kawira is the niece of a Franciscan sister whom I met during my teaching days at Felician University.  Sr. Francesca, as she was called, was born in Meru Kenya and belonged to the Nazareth Sisters of Annunciation congregation. She was sent to study at Felician through her sister institution in Kenya.  She took one of my classes and we quickly made friends. When she graduated, Sr. Francesca confided in me that when she came to the United States, she had hoped to find a sponsor for her nieces Doreen and Purity to go to secretarial school.  She wanted her nieces to learn a trade, like typing and letter writing, and have the opportunity to practice on a computer – which was far too expensive for the family to purchase.  The Franciscan sisters at Felician College were not very interested in this, and neither were any lay Franciscans in the community.  So my department decided to sponsor her nieces, and with combined forces we paid for Doreen's and Purity's secretarial school.  Over time I became personal friends with Doreen via email and Facebook, and Doreen eventually told me her dreams for a bachelor's degree, something she could of course never afford to pay for with her secretarial job (and college loans don't really exist in Kenya).  I decided, not having kids of my own and therefore no college bills, that this is how I could pay it forward.  
Doreen and Immanuel (left)
Doreen completed her bachelor's degree in 2016 and that year, I met her in person for the first time.  Now Doreen is the mother of a little boy called Immanuel whom she is raising on her own (yes, childcare or parental responsibility laws are not really known in Kenya). I really wanted to meet little Immanuel, and of course I wanted to see Doreen again.
Little Immanuel Playing
Doreen now works for Mount Kenya University in Nairobi (the largest private university in Kenya), and she lives in a small apartment about an hour's bus ride away during rush hour.  She works from 9 to 6 p.m so she's hired a live in nanny with whom she shares the living room (her apartment is about 200 square feet).  She and Immanuel share the bedroom.  Water is turned on twice a week, so the rest of the time, they have to store it for washing and such.  With paying for the nanny and food, there's not much left for anything else.  So I had bought some children's clothes for Immanuel, and a colorful box of plastic cubes to play with.  Almost the entire family came to see me, including Sr. Francesca as well as Purity whom I had never met before.  They had cooked a big meal for us: a banana potato mash, rice, chicken stew, chicken soup, and vegetables.
It was a pity for me, because something I ate on the plane didn't agree with me and I barely managed a bite.  I almost threw up on the plane (one of the worst things I can imagine at least as far as throwing up is concerned, which isn't high on my list!).  Maybe it was something I ate before but in any case, I felt like crap.  I ate a little bit even though I shouldn't have and got even sicker.  By the time it was 11 I was practically passing out and Doreen found us a local hotel for us to go to, and her next door neighbor who drives a taxi for a living, took us there. 
The drive to the hotel near the University of Nairobi took us past a number of brightly lit billboards selling luxury items that very few people could afford (like beauty products, makeup, even cars).  I found this strange because here in America, you wouldn't advertise to such a small social group – it makes much more sense to pitch to the middle class.  So who buys those beauty products and those cars other than a select few I asked myself?  For most, these billboards must just represent a life that they can scarcely imagine.  Even Doreen remarked that riding in an airplane was something they regarded as only being for the rich.  She said they'd point to the sky and go "that's how rich people travel."
The hotel was another example of an unimaginable life to most Kenyans.  By our standards, the hotel was slightly above a motel 6 with a hotel entrance, but it was located inside a walled complex with a guard, guardhouse and gate.  The price was $100 a night, which was a reduced rate that Doreen was able to get us through her connection to the university. Even by US standards, this wasn't so cheap, but for Doreen it would represent a week's pay.
At 4:30 a.m. we got up to make the flight to Entebbe Uganda (layover) and then Kia (Arusha, Tanzania).  I was totally dead in the morning, with not enough sleep and a sick tummy.  The cab driver ended up over charging us (asked for $100 USD for the two rides the day before and the ride to the airport).  But I was too sick to argue.  I slept in the lounge on two ottomans, I slept through the first plane ride (where I almost got sick again), I slept in the airport at Entebbe which is newly built (very small) but where they still couldn't print boarding passes (we got handwritten ones).  I slept through the next flight as well.  Then I felt better.  After another long wait for business visas and a long discussion at the custom's office where we needed to have our Madagascar gems held due to export restrictions in Tanzania (a catastrophe at the moment about which I will talk later), we finally got picked up by our arranged ride to the Mount Meru hotel.  We reached the hotel in 30 minutes, I went straight to bed and crashed for 12 hrs....
Handwritten Boarding Pass
Images of Mount Meru Hotel in Arusha
Current Trade Issues
On the first full day in Arusha, we had morning coffee with some of the master dealers to get caught up on the current export situation, which has changed drastically since last year.  In July of 2017, the new mining act was established, which made all exports of rough gemstone material illegal.  The act was not signed until November of 2017, so when Jochen was here last fall he was still able to export.  The new mining act supposedly excludes all mineral specimens (because they are not facet rough) but apparently the government does not have sufficiently educated staff to tell the difference.  They have hired professors of geology but these lack the practical experience, and while the mining office lab has asked the help of several of the more educated gem dealers, they have not offered to pay.  Hence, they have not received their much needed education.
And what is the reason for such strong restrictions?  Apparently Thailand exports over 4 times as much Tanzanite as Tanzania, which indicates that mineral rough is exported and cut elsewhere – and elsewhere is also where most of the profit is made.  The Tanzanian government hopes to have the gems cut in Tanzania so that it can increase its own profit margin. 
And profit margin there is: First, there is the revenue gained by hiring cutters and employing local workers, but second, faceted stones fetch more money than rough stones, even if one figures the loss of the weight after cutting into the comparison. 
The problem is, however, that there are not enough cutters available in Tanzania to cut everything.  One master dealer explained to us that he is cutting 60% fewer gems than before (mind you this particular master dealer has 11 cutters all of which are Sri Lankan, not Tanzanian – most cutters aren't local and it takes years to become a good cutter).  This particular master dealer said that this is still enough revenue for him, but he has also stopped buying new material, and this creates a problem for the miners and smaller brokers. Many of the local miners, who tend to profit the least in any case, have stopped trying to find new materials (and have also therefore stopped making money).  Overall it is estimated that the  gem trade is down by 90%.  As a result, many small brokers and the miners are in financial trouble, and so are the families they support.  Jochen and I actually sent some money to our broker back in April because he could not feed his family.  His daughter, who just finished high school, wants to attend University but he does not know how to help her.  University is $1000 a year, and that is probably 5x a monthly salary for him.  I'm hoping that I can find them a sponsor, as I have sponsored Doreen.
Given the new mining act the government loses revenue of course, they make far more money from tourism, so for now, despite many meetings between the master dealers and the president, the government is holding steadfast and nobody knows when the situation will change.  The hope is it will change soon but the election cycle is 5 years and most presidents are elected twice, which puts the time frame for change at 7 years from now.  One person we spoke to is thinking of closing down, two others are thinking of relocating to Kenya, which would simply deprive the Tanzanian government of the gem trade revenue on a permanent basis.
From what the master dealers told us, – the main sources of Tanzanian Tsavorite, the Mererani mines (also pronounced "Merelani") now have a wall built around them which is guarded by the Tanzanian army who controls every person and package going out.  Tanzanite block C, the largest producing area of Tanzanite, is closed.  Block A is inactive anyway (it has been for some time), and B and D are for small scale mining, yielding smaller production. 
Generally however, from what I have observed, the current government, and perhaps the previous, are doing a lot for the country.  Many of the main roads are getting paved, thus making transportation much easier.  Arusha now has 10 traffic lights, up from 3 from my last trip, and in Dordoma, the capital, new buildings are springing up everywhere.  So from my outside perspective, it is not all bad, but as is the case with most governments, not everything may be entirely thought through.  Since the lack of infrastructure is one of the main reasons why African countries have such trouble improving revenue and participating in international trade, building roads should bring a lot of changes to the country.  The Arusha airport is still in need of an overhaul, but the roads are helping a great deal.  If you saw some of the unpaved streets over here which are barely good enough for an ox cart, it is easy to understand why essentials like water, food, and gasoline cannot easily be brought to the villages.
More about Tanzania, the Longido mines, and my own purchases in my next blog!
Here are some of my ruby purchases!  The Small Oval and Pear Shape are AGL Certified already.