Travels to Antsirabe and Local Gem Buying (Part II)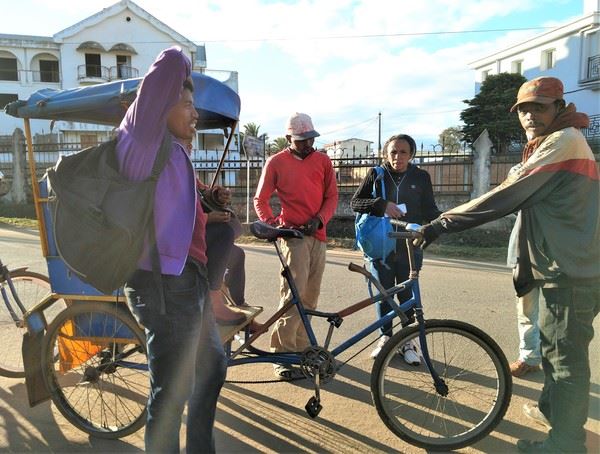 After a 4:30 a.m. morning rise (for which neither of our alarms rang but Jochen appeared to have an internal clock), we made our way to the ferry terminal for the 6 a.m. ferry to the mainland town of Anify.  The ferry was big enough for exactly two cars, and it went as fast as a turtle.  So it took us two hours to reach Anify which was perhaps a distance of 10km.  But it allowed for a beautiful morning view of the sunrise and a nice nap on the backseat of the 4-wheel Toyota with the "tuk tuk" of the ferry engine and the slight waves lulling me to sleep.  Upon arrival we bought some (non Dunkin) donuts, freshly made from rice flour and soaked in sugar syrup.  Beats Dunkin any day – not that anyone over here had ever heard of Dunkin Donuts, or any other chain for that matter, including McDonald's. So lovely...
Here in Madagascar, street food is available in abundance.  Not everyone here cooks for themselves because it's quite a bit of work to start a charcoal fire, mix fresh dough and cut and wash vegetables at 5 a.m. Refrigerators are a rarity in Madagascar and so is running water.  This is why just before sunrise, when the day begins, people cook rice and meats, make their rice cakes in shallow pans, fry sweet donuts and vegetable or meat pakoras, which they offer on the street in little booths, together with bananas and fresh cut salads of cucumber, cabbage, tomato and carrot.
The first part of our treck took about ten hours, first leading tropical forest with cocoa and ylang-ylang plants, then through open areas past half dried up rivers (since it's winter here and dry season).  Just after dark at around 7 p.m. we reached our stop for the night, a tiny town called "Ambordromamy."  Gael stopped on the side of the street and asked a local about a hotel for the Vasahy, the whites.  After chatting with the local for a bit, he arrived at two options for where to stay.  One was more of a hotel meant for Vasahy travelers, the other more of a spot for Malagasy.  We were advised however to stay at the latter.  The reason: there are Dahalo, a bandid tribe, in the countryside and when whites stay in the nice(r) hotel sometimes one of their lookouts makes a cell phone call when they leave to organize an armed highway robbery.  It is especially dangerous when you leave before sunrise.  So we heeded the advice and stayed in the not so nice place (but I think the nicer place wouldn't have been much nicer).  And we didn't leave before sunrise either.
The Streets and our Hotel in Ambordromamy Madagascar
Once at the hotel, the owner proudly showed us that he had availability of a shower across the yard (one shower for the entire guest house which had perhaps five or six rooms).  There was "kind of" a shower – a narrow room with a sink and a pipe leading up a wall, a fixture at the end of a pipe and a lever to turn on the water.  When I tried it, however, it didn't work.  A closer look revealed a blue plastic barrel next to the shower with a little bucket in it and a sign in French which said something like "one barrel per person only."  Once my brain had fired up and I had absorbed what a "shower" would therefore entail, I was also able to reason that the water would not be hot.  It was wet, that is all.  So I skipped the shower.  The toilet "stall" was across the yard also.  Another barrel next to the seat indicated the flushing method.  Lighting was provided by the lantern in my back pack.  The door was to be barricaded with a broom, the high gate was locked at night.  Gael slept in the car to protect the luggage.  Well, it was a short night anyway, sleep assured with a beer and a couple of shots of whisky from the bottle secured in Duty-free at Nairobi.  At daybreak around 6 a.m., we had nice filling street food breakfast (banana fried in sweet dough, fresh rice cakes, nescafe with sweetened condensed milk since regular milk doesn't last).  I took a long and restful morning nap in the back of the car once we hit the road.
Breakfast in Ambordromamy
The first part of the drive ahead of us was about five hours, back to the capital Tana, so we could stop at the hotel Mirandav, where the rest of our luggage had been stowed as a courtesy of the owner, who has known Jochen for many years. 
The drive slowly lead uphill through a more mountainous region and into more dry lands.  At one point during the drive, I saw Jochen throw his plastic water bottle out of the window and went "tsk" to chastise him for littering. I should have known better than to make that accusation.  What I hadn't fully processed was that just seconds before, a little boy who saw Jochen drinking the water called out to him "rembourser" – reuse.  So Jochen tossed him the bottle.  In the poor countryside, plastic bottles are of great value.  They can be refilled with water from the local wells, they can be used as funnels, who knows what else.  They are especially valuable when they still have a cap.  After that realization, we tossed all our empty bottles out the window; of which there were many because we were advised not to drink the local water.  Since there are little villages all along the single lane, the "highway," you always see people walking along on the side, either on the paved road, or in the red dirt.  They pick up anything you toss.  It is the perfect recycling (in fact I did not see a single garbage dump anywhere here).  But it is also a sign of the immense poverty that exists in Madagascar.  Most people are barefoot, many have ripped clothes, you see people pushing bikes so old and rusty that they are only good for carrying water bottles or jugs, and you see many many women balancing huge loads of various stuff on their head, walking for miles and miles every day bringing things back from town or from the fields.  Kids on the road often pointed to us, calling out "Vasahy" – white person.  While there were some cars on the road, and many trucks, most do not have white people in them.
North-East Madagascar
We reached Tana just a little bit before noon and stopped again at "Chez Maman" for pork chops and duck, excellently spiced grilled vegetables, and madeleines, all again for under $10 for three of us.  Food is quite impressive in Madagascar, and very fresh.  You only need to worry about things like fish or mayonnaise sitting in the sun too long, or shrimp hanging out on the boat before being delivered.  So that's why you best eat things well cooked and cooked right before consumption.  I had many fresh salads in Madagascar however, they just looked too appetizing.  And many of the open kitchens work hard to keep things clean and well washed, which belies the dusty and sometimes dirty looking context.  Pots and pans are old because they cost money, and they get black from the charcoal cooking.  Most cups and plates are made from aluminum.  You only see glassware in restaurants for Vasahy.
After picking up our luggage, we started our drive to the final destination of Antsirabe, the city of gem trade and the stop for us for five nights.  Other than the fact that we got slowed down trying to pass dozens of large trucks and taxi-bus' filled to the brim with people and luggage piled on their roofs, we traveled with just one incident to report.  There was seemingly dead or injured body lying in the street, partially covered by tarp, and bringing traffic on the opposite side to a dead halt. He was illuminated by the headlights of the truck trying to get past.  Nobody appeared to get out and help.  We drove past slowly.  Gael explained that since it was after dark, it might be a trap so nobody wants to risk stopping.  Plus there's not really any police or ambulance to call.  This reminded me of a story Jochen once related to me: many years ago, on one of his car trips through Africa, Jochen gave a ride to a young women in labor who was clearly in distress.  He dropped her at a hospital a couple hours away.  Without his help, the woman may have died.  Out in the middle of nowhere, help to the injured is not an available convenience.
Houses and a Rice Terrace North of Antsirabe
We finally arrived at the Green Park Hotel in Antsirabe a little after 7 p.m. only to find out that our rooms were not ready because either Jochen, or the owner of the hotel, or Ando had confused the dates.  So we were given other huts (each room at Green Park is actually a little brick hut), smaller than the ones booked, and though they have running water, it was cold on that day.  The water is warmed by the sun on the roof and it had been an overcast day – or maybe the hot water was just out for the day.  I didn't brace the shower until the next morning, and it was the fastest shower ever! 
Green Park Hotel and a Pousse Pousse Outside the Hotel
We started buying gems almost immediately the next morning after breakfast.  Ando had organized wooden table and some chairs, right outside the hotel on a meadow.  Brokers were already waiting in a kind of line, chatting with one another, then unpacking their wares on the table once it was their turn.
I was shown quite a bit of interesting material.  I haggled over a small lot of 6mm cushion mandarin garnets from Mahaiza for quite a bit.  The initial price offered, which is always "a discuter", was very high in my opinion.  Since I didn't have too much equipment with me, I was careful in my choice.  But bright orange garnets are a fairly safe buy, they are unlikely to be anything else.  I also purchased two small parcels of color change garnets, a little bit of rhodolite garnet and two matched pairs of sanidine (a Feldspar), a bigger lot blue and teal blue sapphires between .8 and 2 carats from Diego and Ambatondrazaka, as well as a little bit of pink tourmaline (rounds only).  I eye balled some green tourmaline but found it muddy in color, nothing special.  I was actually shown a lot of tourmaline but nothing really stood out.  Since I try to do a little bit of business with each broker and not everyone shows you useful stuff, I bought just a very small bit.
Grandidiarite, one of the 10 rarest minerals on earth, turned out to be widely available because there was a big find a few months or year ago.  I guess it won't make that list anymore in the near future, given how much there is.  The price had dropped accordingly and as it sometimes goes in this trade, those who bought at the high got caught with their pants down, including our friend Ando (a sad story that needs to be covered in the next blog).  Grandidierite is just not pretty enough to fetch high prices except for rarity, even the nicer blue colors.  And having made the mistake before of buying what I thought was grandidiarite which turned out to be muddy aqua, I only got two cabochons which I can test at home – and of which I am fairly sure they are what they are supposed to be (update: both cabochons have since been tested and are indeed grandidiarite).  I also risked small funds on two tiny local emeralds which will need to be tested.  We saw a beautiful piece of faceted bottle glass which someone tried to sell for about $800 as an emerald.  I kind of knew it was fake just looking at it, the microscope did the rest.  (I saw a bigger piece around a carat which I didn't think is fake but the initial asking price was fairly high and I just wasn't going to risk it). 
Gem Buying in Antsirabe
I also examined a pretty ruby oval with bubbles under magnification which indicated it was glass filled.  I did get a couple of tiny pieces of ruby that looked more promising (but too small to test on location), but I didn't spend much just to be on the safe side.
There was one lot of peach pink supposedly Malaya garnet and some rather similar looking zircon – a gem with a peachy yellowish tint (the ones in Tanzania are more peachy, here most Zircon is more yellow).  I bought some of both for telling apart back at home, the lines of people to show us things were long and it was very important to us to give everyone a chance because you never know how long they travelled.  Also, the gem trade in Madagascar is in it's infancy (or maybe "childhood") compared to Arusha.  While minerals have been available here to buy for some decades, it's the huge sapphire finds of the past few years that have put it on the map, and the other discoveries are just following.  The difficult travel conditions, and the lack of easily available large funds are slowing the development.  The law forbids non-Malagasy to enter mining regions, the lack of security makes it unadvisable.  Some locations can only be accessed with a 2-5 day foot march, which few non-locals are willing to subject themselves to.
The gem brokers in Madagascar are an interesting bunch.  They are 90% female, and they borrow their wares from various "proprietaries." They come armed with a price list (though they usually have an excellent memory for numbers and don't need it), then start negotiating with a high asking price or ask you to make an initial offer for discussion.  No price is fixed, ever.  The brokers live off the commission so the higher the prices we pay, the better for them.  Whenever my idea of price and theirs was just too far apart, I would explain that middle price is impossible.  My exception for that were stones from Maria or Ando, whom I want to support.  In their case, I would to figure out an honest price but slightly on the higher side.  I would also try to explain what my clients like or what I can sell, but that often fell on deaf ears because the need to make money simply has priority.  There is an urgent need here to earn some sort of a living and for these small brokers there isn't a big clientele, which is why I sometimes overpaid.  The downside to that is that money ran out faster.  All deals are cash based, credit cards don't exist except in the expensive hotels and even there they prefer the credit card just to hold the reservation (even at the Vanila spa, which was $150 a night, we ended up paying cash). 
Once everyone is through and first choices are made, the women return the gems they borrowed and get others from different people or from their supplies.  Often the result is that you see the same stuff presented by different brokers.  But I have a good memory too.  Not always for prices, but I rarely forget a gem that I have seen before.
More about gem buying next time...
Below are some of the gems I brought back from Madagascar and that will soon be in the shop.  I have set up a section on Etsy for Africa Gems, all of which will be discounted durig the sale.
Unheated Sapphires (Tested)
Mandarin Garnet
Chrysoberyl
Color Change Garnet, Strong Change but not pictured
Sphene
Sanidine, a Feldspar
Grandidierite Cabochons (Tested)