Working with Stuller: New Options for Custom Designs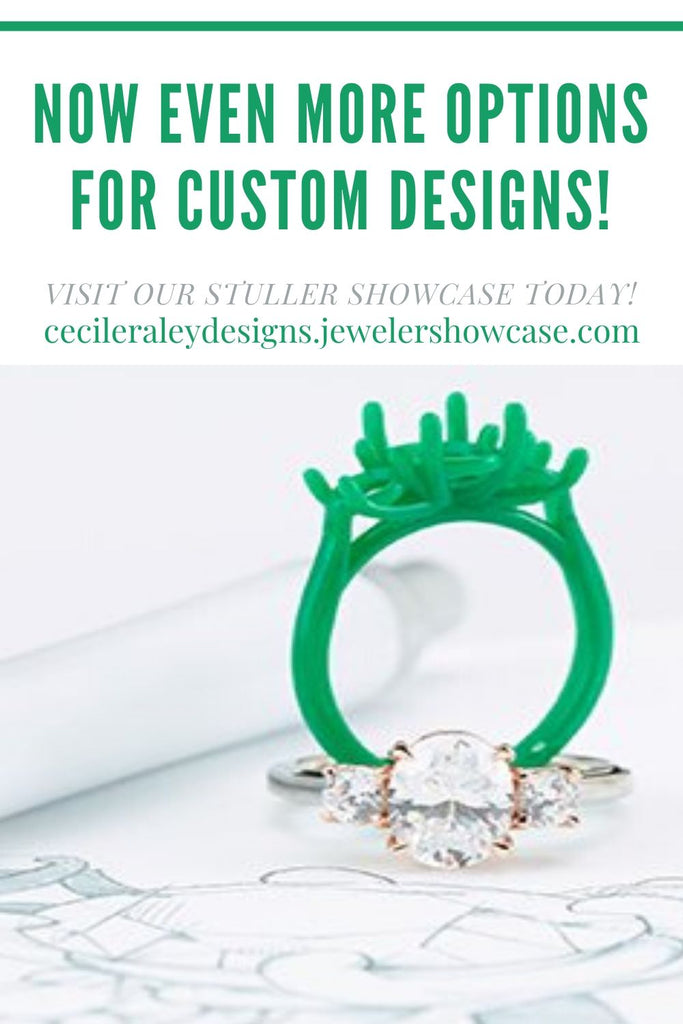 After many requests we have finally managed to make Stuller settings available for custom options. If you click here, you will have access to our own Stuller showroom with all options and prices.  For example, you could do a search for "five stone bezel ring" or "six prong studs" and you will see all of the options including detailed pricing for all the metals that Stuller offers for that particular piece.  Once you have picked what you like and discussed it with us to make sure the style you picked works for our gems, we can order the parts for you and have the gems set.  
Stuller offers pretty much the largest inventory of rings, pendants, earrings and findings anywhere in the US, and items ship very quickly.  Most pieces are available for a number of different shapes and sizes of center stones, in addition to the various metals.
You will see that Stuller also offers gemstones and diamonds.  We can largely improve on these prices so I would not recommend that you use their gems.  For instance, the diamond prices I would pay with them are 1/3 above what I pay in NY.  Stuller doesn't have natural colored diamonds, only enhanced ones (but of course if you'd like those I can get them).  And when it comes to colored gems, as you know, we offer a more unique inventory.  Having had a look through their offerings, I didn't find the quality of the speciality items to be particularly high but the prices are. Should you see anything on the site that you like, however, or that we don't have, I'm certainly happy to order for you.
For a more customized fit for our gems, Stuller offers a CAD adjustment to the exact calibrations of the center gem; if Stuller offers only 8x6 or 9x7mm and our gem is 8.5x7.5mm, we may want to adjust the CAD so that the gem fits exactly and doesn't show too much of the setting underneath.  This could also be important when the gem of your choice is deeper than a standard diamond cut.  Most standard settings are not designed for colored gems but for diamonds or synthetics, and that means they have shorter prongs.  I've had it happen many times over that, according to a catalog, a gem should fit into a setting but when I get to the supplier and try it out, the prongs are shorter than expected and I end up with a poor fit, or have to opt to make a custom piece.  On the other hand, Stuller CAD adjustments do not cost much: $150 for changing the center stone size with a new printing and cast.  This makes the order non-refundable for us (so we have to make sure we get it right) but it will allow for a lot more options.  We are happy to guide you through whether or not an adjustment is needed.  As a general rule, it's best if a setting is larger rather than smaller, so a size up is preferred over a size down.  And customization is most important when the size of a gem differs by half a mm or more.
Here are a couple of other things for you to keep in mind: setting the stones, final polish and side stones are not included when we order from Stuller.  For polish, we charge $40, and for the setting of melees it's $15 per stone. Setting costs for center stones can vary from $40 to over $200 for some very large stones.  Keep this in mind when estimating how much your custom piece will cost. 
As far as diamond pricing goes, for diamonds of GH SI quality we charge $1200/ct and for GH VS we charge $1400/ct.  Most Stuller listings show you the diamond number and total weight needed for halos (just scroll down for the item specs) & because our colored stone melee are all diamond cut, they should fit the Stuller settings perfectly.  Only Portuguese and step cuts are deeper and those cuts are usually reserved for larger stones.
Happy designing!