Wish You Were There: Cecile Raley Designs Celebrates 10 years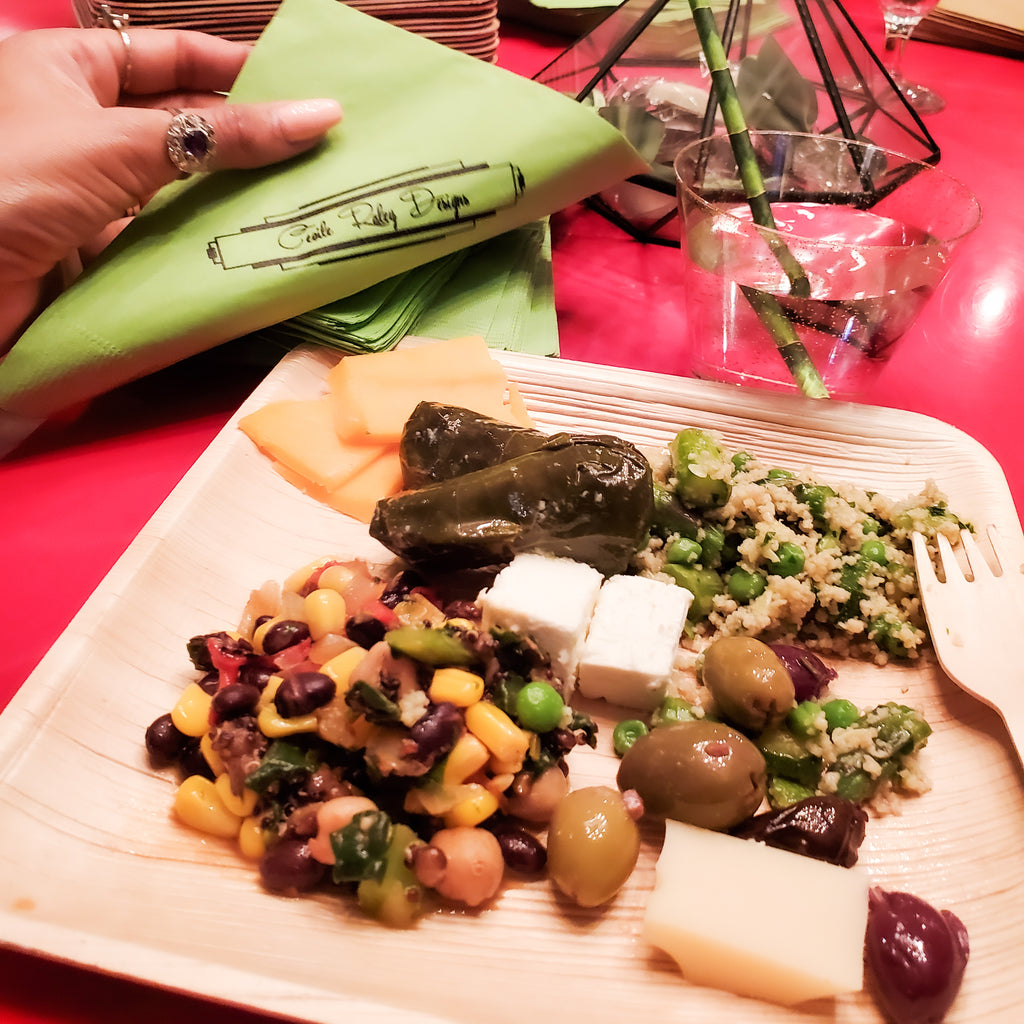 It's odd to have a celebration that has to be virtual as much as physical because most of our clients are too far away to just "pop" by the New York Diamond District for an evening soirée. But we think we pulled it off, and to the many, many, many of you that I have made virtual friends with over the years: I wish you could have been there!
Instead, I'll try to give you a little taste of the event with some photos and videos. We rented an art-deco themed penthouse lounge for the event, and because the space was so gorgeous, we kept décor to a minimum: Cecile Raley Designs napkins, some balloons and a welcome drink designed for us by Orkan Meral of Pearly Gates bar in Frankfurt, Germany. We had to adjust it somewhat from its original recipe because it called for kiwi juice, which, as it turns out, cannot be purchased anywhere and we didn't have a full bar set up.  We substituted with a mix between pear juice and a mixed green juice from Los Organic, mostly for color.  We stayed true to the rest of the ingredients – vodka, Italicus (a bergamot-flavored liqueur,) elderberry syrup, and lemon juice – and got loads of compliments!  The music was of course from the 1930s and 40s, at least in part because yours truly grew up on grandpa's old records of big band sounds.  I only realized when I got to the first grade that this wasn't the kind of stuff any of my peers listened to.
My guest of honor was Jaimeen Shah, owner of Prima Gems and Board Member of the American Gem Trade Association, who, in his welcome speech, reminisced about our beginnings together.  Other trade guests included Josh Lents from the Gemological Appraisal Laboratory, Brandy Belenky - our CAD designer, our polishers Claire and Ricardo from Nautilus, Inc, Sergio Baez - President of Taba Casting, and Bhavik Ghandi our diamond supplier and owner of Om Color Diamonds. I introduced them all to you in my little video.
I personally took delight in the fact that my setters Pierre and Ethan got to meet face-to-face for the first time!  I caught them on camera in a long discussion (which I would have loved to listen in on.) 
I was also pleased that several of my Price Scope clients could make it, among them Sungura & Limosun, who have purchased from me for a long time.  Everyone got to take home one of our swag bags filled with goodies like diamond shaped chocolates, a polishing cloth, and our new branded jewelry cleaner that is safe for our gems (the latter of which will be available in our Etsy shop soon!) 
It was also fun for me to look back at my own beginnings and the various Etsy shops I have collaborated with over the years, such as Johanna, from Metal Cloth and Wood, who actually did some of my very first beaded designs and helped me learn how to make bezels (which she always did better than I).  Joanne, from Silver Sculptor (who is also an excellent photographer and took many of my jewelry shots,) also joined us & brought along with her some delicious cupcakes from Whole Foods.  Inken Krause, from Enhoerning Jewelry (elegantly decked out in Cecile Raley Designs for a change!) helped entertain my international guests.
True to CRD being eco-friendly, Debbie and her husband Randy took our extra foods to a homeless shelter in Jersey City.  Thank you Debbie!
And while I am on the subject of thank yous, you know how so many award winners are concerned that they may forget to thank someone in their speech?  Which is why they write all the names down?  Well I didn't want to give a speech with flash cards, and so in my haste, I forgot someone, too.  So we turned the camera back on once I came to my senses, and I got to tell Karen how much I appreciated her being the silent and strong backbone of the event, keeping all of the details on a spreadsheet.  Without her, it wouldn't have been the smoothly functioning and enjoyable evening that it turned out to be!
Finally, I want to leave you with a quote from Pierre, who texted me his thanks the next day, which brought me almost to tears:
"I'm so proud of you and your achievements.  I can safely say that some of your success is from the designer inside you, but mostly from your personality and character of being honest, ethical, and a person of integrity…. Although everyone is racing to the same goal, with you, it's about building on the way to your success and not demolition. My hat off to you."