Winter is Coming... Get Ready to Start Shopping!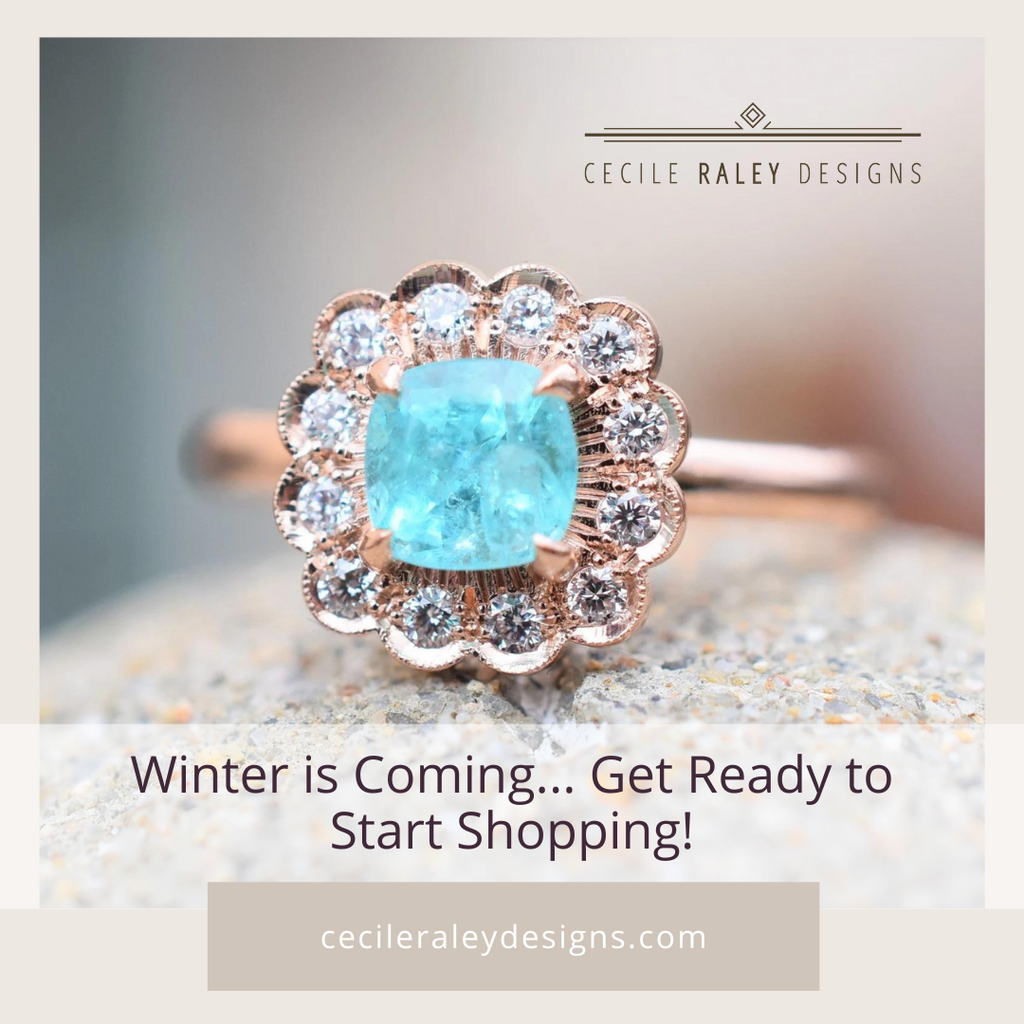 Yep, it's November, and we are gearing up for you as we speak. If you have any custom orders, please let us know ASAP because setters and jewelers alike are already in full-on holiday mode. Don't forget that we can set any of our matched gem pairs into studs for you and that only takes about 2 weeks.
Our annual calendar goes out with every $200+ order as soon as it is in our hands. And if you would just like to have a calendar but don't want to shop, let us know and we will mail one out. And if you'd like extra polishing cloths and organza bags, mark your holiday order as a gift or add it in the note to the seller, and we will include our "kit" even if it goes to your home address and you've gotten one before. Fast shipping upgrades are available as well.
Sales: this year we start on Thursday November 10th, with a 30% three-day sale on items of our choosing - requests are welcome. Then on Sunday 13th November, it's a whopping 20% off the entire shop, custom orders excluded as always. The sale ends Cyber Monday, the 28th. During this time we will put up as many new listings as we have time for.
Starting December 1st all domestic orders will ship out Priority Mail. Our items mail out fully insured but please keep an eye on the tracking provided in Etsy as most items require signature on delivery. We also get great rates with UPS so if you'd like to upgrade let us know and we can send you a PayPal invoice for the extra cost.
Don't know what to give, or what to ask for as a present? Worried about the holiday rush and stuff getting lost? Consider a gift certificate instead. This is a way to give or receive but have it shipped after the holidays if you prefer. Click here for a link to our $50 gift certificate.
Want to buy from the sale but avoid the holiday shipping rush? Let us know in the note to the seller to hold your item, or when to ship, and we will do as you ask. If we are to ship on a specific date and to a different address, we would appreciate a reminder though, as we may be keeping track of a lot of stuff. And keep in mind that ring sizing takes an additional week!
For smaller gifts, don't forget that we can send out a jewelry cleaning kit to a loved one for you, and we will soon have a section for gifts under $100 and another for gifts under $200. We are also continuing to add Stuller settings from our Stuller Showcase. 
We have already added quite a few additional stud earrings, pendants and rings, and more items are on the way.
And last but not least: you may recall that every year I devote a blog entry to other Etsy shops (mostly non-gem or jewelry -- or at least not overlapping with mine). But I am a boring shopper, I always buy from the same sellers. So I thought I'd turn the floor over to you and ask if you have any favorite shops that you'd like me to write about? If so, send us the link and include the following: what you bought from them, why you liked it, and why you like supporting that particular shop (e.g. customer service, efficient shipping, gift wrapping, etc.) Also, we are happy to give you credit but you should let us know as we will otherwise err on the side of your privacy.