2019: The Year of the Grey Cat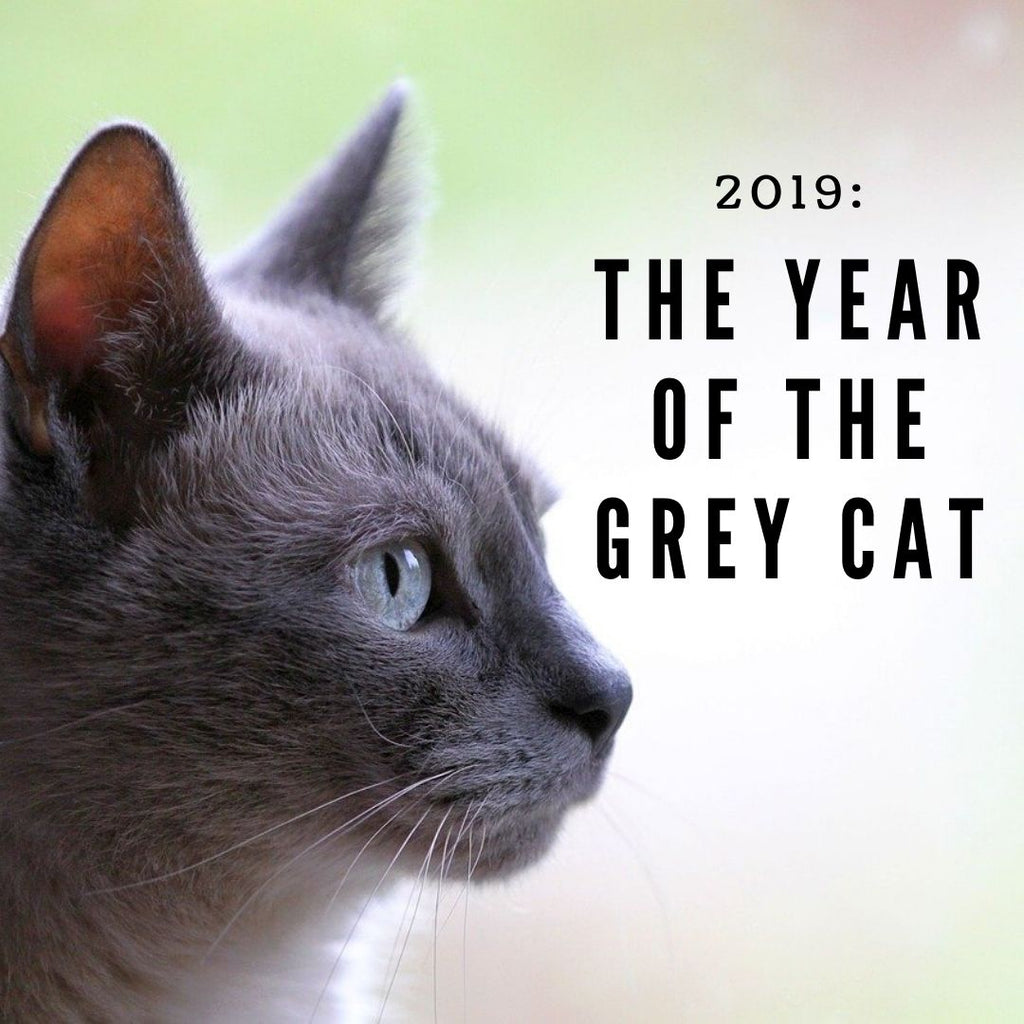 Take a moment, and…
just…
breathe! 
Keep in mind while reading this that 2019 is The Year of the Grey Cat.  What do I mean by that?  Read on to find out...
Christmas time has been my favorite time of the year since I was a little kid.  We crafted Christmas ornaments from scratch, Grandma and I baked a ton of cookies, I made an advent calendar for my best friend Dagmar; and we went to the German Christmas markets to have stollen (a type of German fruit bread) and buy little gifts.  Despite the short days, December was filled with a hustle and bustle completely unlike the entire rest of the year. On Sundays, however, it was Advent.  The shops were closed, and in the evenings grandma lit a candle on the advent wreath. It was time to have a quiet moment, to look inward.  We weren't very religious, and I didn't know the origin of advent until I was an adult and looked it up online.  But I did understand the part where you meditated quietly, without Christmas music or TV, and thought about something that mattered.
Grandma lost a lot of people when she was young.  Two of her five brothers, Reinhold & Gottfried, were killed in World War II.  They were German, but against the war.  They were drafted anyway, and not going meant certain death.  Going meant that death was only likely.  Grandma's little brother, Siegfried, was drafted at 16, but after basic training he ran away and hid in farmhouses until the war was finally lost, then he hid some more so the allies wouldn't arrest him and make him a prisoner of war.  Grandma had been a civilian POW at 18, taken by the Russians. She ran away too & contracted diptheria, pneumonia, scarlet fever, and tuberculosis (twice!) while on the run.  She then made it to what is now Western Germany, united with little Siegfried, but never saw her father again, or her two brothers who had died in the war. 
Why am I telling you this?  Because during Christmas time, I think of my Grandma often, but not in a sad way.  I quietly thank her for having made me the person I am today.  She was the most amazing person I have ever known and I will be forever grateful for taking me on as her own when my mom was far too young to handle it.  Grandma passed in December 2018.
In April 2019, my cat Biffy (aka Spitfire) passed as well.  She was the first cat I ever owned as an adult.  She was much loved and mourned, but her passing made room for Lucy, who is now among our non-working staff and being "trained" to model jewelry (she thinks that rings are toys, ugh).  Toby, my 15 year old fluffy senior cat, is well-seasoned at demonstrating jewelry, but his time will come soon I'm sure, so we are currently celebrating having each other with extra long morning kneadings on my scalp.  I will miss those...
In June, one of my closest friends lost her mom too soon. This is her first holiday season without her mother; now she has to work up the courage to make new memories for her eight year old, who will only know his grandma as a distant and faint memory.  But my friend will remember, and once the pain begins to ease up, the memories will be happy ones, I know that.
My own greatest sadness this year is my client "ThisGreyCat" who lost the fight with breast cancer in November.  She was 36.  "ThisGreyCat" is the reason for my somber thoughts, and I wanted to put my memory of her into a few black and white letters so that her gracing my life with her presence – so to speak, as she lived in Australia and we never actually met in person – is etched into (virtual) reality somewhere.  "ThisGreyCat," my client for 9 years, placed exactly 100 orders.  The last three of those orders were goodbye presents for family members; we made those at cost, against her protest, both of us competing for who was nicer to whom.  "ThisGreyCat" and I wrote each other long emails until just a few days before her death, the last communication was 2 days before through her husband, and on the day of, again through her husband.  "ThisGreyCat" allowed me to be part of her sorrows when the cancer appeared & also her happiness when it went and she was pronounced cancer free.  And when the cancer came back with a vengeance, too late for any help, she shared her utter panic with me as she was sent home for hospice care, in liver failure, all the while asking "why her" – I had no answer, I could only listen.  Now there are only the memories I have of her, the few personal photos she sent me, and the hundreds of Etsy convos I have since been rereading.  My thank you to S. her husband, for keeping me in the know.  You may not ever see this blog, but I thank you just the same.
So to all of you out there, take a moment during this season, breathe inward, and give someone you love who's no longer with you a long, long thinking of.  Maybe tell stories about them, things that matter.
And for those who are still with you, make the time to create new memories.  These will be yours to cherish forever.
In the spirit of those memories, I pronounce 2019 the Year of the Grey Cat!