Travel or Not? Possible Plans and Some Corona Induced Industry Challenges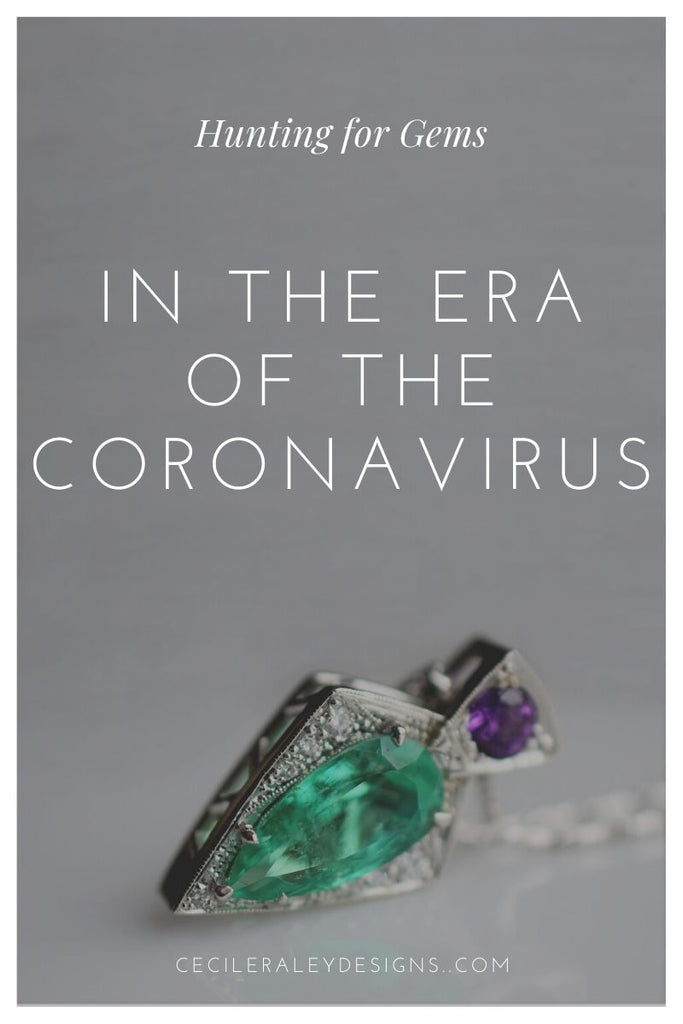 So this was supposed to be a blog about my upcoming trip to Colombia.  And it largely is, but there are now some obvious qualifiers.  The flight is booked, paid for, Colombia is not on any list for travel caution, but things seem to change every day. 
If I do go, I will leave on April 2nd and will be back on the 13th.  There will be a buying weekend in Bogota, then a trip to Muzo and this time hopefully Consquez, after that Chivor.  My focus will be on getting Chivor material because it was so lovely.  Feel free to let me know if you have any requests -- and if the trip plans change, you will find out asap. 
My other big trip is planned for November. For now it's just a plan, though it has pretty exact dates.  Nothing's booked and I will hold off for a few weeks, see what develops.
The plan is that I will fly into Hanoi, Vietnam and visit the Lục Yên district, spending a couple of days visiting the mines there.  A very small gem market is located there, which may or may not have anything for me, but I want to check it out.  Lục Yên is also supposed to be quite beautiful.  I hope to be in a small group, with Jochen, his friend Klaus, and another couple of people.   
From Hanoi, I would fly to Bangkok for some gem shopping.  Many of my suppliers have offices there, and since some of those I only see in Tucson, it would be fun to have the opportunity to purchase there with the chance to select from a potentially even larger quantity of goods.  I'd also like to do a trip to the northern part of Thailand.  
 Again, we shall see.  As you can imagine, the gem industry, which relies on a lot of international exchange, has been quite disrupted by the virus.  Here are some of the direct impacts:
The Hong Kong show, the second largest of the year, has been pushed down to May, and it's unclear if it will even happen.

 

Many vendors who also do Vegas the first week of June have already decided to skip Hong Kong because it's so close to the timing of the Vegas gem show and Vegas is more secure... at least for now.
The Basel show has been cancelled.

 

Switzerland has decided to cancel all shows larger than 1000 people.

 

Any outbreak as a result of a show would obviously be a huge disruption of the infrastructure.

 

There's some talk that the AGTA or the JCK in Vegas may even get cancelled.

 

Presumably there are already some people refusing to travel.

 

Gems by Nomads has an office in Milan, and there are shipping disruptions there.

 

Many of the other gem companies have offices in Bangkok, Hong Kong, and elsewhere so it's making shipping and meeting difficult.

 

There's dramatic slowdown of direct interaction between people in the far east, and friends of mine in Bangkok, Hong Kong and Singapore are all saying the same: very little foot traffic, fewer people meeting, and fewer sales.
My living near New York could prove lucky or unlucky.  I have access to almost anything I need gem wise, but we are also in a very crowded area.  
Anyway, sorry for the somewhat somber blog but I thought I'd update you on how things are.  Stay well!