A traveler's report on the world of gems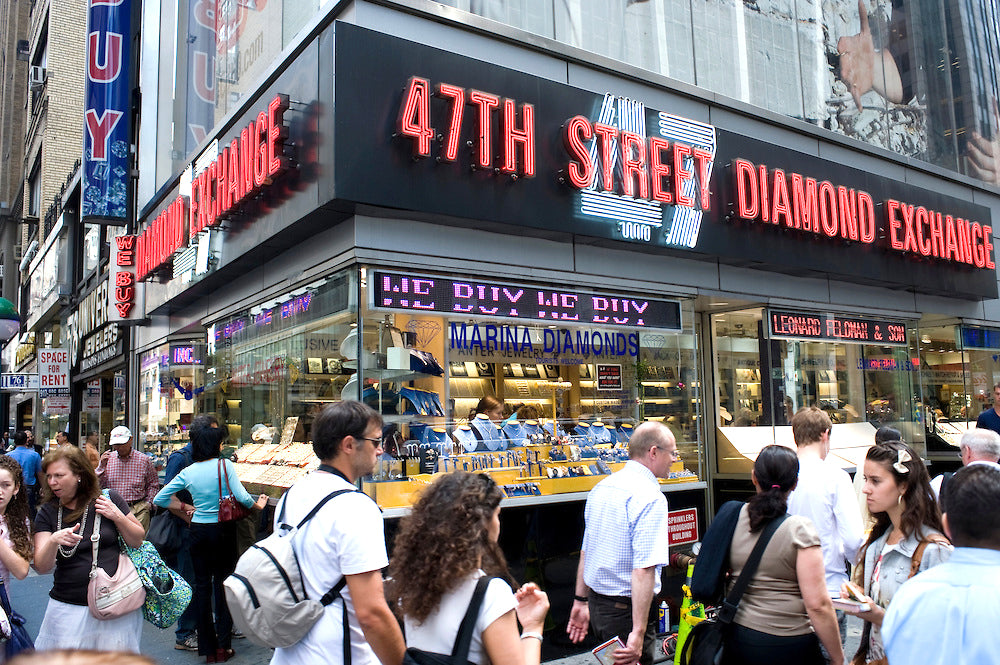 A German traveler's report on the world of gems
Manhattan's 47th Street rightfully deserves the name "Diamond District": shops for jewelry, precious stones, and all kinds of precious metal products line the street.  The bustle on the sidewalks feels like a foreign bazaar, even if the most exotic clothes are the black suits of the orthodox Jews. For tourists, it may seem superficial, or even chaotic. Maybe this is a good place to sell an old ring, or to buy a glittering souvenir, but you always have a vague feeling you might end up paying too much...Mostly they will remember the shouting of the vendors trying to lure in any passerby who looks remotely like a victim by promising them a good deal.
What the Diamond District looks like everyday
However, the situation changes if you get the unique access I was afforded.  My friend – a jewelry designer and gem dealer of colorful gemstones of all kinds - is well known around here.  As she shows me around, the alluring façades give way to the impression of a giant jewelry workshop, where labor and trade take place on the ancient basis of a handshake and trust, where what initially appeared chaotic follows a set of clear and simple rules.
When you enter a building, you don't just walk into a single company's shop, but into dozens, each with a small counter in the front, a few closets along the wall, and in between the two, the craftsman or salesperson who offers one of the many goods or services needed in this industry: gems, gold chains, jewelry or watch repair, polishing service, castings, and many more.
The Diamond District Jewelry Exchange
A few years ago, when I followed my friend deep into the cavern of one such building for the first time, it all felt very strange to me.  I had wanted to sell a gold ring that belonged to my mother and my late father's gold watch and, since she was an approved dealer, she got quite different terms than a tourist like me.  I was offered the value of gold for the watch which hadn't been working for years, but after making his offer, the shop owner set it aside for repairs – clearly not intending to sell it back out just for the value shown on the scale.
This is the hidden and "secret" part of the Diamond District: the countless tiny businesses above the stores. The houses along 47th Street have 10, 20, 30 or even more stories, and in every building the floor is subdivided into several, very small, even tiny units. In many of the buildings, you have to show ID to get in, but, above all, like my friend, you have to know the right people to be admitted at all. Then it goes upwards, usually into an ugly outer corridor lined with steel doors. After ringing the bell and smiling into the camera, the door opens and you enter a locked corridor. Only when the outer door closes does the inner door open and then you are in the workshop. In one small room you often find two or three independent entrepreneurs sharing the space, with small workbenches and equipment that an outsider could easily mistake for a storeroom full of junk, with one major difference: each of these rooms contains at least one formidable safe.
 Diamond Cutter(left) & Setter (right) Photo by: 4diamondstuds
The word 'jewelry," usually conjures up an image of your regular jewelry store, possibly with a small work shop in the back room. But professional production is something totally different. There is a strong division of labor and one of the most important jobs is carried out by the people who transport the individual parts from one step in the production process to the next – the first step being the casting house. Other firms trade with gemstones, faceted or rough.  Sometimes a certain type of stone is only available through a single dealer worldwide.
At some point in the chain, the metal piece and gems are assembled and then polished – each of these steps again carried out by specialists.  Along the way, a gem lab may provide its own expertise by certifying authenticity.
Until a ring or pendant like the ones in the photographs sparkles in its box, eight or nine specialists will have contributed to it - specialists, who, just before or after working on my friend's piece, may have done the same for one of the big houses like Tiffany or Cartier.
The final piece "Lily" ring 
And with such insights into the workings of the city, I hardly miss visiting the usual tourist attractions!
 Photo of Diamond District NYC from 6th Avenue
Michael Schmidt is a guest blogger with an honest inside look into the world famous "Diamond District" from a tourist perspective. He is an accomplished writer and has been my friend for over 30 years.  -  Yvonne Raley
http://www.freier-texter-frankfurt.de/
________________________________________________________________
German blog:
Die 47. Straße in Manhattan zwischen der 5. und 6. Avenue trägt mit Recht den Namen Diamond District. Geschäfte für Schmuck, Edelsteine und alle Arten von Edelmetallprodukten säumen sie Tür an Tür, und das Getümmel auf den Bürgersteigen hat etwas von einem Basar, auch wenn die hervorstechende "exotische" Tracht hier die der orthodoxen Juden ist. Für die, die als Fremde hierher kommen, bleibt der Eindruck ein flüchtiger, ja, chaotischer. Mag sein, dass man seinen alten Goldring los wird oder ein glitzerndes Geschenk kauft, mit dem ungewissen Gefühl, vielleicht doch zu viel bezahlt zu haben. In der Regel wird aber das Geschrei der Anlocker als Erinnerung bleiben, die jeden auch nur annähernd nach Opfer aussehenden Passanten zu einem günstigen Deal in eins der Ladengeschäfte locken wollen.
Nicht so, wenn man einen so einzigartige Zugang zu dieser Welt bekommt wie ich. Denn meine Freundin – Schmuckdesignerin und Händlerin mit bunten Edelsteinen aller Art - ist hier bestens bekannt. Die glitzernde und verwinkelte Fassade weicht dem Eindruck einer riesigen Werkstätte, in der nach uralter, auf Handschlag und Vertrauen gegründeter Weise gearbeitet wird und das wuselnde Chaos klaren und einfachen Regeln gehorcht.
So führen die Türen der Ladengeschäfte meist nicht in einen einzelnen Betrieb, sondern zu Dutzenden, jeder nur ein kleiner Ladentisch, ein paar Schränke und dazwischen der Stuhl mit dem Besitzer, der irgendeine der vielen Waren oder Leistungen anbietet, die in dieser Branche gebraucht werden. Es war – vor einigen Jahren – eine sehr eigentümliche Erfahrung für mich, als ich im Schlepptau meiner Freundin tief in die Kaverne eines solchen Geschäfts eindrang. Ich hatte einen Goldring meiner Mutter und die goldene Uhr meines Vaters zu verkaufen, und da meine Freundin als Händlerin ganz andere Konditionen erhielt als ein Tourist, war es naheliegend, dies hier in New York zu tun. Die Uhr – seit vielen Jahren funktionsunfähig – wurde mir übrigens zwar als Gold aufgewogen, doch der Händler legte sie danach zur Seite, um sie einem Reparaturbetrieb zu übergeben.
Dies ist auch das eigentlich Verborgene des Diamond District: die zahllosen winzigen Betriebe über den Geschäften. Die Häuser entlang der 47. Straße haben dort 10, 20, 30 oder mehr Stockwerke, und in jedem der Gebäude ist jedes Stockwerk in mehrere, teilweise winzige Kleinstbetriebe unterteilt. Bei vielen der Gebäude muss man einen Ausweis vorlegen, doch vor allem muss man persönlich bekannt sein wie eben meine Freundin, um überhaupt eingelassen zu werden. Dann geht es nach oben … meist in einen hässlichen Außenkorridor, der von Stahltüren gesäumt ist. Nach dem Klingeln und einem Lächeln in die Kamera öffnet sich diese Tür und man tritt in eine Schleuse. Erst wenn die äußere Tür geschlossen ist, wird die innere geöffnet. Dann steht man in der Werkstatt. Auf wenigen Quadratmetern sitzen hier oft zwei oder drei eigenständige Unternehmer beisammen, mit kleinen Werkbänken und einer Ausstattung, die dem Laien leicht wie eine Abstellkammer voller Gerümpel erscheinen wird – mit dem Unterschied, dass jede dieser Kammern mindestens einen beeindruckenden Tresor enthält.
Beim Stichwort Schmuckmachen denken viele wohl an ihren Juwelier, der wohl auch eine Werkstatt im Hinterzimmer hat. Oder an eine Bekannte, die zuhause eine Hobbyecke eingerichtet hat. Der Profibetrieb dagegen sieht anders aus. Hier herrscht äußerste Arbeitsteilung und einer der wichtigsten Jobs sind die Leute, die die Teile und Stücke von einer Bearbeitungsstufe zur nächsten transportieren. Der Anfang ist oft eine Form, die im 3D-Drucker hergestellt oder von Hand in einen Rohling aus speziellem Wachs geschnitzt wird. Andere Betriebe handeln mit Edelsteinen, roh oder geschliffen, und es kann gut sein, dass eine bestimmte Art Stein weltweit nur über einen einzigen Händler erhältlich ist. Danach wird die Form gegossen oder ein altes Schmuckstück umgearbeitet. Dann werden die Steine und Fassung zusammengefügt und poliert – in zwei oder drei Schritten von ebenso vielen Spezialisten. Eine Aufgabe für Laborbetriebe sind Qualitäts- und Echtheitstests. Bis also ein Ring oder Anhänger wie auf den Fotos fertig bei der Besitzerin aus der Schachtel strahlt, haben acht, neun Spezialisten Hand angelegt – Spezialisten, die vor oder nach dem Ring für den Betrieb meiner Freundin oft genauso für eines der großen Häuser wie Tiffany oder Cartier arbeiten.
Habe ich schon erwähnt, dass ich mit solchen Einblicken in das Getriebe der Stadt kaum die üblichen Touristenvergnügungen vermisse?