The Magic of Highly-Skilled Gem Setters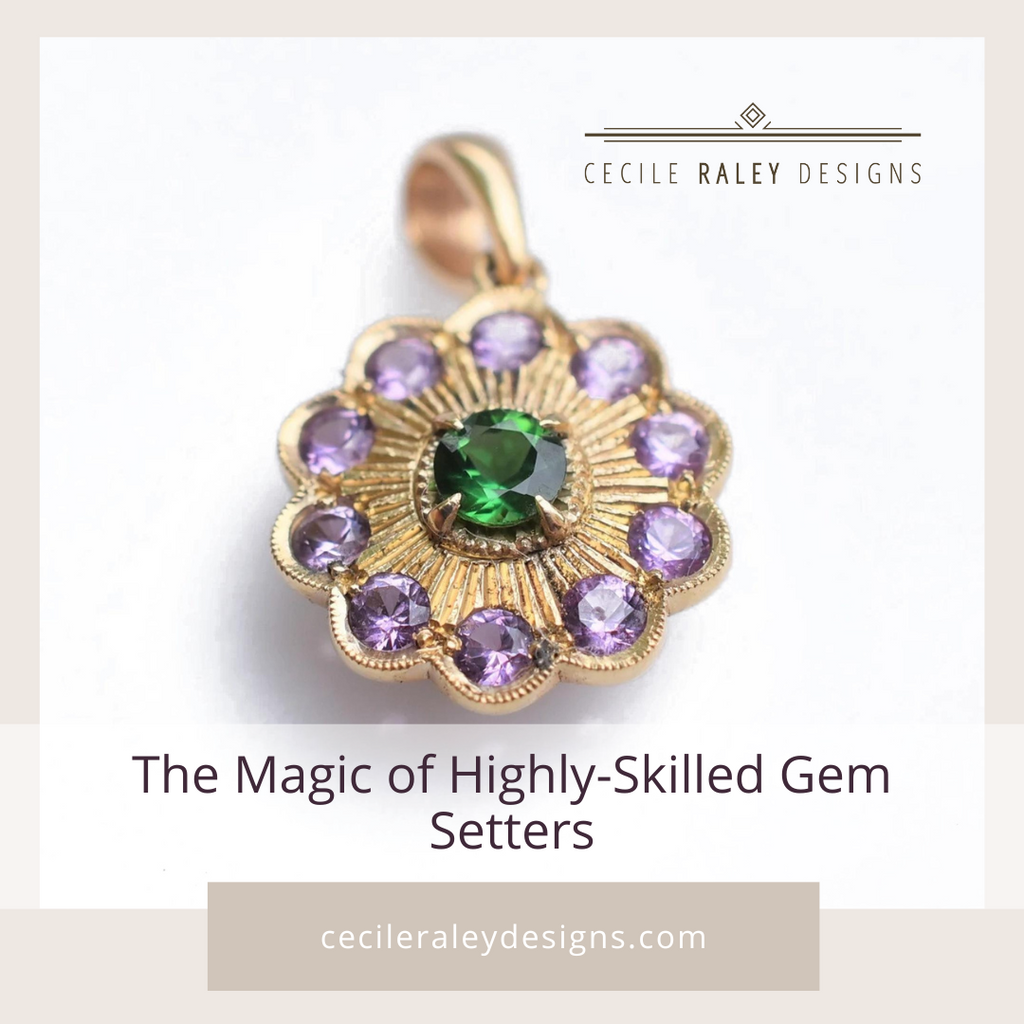 'Prong pusher' is a rather derogatory term and not entirely fair, as 99% of jewelry sold on the mass market these days is prefabricated to simplify labor and save time and money that way. Simple prong setting is both fast and fairly easy. It also doesn't require a lot of tools.
For this reason, mass produced jewelry is more affordable. And we all want to save money! Or do we?
Well, that depends on what kind of look you want in the end, as real hand setting also looks much more richly-detailed and special. In this blog, we want to show you how genuine "hand setting" works so you can understand and see why it looks different. And, yes, there it is: why it costs more. Good setters are in demand, they are always busy, and they earn good money. The best of them turn down work from anyone they don't know or haven't been introduced to by someone they know.
Before we get down to the nitty gritty details, let me get a misconception out of the way. All (or almost all) setting is done by hand in some shape or form. The only exception is when 'casting gems in place' where the gemstone is cast together with the jewelry piece. But this only works for diamonds and certain synthetic stones as natural gemstones will just get fried by the heat of casting. Also, it still involves some type of setting, in this instance, the setting is done in the wax.
In this blog I want to focus just on prong and pave setting, not bezel setting, rub over, snap setting, or any other type.
Simple Prong Setting
Prong setting literally involves only pushing the prongs over the stone. But nothing is basic. Generally, prongs must be clipped down and refiled, and with most settings, grooves have to be cut into the prongs where the gemstone will sit. That's called "cutting the seat." You will need a jeweler's lens, a handheld drill, the right drill bits, bench and bench pin. Click here for an article on the tools that make up a jeweler's work bench.
Pre-Set Pave Setting
In the pavé setting alternative, the prongs are actually little balls of metal, called "beads." Beads are short and stubby. These beads are added in the CAD, together with guideholes that tell the setter where the gems will go. Sometimes these guideholes have to be opened up a little bit more by the setter. Millgrain can be added in the CAD also, as well as any kind of engraving.  The setter places the gem into the seat and gently pushes the beads over the gem, or down from the top.