Sri Lanka: The Treasure Hunter's Holy Grail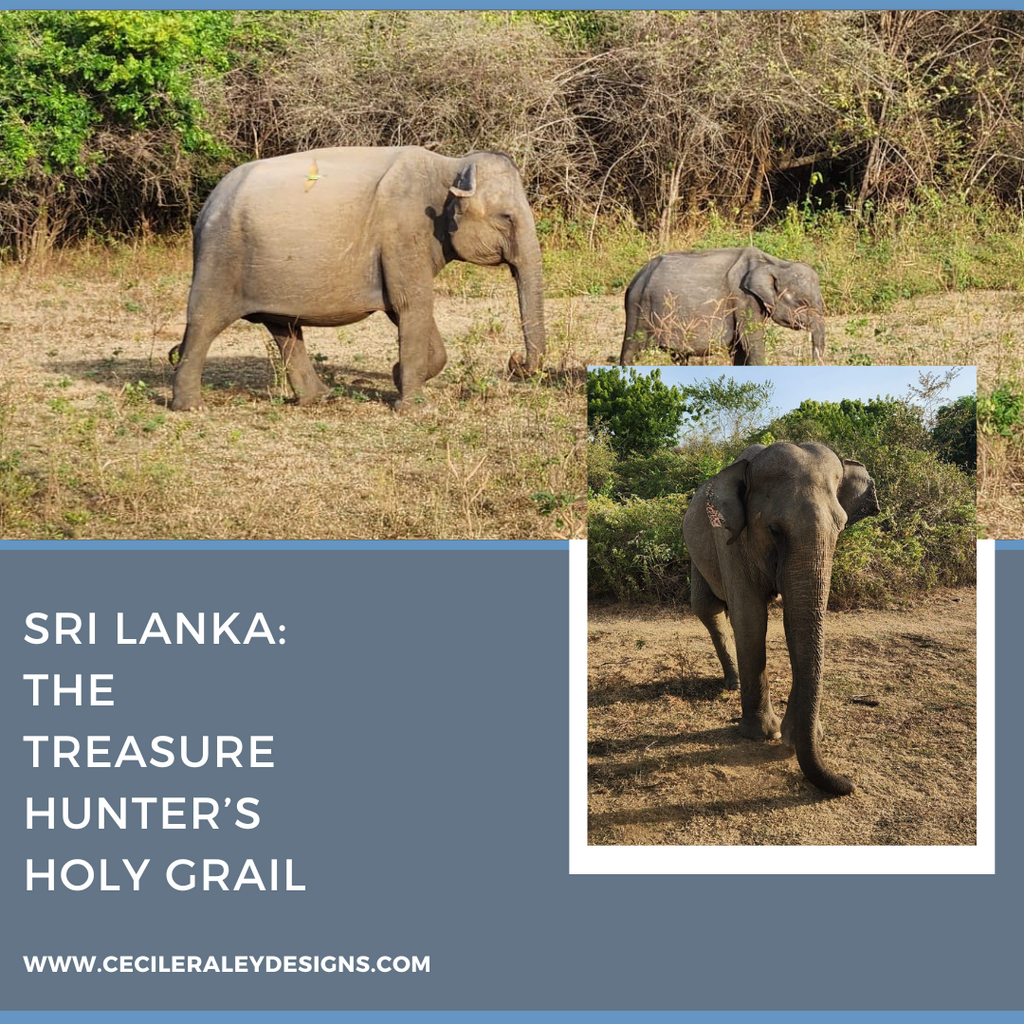 For over 2,500 years, Sri Lanka has been known for its wealth of precious gems. In particular, the Ratnapura area is one of the world's most dense regions of gemstone deposits, and these treasures are mined and cut in much the same way they were thousands of years ago. Some of earth's most beautiful sapphires are sourced from there. But Ratnapura is not known for its sapphires and rubies alone; it is also among those countries with the world's greatest variety of gems. The British crown jewels are made with some of the largest red spinels from Sri Lanka. Zircon, alexandrite and chrysoberyl, hessonite and rhodolite garnet, cobalt spinels, topaz, tourmaline and aquamarine are some of the other gems sourced in Ratnapura and its neighboring Nivitigala, where most of my sapphires come from.
The gem market in Ratnapura is also one of the oldest in the world, and it is said that its gem street (yep, it's locally just called Gem Street) still moves more cash back and forth – in the actual STREET – than any other gem trading district in the entire world. You can swap and borrow currency right on the pavement, get your gems cut in the old and the new ways at a local booth; you can buy gemstone rough and faceted gems, both locally sourced ones and imported ones, especially sapphires.
Ratnapura gem hunting is not for the uninitiated, however. You are expected to know gem prices and make distinctions between cuts, color, and clarity on your own. If you want to rely on a 'trusted source' to sell you something, this is not the place for you. The novice is easily spotted by how he or she looks at a gemstone, and gem prices will rise accordingly. Most, if not all, brokers and miners in Ratnapura have been part of the gem trade since before they learned how to count – just about. 99% of them are men as women in mining areas are considered bad luck, and they know gems as well as they know people. News about foreigners in the market travels around town at the speed of light, including what you are interested in buying, how well you pay, how much you bargain, etc etc.  
But I should probably back up and start the story at the beginning:
Together with 3 buying buddies from Germany (Jochen Hintze from Jentsch Mineralien, my longtime friend and purchaser of rough crystals, Joerg M., a gem dealer, and Michael P., a private collector), we set out for Ratnapura upon our arrival from three different airports in Europe on Monday July 24th. I had gone to Germany first to visit my dad, sister and new niece and met up with Jochen in Amsterdam to join his flight to Dubai, then Colombo. I splurged on a business class ticket because it was going to be an arduous journey: 9 hours to Dubai, a 5 hour layover and then another 4 hour flight to Colombo. I had left Frankfurt on Sunday the 23rd in the late morning, and we arrived Monday morning at 9 a.m. Sri Lanka time (3 ½ hours behind Frankfurt, and 9 ½ hours behind New York). To manage the time change, I felt that I should be as rested as possible, and I did get a good few hours sleep on the second leg – and then a couple more on the ride from Colombo to Ratnapura.
After dealing with the visa and immigration lines (you need a visa but you can apply online and it is very quick), we met with our driver outside the airport who would take us to the hotel. For about an hour we drove on a small highway, and then we turned into the foothills of Adam's peak along winding but fully paved roads through a dense yet populated area of rainforest, along streams, palm trees and many roadside stalls offering fruits, vegetables and other necessities. Just like Colombia and the parts of Africa I have been to, life takes place outdoors, mostly along the main roads, the same way it used to be in Europe before the invention of the car changed everything.
Just like Africa, traffic signs are a rarity, and who goes first is determined mostly by honking. The rest of the swirl of honking cars and Tuk Tuks is regulated by traffic circles that can be found at the center of every town. I would guess that this is an inherited remnant of British colonialism, as is the rule of driving on the left side of the road. Traffic lights are also a rarity – I only saw them in Colombo, the capital, despite the fact that Sri Lanka seems to be well connected in terms of electricity.
The latter turned out to be quite a welcome change from the other remote places I have been to. The hotel, which I highly recommend, offered both air conditioning, hot water and high-speed internet. The latter came only upon our repeated request, the going speed there is 3G and when too many people are online it slows down to molasses. But it was all available, which is more than I can say for Colombia, Kenya, Tanzania and Madagascar.
Gem Field Rest, as our hotel was so aptly called, was located across a river just 100 yards from Gem Street, and considerably quieter than the regular hustle and bustle of 'downtown' Ratnapura. The three-story building contains only six rooms, each larger than even the most luxurious US hotels I have been in at less than 20% of the price (and I do not mean New York prices, which are twice the national average at least). I would estimate the rooms to be about 500 square feet if not more, with a king and an extra-large twin bed, a seating section with lounge chairs, desk, fridge, a modern shower, windows along two sides, and large glass doors opening on to a luxurious private veranda with more seating options. And last but not least, each room has a bell for room service of breakfast and tea which I ordered at no charge at least 3x a day (excellent tasting Ceylon tea with hot steamed milk).
Bhanu Samarankaye, the hotel owner and manager, lives on the grounds with his entire family, hotel staff (two I believe), three cats and a resident stray dog – more about her later – and everyone appears to be available 24/7. Bhanu arranged all airport pickups and drop-offs, drivers for trips, Tuk Tuks (wee cars with 3 wheels) for local getting around, as well as gem viewings and the ensuing export. We didn't have to think of or plan a single thing. Breakfast was served fresh every morning in a newly finished side building:  eggs any style, toast, marmalade and sausages, fresh fruit and fresh fruit juices such as passionfruit and watermelon, or a young coconut with a straw. Or you could eat breakfast local style with roti and daal.
For dinner, the Tuk Tuk took us downtown to any restaurant of our choosing or by recommendation by the host. For any other problem or inconvenience, we could contact Bhanu by WhatsApp all day, and he would just 'take care of it.' In all my life I have never had service of this kind in any hotel I have ever stayed in.  
We also visited a local sapphire mine run by one of Bhanu's neighbors (that will be in the next blog), and he organized a private safari for me including a (wonderful) driver named Thushara who for $45 was at my service for over 12 hours, taking me everywhere, arranging every service, any food and who essentially didn't leave my side (I paid all of his meals, not that that was expected but I was more than happy to). If any of you would like to be connected to either of these 100% trustworthy and lovely people, do not hesitate to ask. I know that feeling safe and being able to get around without issue in a strange country is an absolute necessity. If the hotel appears booked on booking.com, contact Bhanu directly (gemfieldrest70@gmail.com) as he only makes a couple of rooms available through these portals.
This brings me to another very basic point: Language. While English is not a native language in Sri Lanka, it is spoken among most, and most signs including restaurant menus are in three languages: Sinhala, the majority language, Tamil, the second officially recognized language, and lastly English. It's rather cute and colorful to see all three scripts on most shop signs, and of course the English is reassuring. So for the most part you can get around without needing a translator. The majority of the population is Buddhist, followed by Hindu and Muslim; and as you will see as I continue my narrative, these have all had a major influence on the ways of life and the gem trade.
In fact, let me get to what struck me as one of the most important differences that I assume is fueled by these cultures. I suspect what I am about to describe is due to Buddhism, but I'm only writing from the vantage point of direct observation, not informed by a more in-depth sociology: the treatment of animals!
As we arrived on the hotel property, we were not only greeted by the owners but also received a gentle wag of the tail of the resident dog. "She's new, isn't she," Jochen exclaimed when he saw her – he had already been there twice before. "Yes," Bhanu said, "she's a stray, but she moved here about four years ago." Apparently, one day, she was there, and she just decided to stay. Twice they tried to release her back to nature by arranging to have her transported a few miles outside of town with a Tuk Tuk, and twice she came back within a week. After she came the second time, they let her stay for good.
Lest you think that this sounds cruel, wait for it: Most dogs in Sri Lanka seem to be strays but they are well fed and most appear to be healthy. Why they are not starving like African dogs and why they are friendly was a mystery easily explained by Thushara. The leftovers from restaurants are fed to all the strays, and private households feed them as well. The dogs move around freely and sleep where they choose as the constant 85-90 degree weather allows. I only saw two dogs on a leash in the week I was there.One was a small dog, some sort of breed that cannot survive or fend for itself without human assistance. The other was a long-haired German shepherd who was probably quite hot (and certainly not the local 'breed'). All other dogs roam free and go where they like, mostly staying within a territory.
Just like the dogs, cats, goats, cows, monkeys, and even some elephants, the animals are not restricted in their movements by humans.They provide for themselves using the plentiful fruit from the trees, grass in the fields or by the roadside; or sometimes they are fed by humans. With the exception of cows, they mostly do not have owners. We saw all these animals roaming free, with cars going around them slowly, though the dogs, just like the dogs in Colombia, knew exactly how to cross roads safely and stay out of the way of traffic. I watched a fruit stand owner crush a watermelon on the ground to feed a cow, and I saw other cows wandering down the street without a leash to join some cow friends.
I did find it odd that none of the animals had names. Even the stray that moved in with Bhanu's family didn't. I couldn't resist giving her a name, so now she's called "Lina" and even listens to the name when you call her with food (a cheap trick, I know).
Lina loves cuddles and German liverwurst, she was unfamiliar with salami but liked it in the end, opposed the spicy leftovers of rice and curry but enjoyed crunchy tandoori chicken bones. She even received a visit from the neighboring dog for a romantic interlude, luckily she was fixed due to some volunteer trap-neuter-release programs that bear witness to the fact that the dog population is being observed. I also noted the existence of veterinary hospitals, something that was entirely absent in the three African countries I have been to.
I will close this blog with a more philosophical observation on the above. If you subtract from our Western history the part where we decided that we (humans) are the pinnacle of creation, made to dominate the rest, then the way Sri Lankans view their animals makes a lot more sense. We name the living to designate not only belonging but also ownership. In the US and in Europe, animal's being property is even essential because without it you cannot define "theft" or "damages incurred." But if animal ownership is not a strongly enforced concept, names are not needed. We name only pets, animals we own, we do not name the squirrels or hedgehogs, even if we get to know them individually. (We have a skunk family residing in the nearby neighborhood, much to the amusement of my cat Lucy, but even they do not have names. Lucy, meanwhile, is MY cat, and she belongs to my household, so she has a name.)
More about my Sri Lankan adventures, and my gem buying in particular, in the next blog!